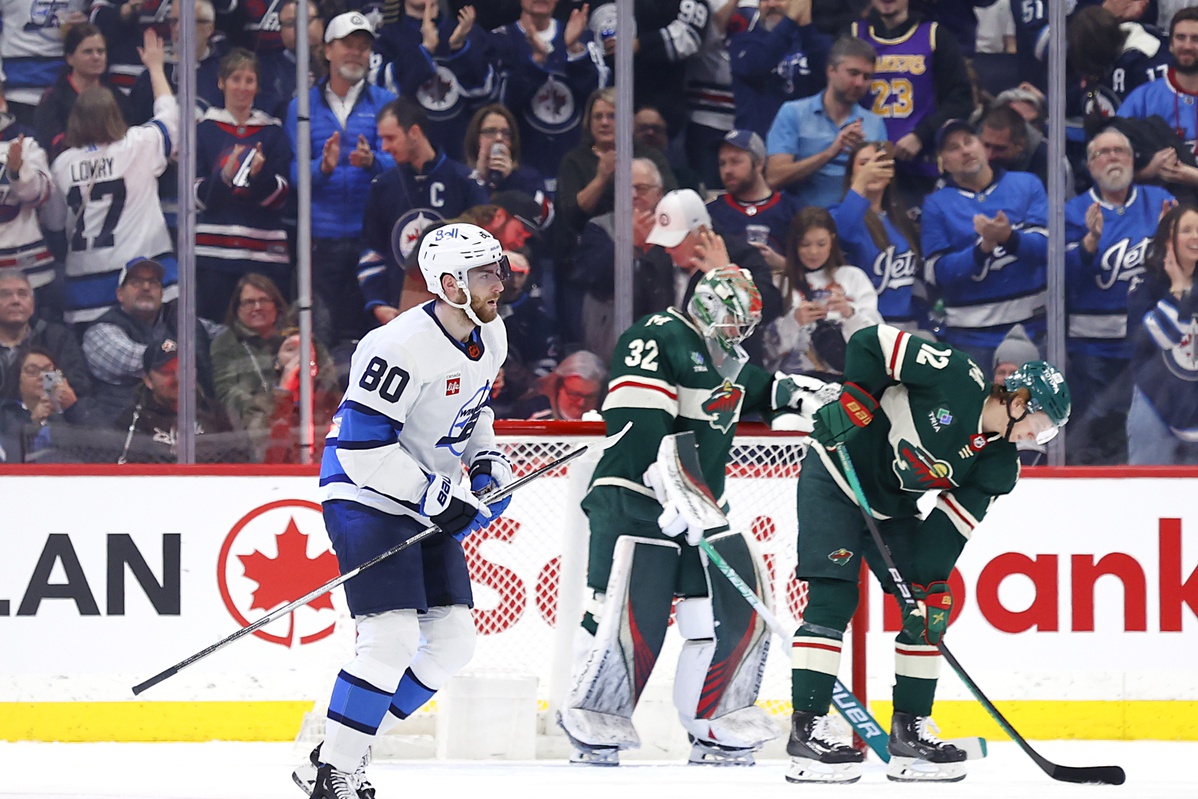 Image courtesy of © James Carey Lauder-USA TODAY Sports
With the Vegas Golden Knights one game away from the Stanley Cup, Hockey Wilderness has been hammering on a simple fact. The Golden Knights and Florida Panthers took big opportunities to add stars, and rode them to the Cup Final, and the Wild didn't.
Admittedly, it's not like the Wild never took a big shot before. What else were the Zach Parise and Ryan Suter contracts? Hindsight makes that look worse than most thought they were at the time, especially with how much those contracts are weighing on the team today. 
Still, even after acknowledging a decade-old big swing, it's hard to see Jack Eichel and Matthew Tkachuk still skating while the Wild are sitting at home. Doubly so when even Eichel himself believed he'd land in Minnesota for a time.
Nothing can be done about the past, though. All Bill Guerin and the Wild can do is learn from their missed opportunity and strike the next time an opportunity comes up. Except that the Wild don't have a clean path to jump on the opportunity that may be unfolding this summer.
Center Pierre-Luc Dubois is asking out of the Winnipeg Jets organization. Dubois needs a contract and is one year away from unrestricted free agency (UFA). All PLD needs to do is get to arbitration, get a one-year deal, and skip town afterwards. The Jets obviously need to trade him now.
To get a strong return, Winnipeg needs to trade Dubois to a team he's willing to extend with. It's long been thought he'd only want to go to the Montreal Canadiens long-term, but Jeff Marek said something that should interest Wild fans last week. "I put out there that I believe he would be warm to the [New York] Rangers and the Minnesota Wild."
But the problem is... well, see above: The Parise and Suter contracts are twin albatrosses on the salary cap. The Wild literally can't afford to ink Dubois at even the $6 million he signed for last offseason. Evolving-Hockey is bearish on his next contract, projecting just five years at a $6.5 million freight, but the demand for a 25-year-old center has to be higher than that. The guy is going to get paid.
Barring an unforeseen series of events, this isn't happening. Should the State of Hockey be worried about missing the boat on yet another opportunity to bring a talented young center in?
It's a tough call, at least at the moment. There's no doubt that the Wild would benefit from bringing in Dubois. He looks like exactly the kind of player Minnesota needs down the middle. Dubois brings size and strength, a scorer's touch, and consistently drives offense at even strength. He's coming off back-to-back seasons with at least 27 goals and 60 points. 

Dubois' good qualities translate to results on the ice, too. Over the past two seasons, his play was worth 8.5 Standings Points Above Replacement (SPAR) to the Jets. That puts him at about the same level as centers like Sidney Crosby (8.5), Sebastian Aho (8.3), and Tage Thompson (8.0). If Minnesota added any of those three players, that'd register as a franchise-changing center acquisition to most Wild fans. 
But are we talking about a true difference-maker or a mere upgrade? It's debatable, but we're gonna lean towards mere upgrade here. At least, not to the level that trading for an Eichel or Tkachuk would have been.
It can't be understated just how great Eichel and Tkachuk are in comparison to even a typical first-line caliber player like Dubois. We talked about Tkachuk recently, but we can give you the short version here: He's basically an MVP candidate. He's scored 3.17 points per hour at 5-on-5 over the past two seasons, the top player among anyone with 1000-plus 5-on-5 minutes. His 17.3 SPAR isn't just third in the NHL over the past two years, it's more than double what Dubois mustered.
Eichel's recovery from injury last season brings down his two-year totals, but focusing on last season shows how much he out-shined Dubois. Their counting numbers are similar. Dubois had 27 goals and 63 points in 73 games, and Eichel had 27 goals and 66 points in 67 games. But any deeper look swings the discussion wildly in Eichel's favor.
The NHL had 278 forwards who played 750 5-on-5 minutes last season. Eichel finished in the league's Top-30 in goals per hour (1.25) and points per hour (2.45). Look at the players equivalent to Eichel, and you'll find names like Artemi Panarin (2.45), Nikita Kucherov (2.44), and Leon Draisaitl (2.41).
What are we looking with Dubois' 5-on-5 scoring? A respectable, but very unspectacular 1.71 points per hour. We're talking about the even-strength scoring punch of players like Andrew Copp (1.72), Vinnie Hinostroza (1.71), and Christian Dvorak (1.70), who are firmly in Just A Guy territory.
Scoring isn't everything, of course. In four of PLD's six full seasons, he's earned his team 4.0 SPAR or more. That's valuable, and certainly not being Just A Guy. But the upside with Eichel and Tkachuk is just so much higher. Dubois' peak was at 5.5 SPAR, back in 2018-19, when he was Panarin's center for the Columbus Blue Jackets. Tkachuk and Eichel both have two seasons with a higher SPAR than that peak. Over their careers, here are how the three players stack up in terms of SPAR per 82 games.
Tkachuk: 5.91
Eichel: 5.05
Dubois: 4.01
Maybe it doesn't seem like a huge difference, but that's the difference between being elite and being very good. Remember those Parise and Suter acquisitions? After the Wild paid top-dollar for them, to the point where they're still paying for those signings today, they gave Minnesota 3.34 and 3.79 SPAR per 82 games, respectively.
You know: very good production but not difference-making.
The Wild are going to have to spend a ton of money in order to lock down Dubois, plus a large amount of draft and prospect capital. For a truly elite player, you bite that bullet. That's what we've learned from these playoffs. The Wild also learned a decade ago that overspending on a very-good-not-elite player maybe isn't the best course of action, either. It might stink to be completely out of the running on Dubois, but this simply isn't another Eichel situation.