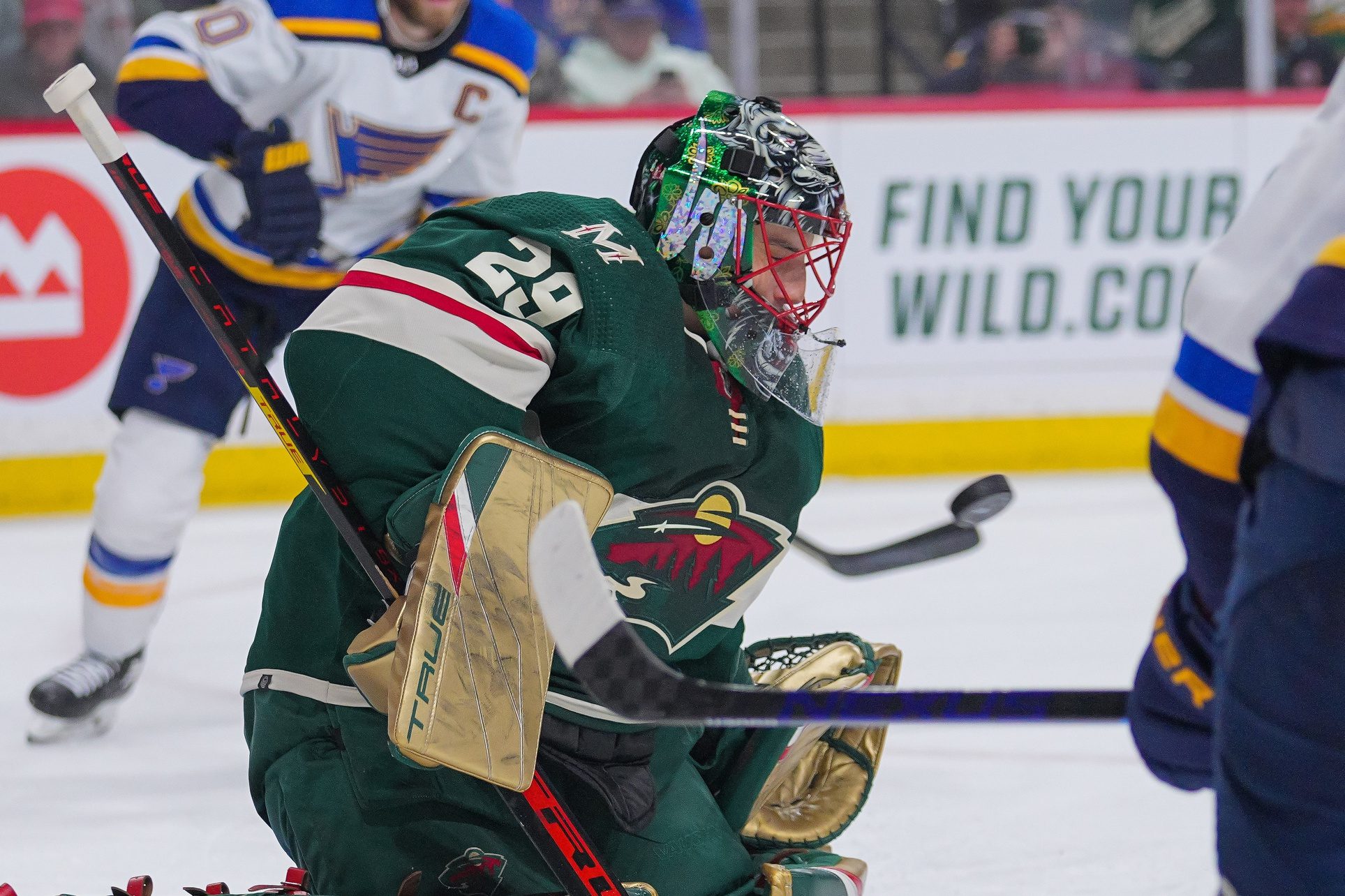 The Minnesota Wild made a statement when they acquired Marc-Andre Fleury at the trade deadline. They had failed to make it to the second round of the playoffs for six consecutive seasons, and the move showed they were sick of it. Acquiring a Stanley Cup winner in net would be their ticket to some much-needed postseason success. Surely this would be their year.
Spoiler alert: It was not. The St. Louis Blues unceremoniously dispatched the Wild in six games. In losing, Minnesota wasted a historic season for a franchise that has lacked excitement for most of its existence.
In Fleury's defense, it's hard to blame him specifically. The team in front of him, as battered and bruised as they were, failed to muster the performances required to beat a team as deep as the Blues. It would have taken a herculean effort for the 37-year-old netminder to carry them deeper into the playoffs, and that just wasn't in the cards this year.
Minnesota is undoubtedly entering the offseason with a sour taste in their mouths. Unfortunately for them, there is no proverbial palate cleanser in sight. With a projected $7.3 million of cap space available to them, the Wild will have to make some tough decisions in the coming months. One of the bigger ones will be what exactly are they going to do between the pipes?
Fleury will be an unrestricted free agent after finishing his 3-year, $21 million contract. He has already insinuated that he would like to play another season in the NHL. He has also been vocal about how much he has enjoyed his time in Minnesota. Fleury is beloved in the locker room, a veteran leader, and can still be a serviceable netminder for a contender. It seems like a match made in heaven between Fleury and the Wild, right?
In theory, yes. When the Wild acquired Fleury, they made it clear that they were uneasy about their goaltending. Both Cam Talbot and Kaapo Kahkonen struggled to find consistency in 2021-22, with Talbot finally hitting his stride just as Fleury joined the roster in March. On the other hand, the Wild traded Kahkonen to the San Jose Sharks in another deadline deal, removing Minnesota's only long-term option in net. With no immediate options in the minors, they need another NHL-caliber goalie to pair with Talbot. Ideally, that would be Fleury, but there are some obvious hangups when it comes to striking a deal.
Minnesota is in salary cap hell, and despite Fleury's age, he isn't going to be cheap. As an unrestricted free agent, he will have his pick of the litter when it comes to where he plays next year. If money is a factor, the Wild don't really have it. $7.3 million doesn't get you very far in today's market, and it's tough to justify spending nearly half of that on one role when there are so many holes to fill elsewhere.
They would also have to reconcile with Fleury's age. While goalies do not necessarily age as poorly as skaters, they are still susceptible to getting older. Since the 2010-11 season, only four goalies above the age of 38 have played more than 41 games in a single season (Martin Brodeur in 2010-11 and 2011-12, Dwayne Roloson in 2010-11, and Tim Thomas and Roberto Luongo in 2013-14). Fleury will be turning 38 in November.
In Fleury's defense, he defied the aging logic this past season. His 56 regular-season games were the most for a goalie over the age of 37 since Tim Thomas in 2011-12 and eighth-most all-time. Expecting him to carry that type of load yet again seems unlikely, though. At most, he and Talbot would be a true netminding tandem, swapping the role in a 50/50 split. If that is the case, then does Minnesota want to commit the type of money necessary to bring Fleury back into the fold just so he can be 1a to Talbot's 1b?
Well, it might be their only option.
The goalie market this offseason is less than ideal. Outside of guys like Darcy Kuemper and Jack Campbell, who will be priced out of the Wild's reach, there aren't any better options than Fleury. Unless Minnesota is willing to gamble on someone like Braden Holtby, hoping that he can turn back the clock, the Wild are forced into making one of two decisions. Either swallow the cap hit that will come with a new Fleury deal, or go all-in with Talbot being the lone No. 1, bring in a cheap backup, and pray that everything goes alright.
If this past season is any indication, general manager Bill Guerin is unwilling to bet his team's success on Talbot being the guy in net. If that were the case, Fleury would have never made his way to Minnesota in the first place. So that leaves Minnesota with just one option: Bring Fleury back. Even at the ripe old age of 38, he is the best — and likely only — path available to them.