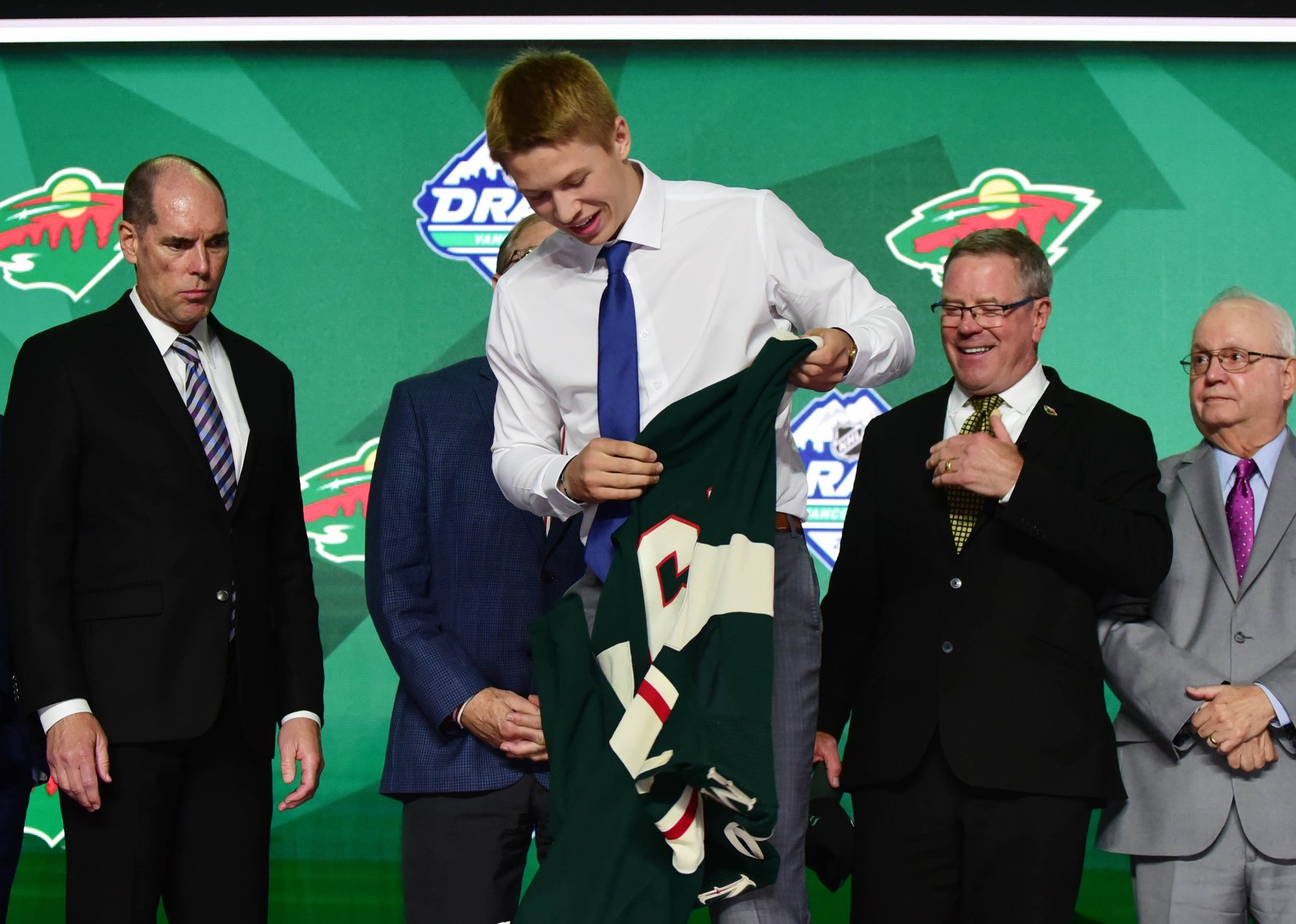 Quarantine is an adjustment, but there are some upsides. Right now, one man has been spending time with his two kids. A look outside the window reveals that the yard has never looked better. And all those little projects around the house? Piece of cake. He's even working from home.
A pretty typical experience. Except that he's an NHL scout. He'll be part of a team's war room as next month's draft approaches. The Zoom meetings aren't about what second quarter projections or TPS reports. They are to put together a draft board and make decisions that'll affect their team for the next decade.
What's it like to be a scout during a pandemic? Here's one story.
It starts in March, after the conclusion of the Minnesota High School Tournament. He was at home, getting ready to hit the USHL rinks hard. The USHL gets a big influx of players from high schools after their seasons end. Getting to see them along with the USHL regulars is immensely valuable.
But the coronavirus was looming on the horizon. Entire countries were shut down as the virus spread across the world. There was talk in North America that games might have to be played in empty arenas.
Our scout had been aware of this. But the sudden shutdown of the sports world was a shock, even to those keeping up with the news. Rudy Gobert of the Memphis Grizzlies tested positive for the coronavirus in the NBA. The league postponed all their games instantly. The NHL followed suit, and so did every level of junior hockey in North America.
The playoffs are a draft eligible player's final audition for scouts. That time is now lost. Does that hurt evaluations? "Yes and no," our scout says. "Remember, we have all year to really dissect the player, and ultimately are familiar with them from viewings as underagers."
Though while there's already a good amount of information about players out there, more is always better. "There is something to be said for how a player plays during nut cuttin' time; whether [a player] reinforces a pattern or proves to be something new."
The scouting combine is another source of information that got wiped out by the coronavirus. Scouts congregate to observe prospects performing physical fitness tests, obtain accurate height and weight measurements and conduct interviews.
Those interviews will be missed the most, according to our scout. The testing has value, but the opportunities to meet prospects face-to-face delivers the most information. It's hard to get the exact same experience on a Zoom call.
That's not to say technology doesn't have its advantages during this process. It's hard to envision remote scouting meetings being possible without video chatting platforms. Sure, there are challenges there. Sure, the dialogue and banter might not flow as naturally over the internet. You might get self-conscious watching yourself advocate for your favorite prospect. But it's possible!
And scouting via video is as easy as ever. The process has become refined in recent years, and it's paying off now. With a click of a button, you can re-watch a sequence or get a second look at a given prospect's shift. "I found it invigorating when I got things to watch during the shutdown," our scout says. "Whose to say that teams [don't] change their methods because this [pandemic] forced them to?"
One question that came up was whether this draft would see more surprises than usual. There's a scouting community that does valuable work in providing information the public can access. But even with this information, it's hard to predict what one team (much less 31) thinks about a player. With less information to be gleaned from the playoffs and combine, will public and team lists look more similar than ever?
"I don't think it will be drastically different [than normal]," believes our scout. "We're less likely to see the 'Combine Warrior' types who get a boost from crushing strength grip tests, but by and large team lists and public lists are pretty different…. Every draft will have surprises on the team side and public side. In a sense we all like the same players, it's just that we value them differently."
So with all the information already collected on the Class of 2020, this year's draft might not be that impacted. But what about the future? It depends. Scouts are keeping a close eye on the Class of 2021, but they are also losing valuable time. The Hlinka-Gretzky Tournament in August — a major prospect showcase — has already been cancelled.
If coronavirus outbreaks continue to cause shutdowns and interruptions over the next few years, the impact might really be felt in the class of 2022. It's hard for them to develop if they can't play.
But that's all in a future that no one can know or predict. In the scouting world, the focus is on the rapidly-approaching draft. There are prospect interviews to set up. Reports and videos need reviewing to make sure due diligence is being done on a player. There's a list to finalize.
It's nut cuttin' time.