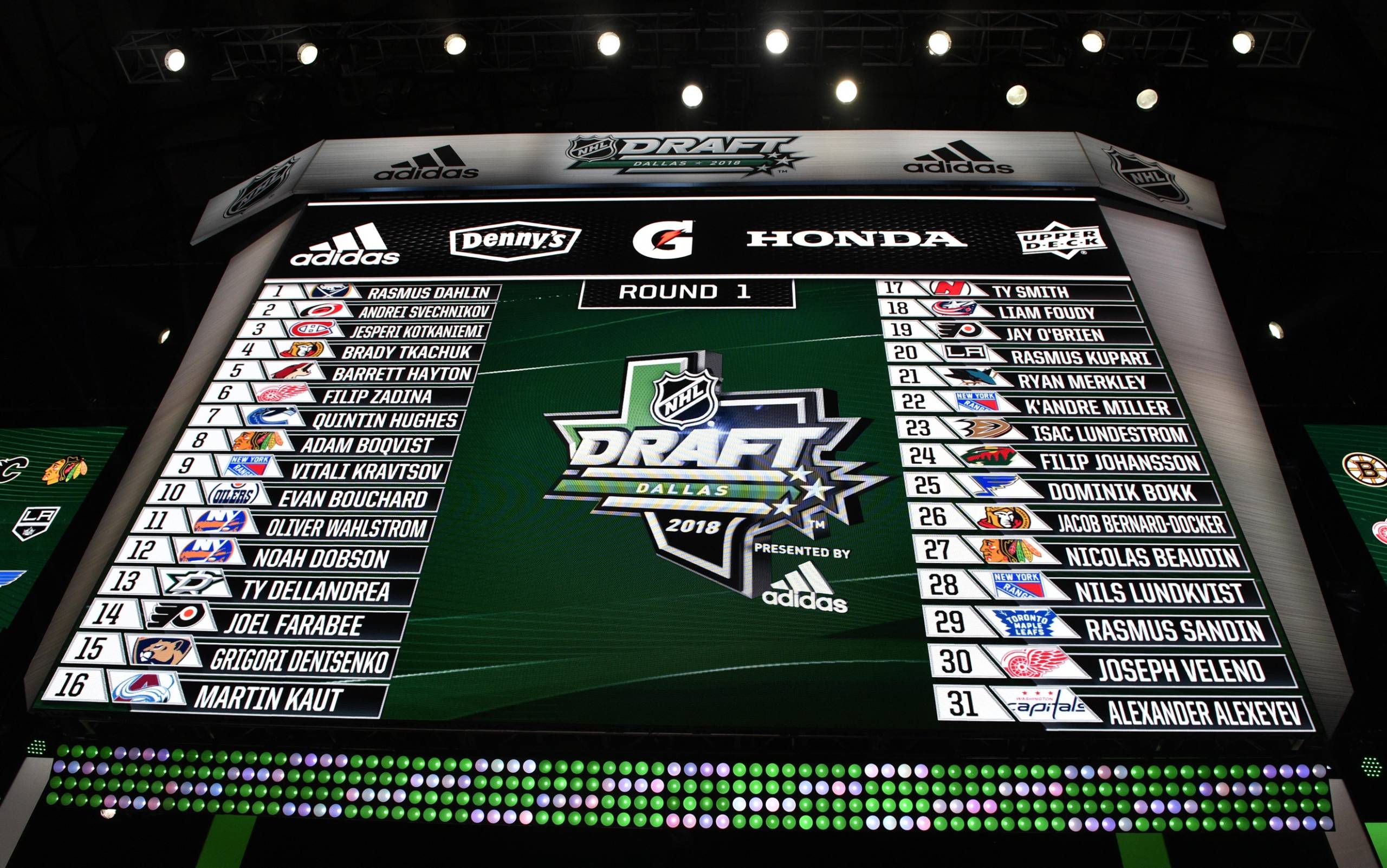 Even weeks later, losing the Draft Lottery feels like a kick in the teeth for the State of Hockey. Had the Minnesota Wild gotten in on that Timberwolves luck, their outlook would be drastically different. Getting a star talent like Alexis Lafreniere or a high-upside center in Quinton Byfield would mean more than a much-needed injection of buzz. We'd be talking about a shortcut to the Wild rebuild.
As it stands, Minnesota has a long road ahead of them. They need to develop star talent, particularly at center and goalie. And while they stand to get a good player with the ninth overall pick, there are some big drawbacks.
The first is that anyone at No. 9 won't make an immediate impact. Of the 18 rookies to play 20-plus games as an 18-year-old in the last five years, only Jakob Chychrun was taken later than sixth overall. Anyone at ninth is at least a year away.
The second is that there's a big risk all the premier centers will be off the board. Marco Rossi, the best center outside the top-3, will surely be drafted by the time the Wild pick. Other centers like Cole Perfetti and Anton Lundell may well be gone, too.
In light of this, trading up seems pretty tempting. If Minnesota believes in a center, they may not want to leave things to chance. But can the Wild pull such a trade off? Do they have the assets? And how high could they move up? Let's find out.
A Brief History of Trading Top-10 Picks
The NFL and NBA Drafts are hotbeds of activity. It's a rare year where top-10 picks don't change hands on Draft Day. Even first overall isn't sacred. You want to go get a player? Make an offer, most any pick is available for the right price.
But as every hockey fan knows, the NHL is no fun. This sadly extends to their draft, where top-10 picks rarely move. Dating back to 2007, a team has traded a top-10 pick on draft day just seven times. And a top-4 pick hasn't moved in a draft day trade since 2004.
The trades that have been made aren't usually made purely with picks. Top-10 picks in the NHL tend to only move for high-end players. In 2017, New York traded Derek Stepan and Antti Raanta to Arizona for the seventh pick. Cory Schneider was swapped straight-up with the ninth overall pick in 2013. In 2011 and 2012, the eight overall pick was part of a package that returned Jeff Carter and Jordan Staal, respectively.
Some fairly recent-ish precedent does exist for trading up in the top-10, however. In 2008, the Islanders traded down twice. First, from fifth to seventh, picking up a second and third-round pick. Then again from seventh to ninth, picking up another second-round pick. And in 2007, San Jose moved up from 13 to nine, giving St. Louis a second-round pick for the honor.
And that's just about it. If you want to move up, your choices are either to part with a very good 20-something player or hand over your second-round pick.
Taking Stock of Minnesota's Trade Ammo
Now that we know what generally goes for a top-10 pick, let's see if Minnesota can put together a package to move up from nine.
First of all, let's take Minnesota trading a player to get a second top-10 pick off the table completely. The packages in the trades mentioned in the last section involved heavier hitters than the Wild have. And Buffalo (eighth) and division rival Winnipeg (tenth) are the only teams in the top-10 that have any designs on contending next year. It's unlikely anyone else is looking for NHL players.
And if that's the case, Minnesota's second-round pick (39th overall) will be the key to them moving up. So, how far can Minnesota move up with nine and 39?
Luckily, there's some trade value charts that can point us in the right direction. Michael Shuckers' model (scaled out of 1000), has the combined value of nine and 39 as 805. That's enough to match the value of fourth overall (804), but not quite enough to crack the top-3 (826).
That's the most generous model, though. Dom Luszczyszyn's model has nine and 39 being worth 8.5 wins over seven seasons. That falls between fourth (9.0) and fifth (8.2). Eric Tulsky has the Wild's first two picks to have a value of 47.5 (out of 100) -- somewhere between fifth (49.2) and sixth (45.9).
While Minnesota probably has the value to trade up to fifth, it should be noted that the Ottawa Senators have 13 picks in this draft already -- seven of them in the first two rounds. They might decide they're better off taking the best player on their board rather than trade down for a fifth second-rounder. For that reason, let's say sixth is the highest the Wild could move up to.
Reach For the Stars?
Trading up two or three spots could help Minnesota catch a player like Rossi if he slides a bit. But what if the Wild want to aim a bit higher? Or a lot higher. What about trading up to second overall to acquire Byfield?
Byfield checks every box Minnesota desperately needs at center. He's 6'4", fast and has the skills to pass or shoot at a high level. And with Los Angeles boasting centers Alex Turcotte, Gabriel Vilardi and Rasmus Kupari, perhaps the Kings would want to add more picks to their rebuilding system?
That's a tall order, and not just because NHL teams never trade top-3 picks. The value of a second overall pick is much, much higher than ninth overall. Luszczyszyn and Tulsky both have the ninth pick as being worth about half as much as second overall. So, it'd take about two ninth overall picks to be worth a move up to second.
Minnesota would have to dig deep to put together a package like that. Doing it with picks alone could see ninth, 39th, and the better of the Wild's two first-rounders next year go to the Kings. It'd be worth it if Byfield is Minnesota's star center for a decade, but that's a lot of draft capital.
And even then, would this be a conversation LA would entertain? After all, they could just draft Byfield and have the extremely enviable "problem" of having "too many centers."
Trust Your Stud, Judd, to Not Draft a Dud
Minnesota's biggest free agent in 2020 won't play a minute of ice time, but could make a gigantic impact. The Wild poached Judd Brackett from the Vancouver Canucks, who comes with a glowing resume. Brackett famously drafted Elias Pettersson (fifth overall in 2017) and Quinn Hughes (seventh in 2018). Both have a case for being the best player in their draft so far.
Trading up gives Minnesota a shot to target and get "their guy" at the expense of precious draft capital. Maybe that's worth it, especially if Brackett thinks he can land another Pettersson or Hughes by doing so.
But this draft has some nice depth up top, and no matter what, Brackett is going to have a choice between several excellent prospects. If that's the case, wouldn't you rather also have that second-rounder in Brackett's hands?
Look at what he did with picks 10 and 40 last year: He landed Vasili Podkolzin -- an extremely talented winger -- at 10, then scooped up a falling Nils Hoglander at 40. A year later, they're both considered to be top-30 prospects in the NHL. If Brackett repeats that performance, Minnesota's arguably better off than if they make a small trade up.
Again, the Wild's draft table belongs to Brackett and if he says he can trade up for the next Pettersson, then Minnesota needs to listen. That's what they brought him in for. But Wild fans shouldn't be disappointed if Minnesota doesn't magically find a shortcut to contention. The Wild may have to take a longer path for their rebuild, but between Brackett and the young talent in their system, the destination may just be coming into view soon.