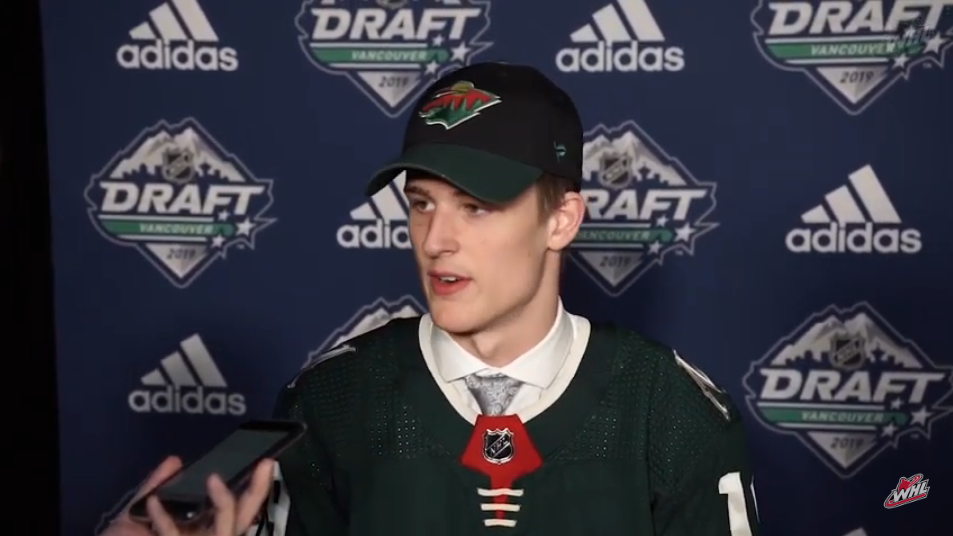 Paul Fenton's time in Minnesota Wild history will be remembered in a very, um, interesting way. Such a short tenure could get lost in the next 20 years. The way he managed the front office, executed trades, and reached for Filip Johansson in the first round is something that most people would like to forget. Fenton's cringe-worthy statements to the media about the height of newly-drafted Wild players, and handing out No-Move Clauses to 30-plus-year-old players possessing lizard-like abilities with the hockey stick are just a couple of examples that made him a lightning rod for criticism.
However, during our countdown of the Wild's top prospects, some of the players highlighted in the series are Fenton's former draft selections. Alexander Khovanov and Adam Beckman both had breakout seasons in the junior ranks last year. It was neck and neck between those two before Beckman pulled out the "win" in the final furlong for most points by a Wild prospect.
Beckman, drafted 75th overall in 2019, surprised a lot of people with his breakout. It was as if it came out of nowhere. And that's exactly how it's been for Beckman on his path towards the NHL. It might be that his game isn't "flashy," as Corey Pronman of The Athletic dubbed it. In the past, it might have been his smaller frame that got him sent back to his midget club in Battleford. Even just last week, it could be that scouts expected more from him before getting cut from the Canadian World Junior Championships team selection camp.
Still, after 107 points, falling short of the 50-goal mark by two in an abbreviated season, scouts have their doubts. It's been said that skating and a choppy stride might hold him back. At some point, though, for Beckman, his production should be enough for people to believe in him. Since joining the Spokane Chiefs, Beckman has scored 80 goals and had 89 assists in 132 games -- that is a 1.28 point per game pace. His 18-year-old season, the one with 107 points, was better than the 18-year-old seasons of Sam Reinhart, Leon Draisaitl, and Hall of Famer Mike Modano. 
Again, the biggest knock on him is his skating. And while skating turned out to be the death knell for former Wild first rounder Zach Phillips, not all skating issues are created equally. Not everyone needs to be silky-smooth like Jonas Brodin. Nor does everyone possess the lightning-fast abilities of Connor McDavid. Andrew Brunette, Thomas Vanek and Daniel Sedin weren't considered masters of their edges, and still went on to have highly successful careers. Beckman instead uses hockey smarts to place himself into position to make plays. 
That's probably a perfect way to describe Beckman to this point. He's not flashy, maybe he doesn't make you jump out of your seat, but he does enough of the little things offensively to make the play. The Wild are starved for players who can step up, cut through the noise, and make a play.
Looking toward the future, Beckman will be facing a logjam in the NHL. Between winger prospects like Matt Boldy, Khovanov and veterans like Zach Parise and Mats Zuccarello on longer-term contracts, Beckman might find himself as a third-line winger at best. He'll need to improve in his own end to fit on a third line before he gets to the NHL. Though, a winger with his offensive abilities next to a strong defensive center like Joel Eriksson Ek might just be the complementary piece that both players need to thrive. Eriksson Ek hasn't had players on his line who could help bring out his offensive side. On the flip side, Beckman might need some protection in the defensive zone to help push the pace forward for him to be more of a factor.
Fenton might not have been GM material, nor did his brand of management fit with the Wild. Having said that, his calling card was scouting and that was heralded as one of the top reasons why he was hired by the Wild. This team needed to restock the prospect cupboards with talent and somehow Fenton managed to do that in just 14 months. Beckman only appears to have come out of nowhere because too many people have slept on him to this point. Now that he's on everyone's radar, the next response from him will be more about how he handles and maintains success.
This article is part of a series ranking the Minnesota Wild's Top 10 Prospects. Beckman comes in at No. 4. Stay tuned for the top three continuing next week. Or check back on No. 5, Alexander Khovanov.