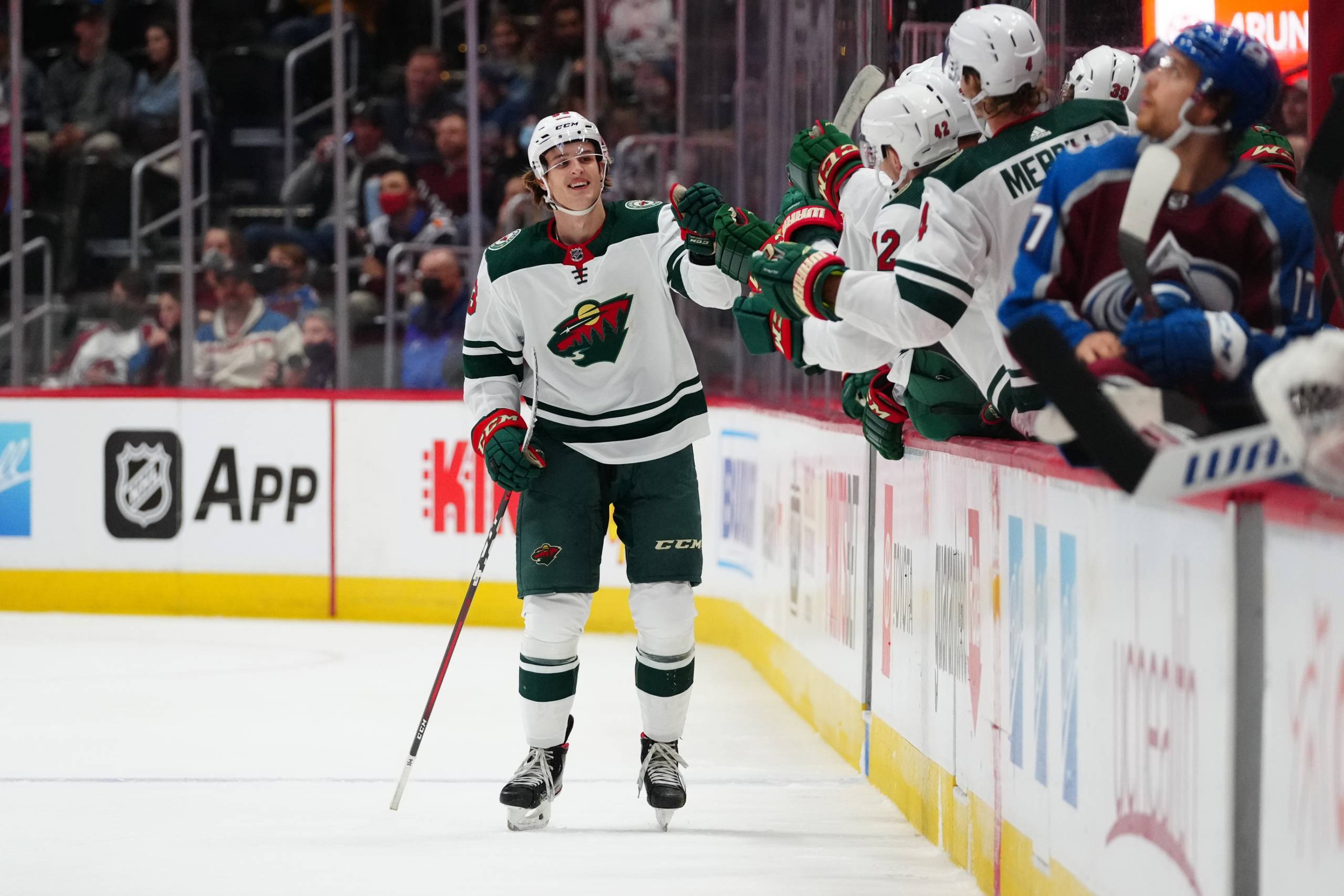 DES MOINES, IOWA – Adam Beckman found himself on the wrong side of the puck with 25 seconds left against the Grand Rapids Griffins back on March 4. The error led to a decent scoring chance, but luckily for Beckman, Jesper Wallstedt made the save.
Since Beckman has a tendency to overthink, Iowa Wild head coach Tim Army has approached the situation differently this season as opposed to last year when they did more instruction with him. Army said they've limited how much they show him on their end this season. Beckman will still go and watch film, but Army said he's only showing Beckman major things that need to be discussed. They don't want him to overthink, nor does Army want Beckman to think he's upset with him.
This end of the game situation was an example of a play they showed him, though.
"We've really worked hard on him this year [to] show him what we need to, work him in practice, but let him get out, use his legs and go play," Army said, "and I think that's helped him because he is a very reactionary player."
Army said Beckman will still ask questions on the bench because he cares about the details of his game even though sometimes he suffers from overthinking. And that's evident in his game. While Marco Rossi has deservedly stolen the spotlight during his tear in Iowa right now, Beckman has four goals in his past three games and nine in his past 10 games as he continues to cement himself as one of the Wild's top prospects. But now he'll have to wait to continue his best 10-game scoring stretch of the season as he's out with an upper-body injury, according to a recent report from The Athletic.
Beckman credited the team's success and the people around him to his recent scoring, but Wallstedt recalled some of his chances hitting the post early on in the season.
"Now he goes post and in instead," Wallstedt said.
Another factor though, like many goal scorers, is he's a "streaky" scorer, Army said. Although he was quick to point out that Beckman generates numerous quality scoring chances when he's not scoring. For instance, Army recalled a game against Manitoba the night before Minnesota called Beckman up where he could have scored five more times after scoring a breakaway goal to open the scoring. After all, the 22-year-old former 48-goal WHL scorer plays top minutes and all situations in Des Moines. And there's a reason why he's Top-10 in the AHL in shots with 186.
Army said Beckman's work ethic in terms of creating quality scoring opportunities is evident, and he's also a more effective shooter with a combination of quickness and heaviness in his shot. Part of this can be attributed to Beckman's increased patience with the puck, Army said.
So what's it like when he's feeling it?
"He's a little bit more patient with the puck, he's hitting his spots and he gets on a run – and that's how he is," Army said.
Army said he believes there is a connection between his streakiness and development, though. He was streaky last year, too, but he's a much more effective player now, which includes his play away from the puck.
Rewind the clock four weeks, and you'll see evidence of that in his latest call-up in Minnesota. To no surprise, Army liked what he saw again. "His last three games in Minnesota were reflective of how much he's improved just as a hockey player – as a complete player," Army said.
Beckman found the back of the net against the Los Angeles Kings back on Feb. 21 in the final game of his last call up, but the goal was later called off due to offsides.
"It was funny, obviously for a couple seconds there you think you scored the first goal," Beckman said, "but I guess it wasn't meant to be, so you just got to keep working."
Beckman said one area he's focused on is small battles, something he said that's been one of the weaker issues in his game.
"The biggest thing for me is just continuing to work on little battles and wall play and just continue to move my feet and try and work through things," Beckman said.
Those battles, along with being aggressive on pucks and creating offense the right away as opposed to cheating, Beckman said, are facets of his game he has improved in over the course of the past year.
"For myself, the offensive side of the game and that aspect of it is something that kind of comes a little bit more natural, but doing the little things is something that I got to continue to kind of work on and you get constant reminders," Beckman said.
As of now, Iowa looks destined to be in a playoff spot for the first time since 2018-19, and that playoff experience will surely help Beckman just like the call-ups this season have.