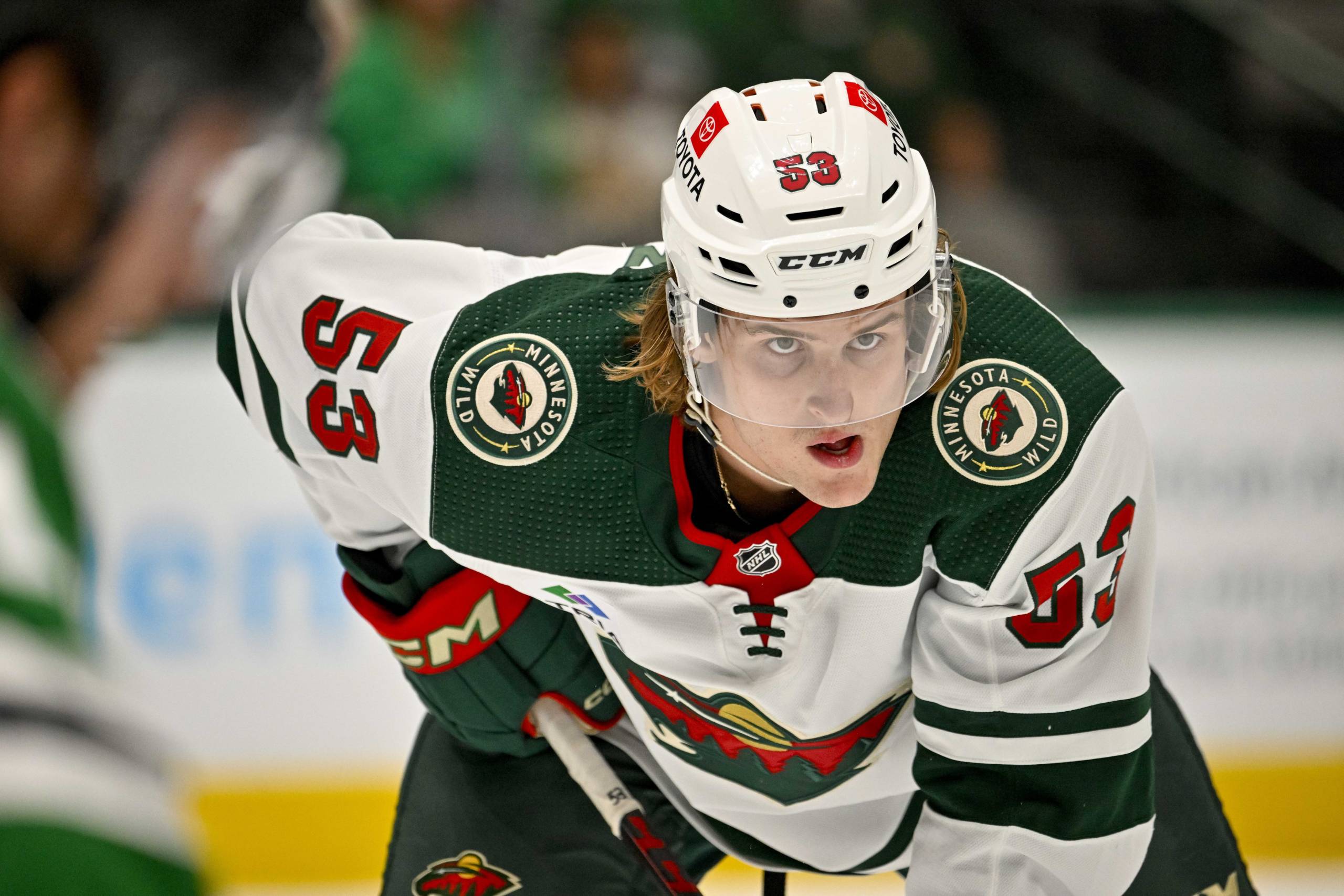 The Minnesota Wild are dealing with an unfortunate amount of injuries to some of their top players. Marcus Foligno, Ryan Hartman, Jordan Greenway, and Brandon Duhaime are all missing time. That's four tough, minute-munching forwards out of the lineup. Greenway may return as soon as Tuesday night, and Foligno is expected to return soon, though. Their return certainly will be welcome.

 

In the meantime, these injuries open up spots for guys to come in and play on a better line than they would if they were just on the roster for fourth-line depth. The Wild recalled Adam Beckman from Iowa on Sunday, and he will probably get the chance to play in the top-9, where he will thrive.

 

Beckman has been looking to make a difference in the big leagues for a while now. The 75th overall pick in 2019 has played just three games for Minnesota. In his only call-up, Beckman managed to get a last-second assist against the Pittsburgh Penguins last year. Not bad for a rookie who played less than 13 minutes per game.

 

 

"It was pretty cool," he

. "I think you can't really put into words how weird it feels, because you think about it for such a long time, you dream about it. Then to have it happen, it's pretty cool to see it all come to fruition. At the same time, just to get a little taste of it, it's good to help me realize how bad I want to get there and stay there."

 

After being on the third line for most of Iowa's season last year, Beckman has been on the first line in Des Moines all season. He is also on the power play and penalty kill. In a very up-and-down season for the Baby Wild this season, Beckman has tallied 6 points in 8 games. It's a big leap from last year, where he tallied 34 points in 68 games as an AHL rookie.

 

The Athletic's Joe Smith recently sat down with Iowa Wild head coach Tim Army. They talked about many Iowa alumni now with Minnesota, but they also touched on Beckman. Army praised him, saying:

"He's very herky-jerky, hard to hit. Very quick. Good nose for the net. He's quick off his first step. It took him time, but he's a far better player today than he was this time last year. He's playing big minutes – 24 minutes the other night. He's killing penalties. He's on the power play. He's hard on pucks, creating for himself. He's going to be a really good player – and an NHL player. It just takes a bit of time to bring it all together."

Beckman is still only 21 years old. It's perfectly normal for a player like him to get another year or two of development in Iowa. Being able to play on the top line and in all situations and getting over 20 minutes a night undoubtedly do wonders for that development, though.

 

The Wild play back-to-back games in LA and Orange County, so perhaps Beckman will get a look against the Anaheim Ducks. No matter what the situation, it can't hurt for him to get another taste of the NHL life.

 

In Dean Evason's post-practice availability Monday, he discussed his decision to bring Beckman (along with Joseph Cramarossa) along for the upcoming road trip.

"Both have played extremely well, we needed bodies. We had an opportunity to watch their game last Friday. Becks is having a great start to his season down there. He deserves to be here. We're gonna have to make a decision on if he plays tomorrow night or on this road trip, we'll see what translates. He's also played by all indications from the people there, Tim Army says he's played a grittier, more determined game. We clearly know his skillset, he shoots the puck a lot, he scores goals, he's got a well-rounded game. He's a year more mature, physically [and] mentally. We're looking forward to getting him some ice and seeing what he can do."

Beckman is excited for the opportunity to be on another road trip with Minnesota, he says, "It's a ton of fun to be back here." He also mentioned the improvements he made over the summer as well. "I made strides, I improved different parts of my game that maybe don't show up on the stat sheet."

 

Experience will only do him well, and Beckman knows that. "I feel a lot different, a lot more confident. Having a full year of pro hockey under my belt has really helped me this year, being more comfortable on the ice and more confident. Experience is the best teacher."

 

The winger is aware that he most likely won't play all three games on the road trip, but he's taking it all in stride. "If I get a chance to play, I want to make an impact, just try and play my game if I get the chance."

 

Tim Army likes the progress Beckman is making, and he sees a lot of potential in him as well, but fans are going to have to be patient. "[beckman is] only 21," Army told 10K Rinks in Des Moines last month. "He's got time. He's gonna be a really great player. This is part of the process, he's gonna keep track in the right direction. He's more physical, he's a more complete player, we just want to keep adding these elements to his game."

 

So whether or not we get the chance to see Adam Beckman play this week, fans have to understand that this is part of the process of developing young, promising hockey players. This is only his second call-up to the big leagues, so there's plenty of time for him to keep improving his game in Iowa or Minnesota.