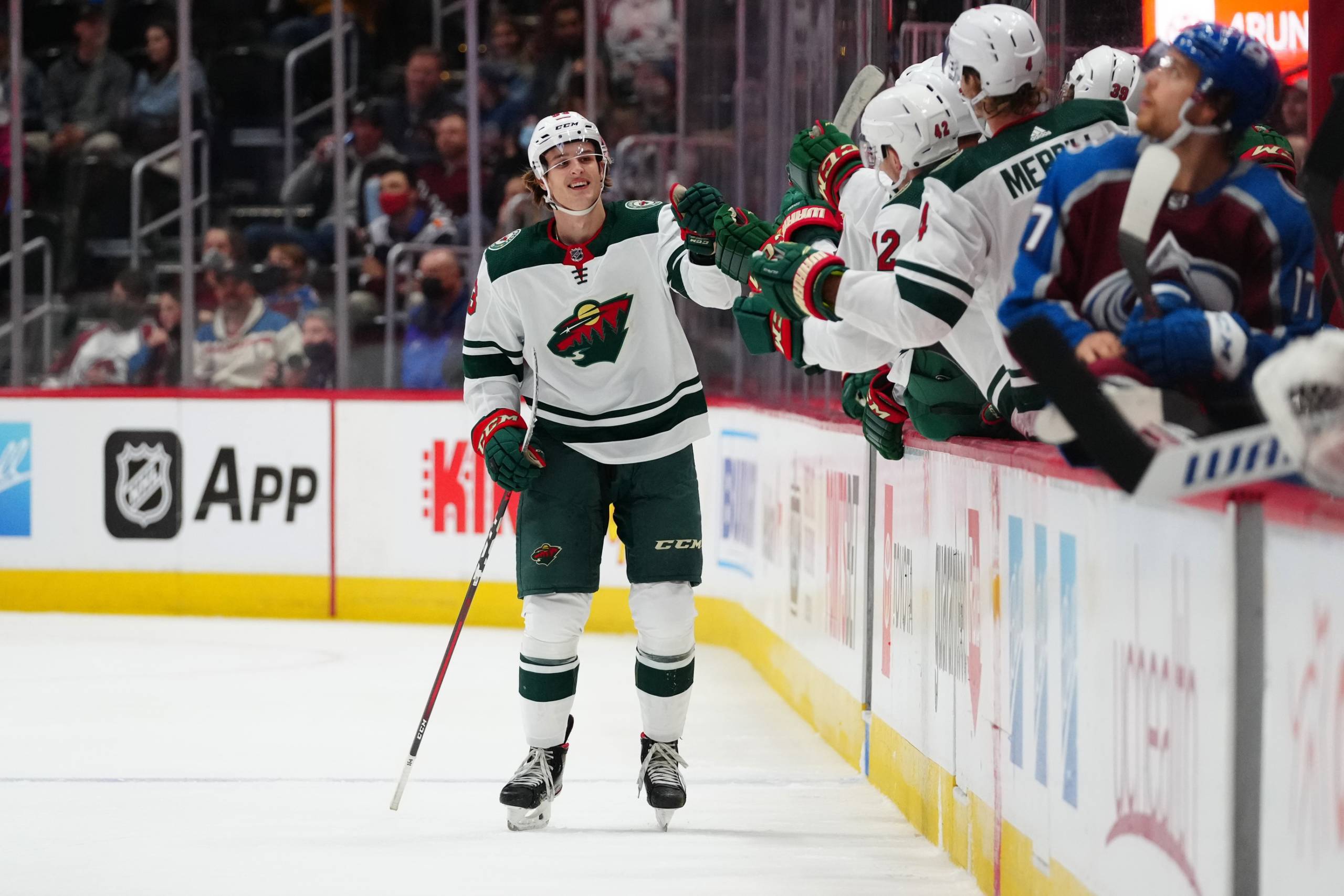 Adam Beckman was third in line to play Thursday night's preseason tilt against the Colorado Avalanche. The Wild held Kirill Kaprizov out of the game, which opened his first-line spot for Jordan Greenway. But Greenway was ill Thursday, which opened an opportunity for Beckman alongside Joel Eriksson Ek and Mats Zuccarello.
It was a fitting set of circumstances. Beckman was considered to be third in line for a Minnesota Wild roster spot when training camp opened. The spotlight was squarely focused on Marco Rossi and Matt Boldy, both highly-touted prospects with first-round pedigrees. They would be hard to beat out between Rossi's ability to play center and Boldy's monster season in 2020-21.
It's not as if Beckman is coming out of nowhere. The Wild drafted him in the third round in 2019, and he led the WHL in scoring with 48 goals and 107 points in 63 games. The COVID season slowed his momentum down a touch. He scored 17 goals in 21 games in the shortened WHL season but with just 10 assists.
The lack of a full season of juniors allowed Beckman to play AHL games at 19. His performance was fine for his age — three goals and five points over nine games — but it hardly suggested a player who was on the verge of making an NHL roster. But here Beckman is, doing just that. He took advantage of his top-line assignment, finding a soft spot between two Avs to punch in a rebound.
That made it his third goal of the preseason, and suddenly, Beckman isn't just pushing for a roster spot. He's perhaps on the inside track over Boldy and Rossi.
Without the games being televised, we don't have much to go on when it comes to the Wild's top two prospects' performance against the St. Louis Blues. We pretty much only have first-hand accounts and the stat sheet. Each skated over 17 minutes, but Rossi had two shots on goal, while Boldy had just one missed shot attempt. Still, it appeared as though Dean Evason was happy with their game.
Rossi didn't play Thursday's game, but Boldy did, getting a nice chance of his own playing with Kevin Fiala. No one could say Boldy struggled, as he made some excellent zone entries and showed flashes of chemistry with Fiala and Zuccarello.
But he didn't stand out, either. A hooking penalty negated a power play, and Erik Johnson scored on Minnesota 14 seconds later. He had one shot on goal on two attempts, which is fine, but again, didn't dazzle. Despite having nearly six minutes of power-play time, he didn't do much when placed in the "bumper" role in the middle of the ice.
Are these nitpicks? Absolutely. We're talking about one just-okay game, and Kirill Kaprizov struggled with that bumper role last year, too. But when there's intense competition coming from Beckman, it's the nitpicks that can make the difference between making the team out of camp and waiting for a call-up.
If Beckman makes the team over Rossi and Boldy, it's less that the latter did anything wrong and more that Beckman's been impressive. Evason raved about him to The Athletic, saying, "When you shoot the puck as much as he shoots the puck, you're going to get opportunities. You're going to score… A lot of guys come here and they'll be like, 'Oh, I have to pass…' He doesn't."
In Beckman's two games, he has seven shots on goal on nine attempts in 29:17 of action. Back of the napkin math has that as 14 shots and 18 attempts per hour. For comparison, Fiala generated 11.5 shots and 20.6 attempts per hour last year — both in the NHL's top 10. If Beckman can pull off anything resembling these rates in the regular season, he'll be an elite shot volume player.
It's not even just that Beckman is shooting a ton, but he's also getting shots from dangerous areas. Here are the shot locations from his first two games:

All but one shot attempt comes from either ~20 feet from the net or the slot. Three goals on seven shots is unsustainable, but if you're shooting a lot, and from those areas, you're going to get rewarded. Perhaps even with a surprise roster spot.
There's still plenty of time for Rossi and Boldy to assert themselves and reassert their cases for making the team. And hey, there are even scenarios where extra roster spots open up, and two or even three of these prospects can claim them. But right now, spots are limited, and it's hard to say Beckman isn't the favorite to make the Wild. And if his shoot-first mentality can beat out one or two star prospects, that should make Minnesota fans that much more excited about the team's future.