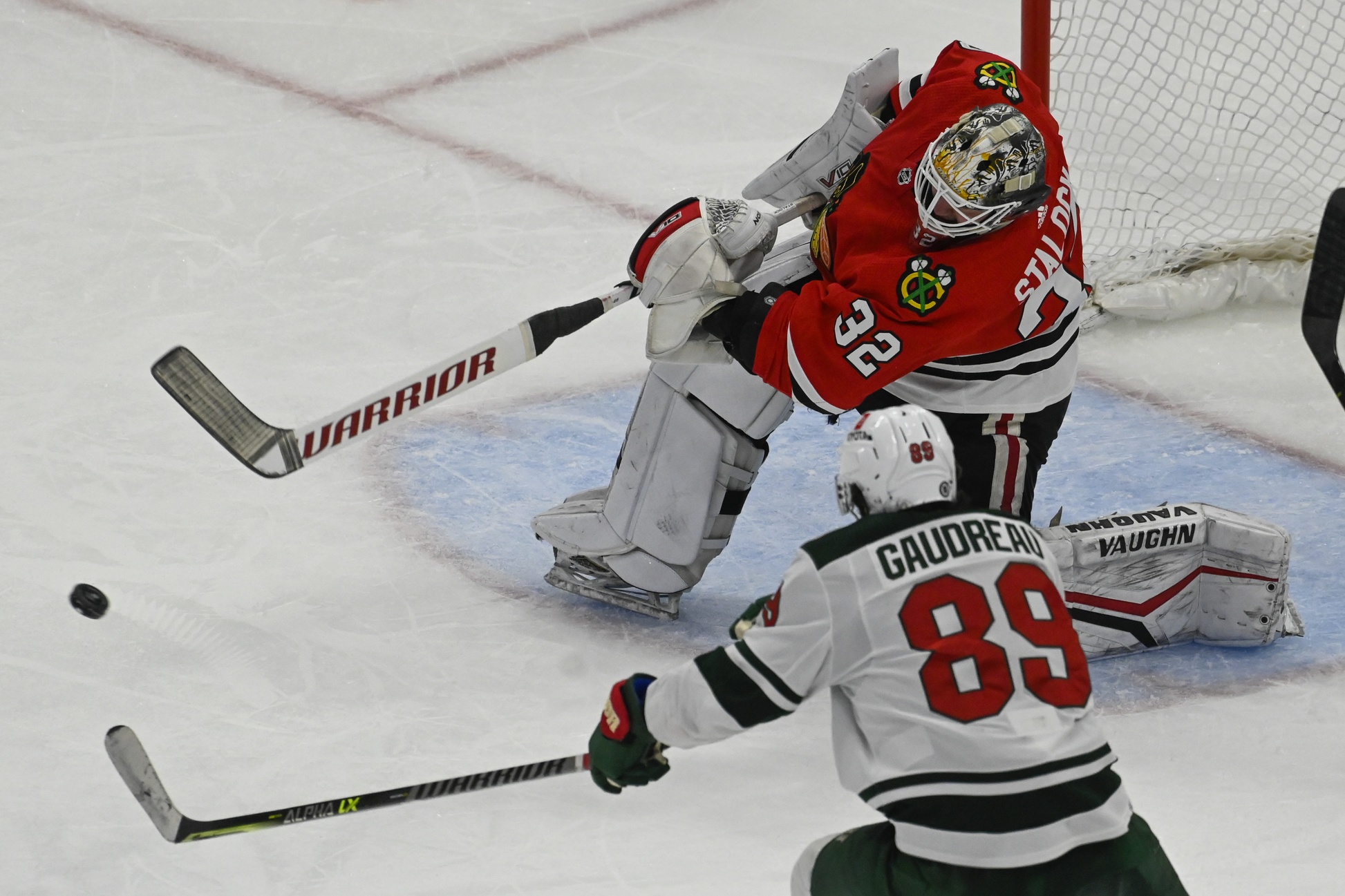 Image courtesy of Matt Marton-USA Today Sports
My newest obsession, and probably yours, too, is Puckdoku. Spun off from the baseball game Immaculate Grid, Puckdoku combines two great sports tropes: David Roth of Defector's "Let's Remember Some Guys," and "Inside the NBA's" "Who He Play For?"
If you're unfamiliar with the game, every day sees a nine-square grid where the rows and columns represent a certain team or statistical achievement. As a player, your job is to guess a player who meets the intersection of the two. You get nine guesses for the nine squares, so zero margin for error.
It's probably just easier to get visually, so here's my (pretty not-good attempt) at yesterday's grid. I really should know the Dallas Stars better than I do, apparently.

The game is to get a perfect 9-for-9 grid. But the game within the game is to get as many Sicko picks as possible. Picking Alex Ovechkin as a 40-goal scorer for the Washington Capitals does the job just fine, as filling out the grid is always better than getting one wrong. Still, you're not flexing your Guy Remembering muscles much. But getting Peter Bondra, or Alex Semin, or a dude like Dennis Maruk, who no one's heard of? That's the stuff right there. As bad as my grid was, I can at least hang my hat on Brian Bellows getting 0.8% of the correct guesses.
A day I'm excited for is whenever the Minnesota Wild make their first appearance, as I've spent a decade covering them in-depth and hope to bust out the real Sicko stuff. In fact, I'm so excited that I can't wait. I'm making my picks (going off the top of my head) for a player to fill every potential Puckdoku answer involving the Wild where I'd be most confident about them being under the 10% threshold for correct guesses. Also a goal here: No repeats, as you can't repeat answers in Puckdoku.
Have a better Sicko Pick, Wild fans? Leave them in the comments.
Anaheim Ducks
The Obvious: John Klingberg
My Sicko Pick: Dany Heatley. As you'll see through this exercise, there are two categories of player we can use. The first is the journeyman who got a cup of coffee for the Wild and another team, never to be heard from again. The other is the significant player that you forgot even played for the Wild or another team in the first place. Heatley is the latter, spending his post Wild-buyout years in obscurity in the O.C. (Don't call it that.)
Arizona Coyotes
The Obvious: Devan Dubnyk, Darcy Kuemper, Alex Goligoski
My Sicko Pick: Zbynek Michalek. A longtime Coyote (which is reason enough for obscurity to begin with), who debuted with the Wild back in 2003-04 (a time no one remembers), with just 22 games in Minnesota, to boot. 
Boston Bruins
The Obvious: Charlie Coyle, Brian Rolston, Manny Fernandez
My Sicko Pick: Mike Reilly. As a long-time Wild fan, I probably remember the Reilly College Free Agent Sweepstakes more than most NHL fans. Boston wasn't even particularly big on Reilly, despite performing decently, so I'll play it safe and go with Reilly here, even if I feel like there are more Sicko points to be had.
Buffalo Sabres
The Obvious: Jason Pominville, Thomas Vanek, Jordan Greenway, Marcus Foligno
My Sicko Pick: Matt Hackett. A principal part of the Pominville trade, Hackett played exactly 13 games with the Wild and 13 with the Sabres. Rise up, Sickos. 
Calgary Flames
The Obvious: Cam Talbot, Niklas Backstrom
My Sicko Pick: Chuck Kobasew. It feels like there's not much Flames/Wild overlap, at least for names that come to my mind. So I put Kobasew here instead of Boston or Colorado. A forgettable player who went on to do forgettable things elsewhere.
Carolina Hurricanes
The Obvious: Eric Staal, Nino Niederreiter, Erik Haula, Victor Rask
My Sicko Pick: Brent Burns. This is cheeky, but I wonder how many people are able to recall that Burns was both a Wild and currently is a Hurricane? I might not actually get under 10% for this, but I'd want to see what the percentage is, even if I can probably get lower unique scores elsewhere.
Chicago Blackhawks
The Obvious: Marc-Andre Fleury, Ryan Hartman, Nick Leddy, Cam Barker, Martin Havlat
My Sicko Pick: Alex Stalock. Yes, he was in Chicago just last year, but who was watching the Blackhawks play, except Connor Bedard scouting future teams? And let's be honest, if anyone's thinking of a Blackhawks/Wild goalie collab, it's going to be Fleury, not our Pal Al.
Colorado Avalanche
The Obvious: Andrew Brunette, Chris Stewart
My Sicko Pick: Owen Nolan. Nolan has name recognition, but as a Quebec Nordique, it might be difficult to draw the line from him to the Avalanche, and even harder to recall that an old Nolan played for the Wild. 
Columbus Blue Jackets
The Obvious: Mikko Koivu, Gustav Nyquist
My Sicko Pick: Marian Gaborik. Koivu's seven-game stint has great Wait, he played there? potential, but it might be just a touch too fresh for it to fall out of the Wild's consciousness. But does anyone remember the 32-game pitstop that Gaborik spent in Columbus? Gaborik could've filled in the Ottawa Senators spot, as well, but I wasn't sure if he actually played games for the Sens. (He did, 16 of them). 
Dallas Stars
The Obvious: Ryan Suter, John Klingberg, Goligoski
My Sicko Pick: Anton Khudobin. Long before taking Dallas to a Stanley Cup Final, Khudobin made his NHL debut in a Wild sweater on February 4, 2010. He'd make six appearances for Minnesota over the next season and a half before going onto the Boston Bruins. His one start for Chicago probably makes him the ultimate Sicko pull for the Wild-Blackhawks combo. 
Detroit Red Wings
The Obvious: Nyquist
My Sicko Pick: Teemu Pulkkinen. I feel pretty confident that no one remembers this guy. I think he went to the Wild on a waiver claim, and I couldn't remember if he'd actually played games for Minnesota. He played nine, so this gamble paid off.
Edmonton Oilers
The Obvious: Dubnyk, Talbot
My Sicko Pick: Barker. Barker gets notoriety for being a very bad return for Leddy in an infamous trade with the Blackhawks. He gets much less notoriety for his 25-game pitstop in Edmonton before becoming a KHL veteran. I'm sure Oilers fans will always treasure those two goals he scored, though.
Florida Panthers
The Obvious: Staal
My Sicko Pick: Sean Bergenheim. Another place where we might, in fifteen years, say "Wow, Staal played there?" but Staal just went to a Stanley Cup in a Panthers uniform. Not a lot of players here stand out, even if it feels like there should be more overlap with Florida than I can recall. With that said, Bergenheim is my pick, as it strikes me as difficult to believe more than 10% of correct-guessers would make this pull. 
Los Angeles Kings
The Obvious: Staal, Marian Gaborik, Kevin Fiala, Darcy Kuemper
My Sicko Pick: Jarret Stoll. Penalty killers, depth defensemen, and backup goalies tend to do well for the Sicko choice, so we're grabbing a penalty killer here. 
Montreal Canadiens
The Obvious: Guillaume Latendresse, Benoit Pouliot, Staal
My Sicko Pick: Vanek. Another guy playing on a team you have no recollection of him playing on. Staal would be good here, except again, it's very fresh in my mind that Staal was a Hab. Enough time has passed that only Habs fans, diehard Wild fans, and Austrians should remember Vanek's trade deadline run with Montreal. Hard to go wrong with the anonymous Gustav Olofsson, either.
Nashville Predators
The Obvious: Suter, Fiala, Mikael Granlund, Nino Niederreiter, Ryan Hartman
My Sicko Pick: Dubnyk. Aw, yeah, this is a "He played where?" pick if we ever saw one. In between his time in Edmonton and Minnesota, Dubnyk was passed between the Predators, Canadiens, and Coyotes. He only played in Montreal's AHL organization, but made two starts as a Predator. 
New Jersey Devils
The Obvious: Zach Parise, Jon Merrill, Rolston
My Sicko Pick: Ryan Carter. Back to the penalty-killing well, this time with a member of the local broadcast. The Sicko pick was staring at you right in the face!
New York Islanders
The Obvious: Cal Clutterbuck, Matt Moulson, Leddy, Parise, Niederreiter
My Sicko Pick: Pierre-Marc Bouchard. I probably don't get to this answer if not for PMB being one of my favorites as a younger Wild fan. I'd be shocked if Isles fans recall the PMB era happening there, either.
New York Rangers
The Obvious: Mats Zuccarello, Ryan Reaves, Derek Boogaard, Gaborik
My Sicko Pick: Pouliot. The fourth-overall pick in 2005 (The Sidney Crosby Draft!) flamed out in Minnesota, then got flipped to Montreal, where he also struggled. He did end up becoming a half-decent player for the Rangers, which probably not many people remember. A seven-team journeyman, he'd have worked well as an answer for other teams.
Ottawa Senators
The Obvious: Filip Gustavsson, Talbot 
My Sicko Pick: Alexandre Daigle. Fun fact: Daigle once held the Minnesota Wild single-season points record with 51. Not bad for a former first-overall bust, who had a surprisingly long NHL career. 
Philadelphia Flyers
The Obvious: Ilya Bryzgalov, Talbot, Hartman
My Sicko Pick: Christian Folin. There is an embarrassment of riches when it comes to random Chuck Fletcher-era cast-offs. Nate Prosser and Chris Stewart come to mind, as does Darroll Powe, a failed attempt to trade for a penalty killer in 2013. But if I had to bet money on one guy giving me under 1%, I'd take my chances with the big defenseman and his 26 games in a Wild sweater.
Pittsburgh Penguins
The Obvious: Jason Zucker, Fleury, Goligoski, Granlund
My Sicko Pick: Freddy Gaudreau. There are so many high-profile Wild-Pens connections that I feel safe in sneaking someone from Minnesota's current roster in here. Gaudreau's connection to Nashville and Dean Evason is well-known. His 19 games in Pittsburgh during the COVID season, not so much. I'm counting on no one remembering his time between being coached by Evason. 
San Jose Sharks
The Obvious: Burns, Devin Setoguchi, Martin Havlat, Heatley
My Sicko Pick: Torrey Mitchell. Kaapo Kahkonen, Alex Stalock, and even Dubnyk could've made for decent bets here. I'd guess that Sicko Pick hunters would target them and go even more obscure with Mitchell, a penalty killer no one in Minnesota cared about or remembered.
Seattle Kraken
The Obvious: Carson Soucy
My Sicko Pick: Ryan Donato. The two newest expansion franchises are going to be the toughest boxes to tick, so I played it fairly safe and went with Donato, who played two years with the Wild. I can't imagine this would fall under 10% on Puckdoku, but I don't know of anyone else who would, off the top of my head. (NOTE: You might have better luck with Marcus Johansson).
St. Louis Blues
The Obvious: Marco Scandella, Leddy, Reaves, Stewart
My Sicko Pick: Brodziak. The Wild's penalty-killing center du jour of the mid-2010s spent a fairly long, quiet, unmemorable stint as a Blue. Prosser would've been in consideration, but it was hard to remember whether the Blues just claimed him, or actually played him. (NOTE: Exactly one game!). 
Tampa Bay Lightning
The Obvious: Filip Kuba
My Sicko Pick: Wes Walz. Ugh. My first whiff of this exercise. I got greedy and left Walz out of the mix in Boston. There's a reason for the confusion, though: Walz was an assistant coach in Tampa. With him off the board, I'll go with Dwayne Roloson, who got the Lightning and Wild to Conference Finals. 
Toronto Maple Leafs
The Obvious: ???
My Sicko Pick: Cliff Ronning. Crud, the second whiff of the piece. If only Ryan O'Reilly played a game in Minnesota. I had a brutal time thinking of anyone who crossed over from Toronto and Minnesota, so I just picked someone I remembered from the NHL Hitz 20-03 roster and hoped for the best. If you guessed Darby Hendrickson, Dominic Moore, or Jordie Benn, though, good for you.
Vancouver Canucks
The Obvious: Willie Mitchell
My Sicko Pick: Andrew Ebbett. As the player having the closest last name to mine in Wild history, I remember the Wild playing this guy in their absolute worst season. I doubt you remember those 49 games, or the 46 he went on to play for Vancouver.
Vegas Golden Knights
The Obvious: Fleury, Haula, Alex Tuch
My Sicko Pick: Brad Hunt. It's hard to come up with a true Sicko pick for such a recent expansion team. Even Reaves didn't feel right. Luckily, I remembered Brad Hunt existed, which is no easy feat. It feels like Merrill was also a Knight (NOTE: He was for two years), but Hunt is both more obscure and I'm more certain that he actually played for Vegas.
Washington Capitals
The Obvious: Marcus Johansson, Kuemper
My Sicko Pick: Jose Theodore. This one felt pretty tough, so I took a stab at a goalie who was in Minnesota for precisely one season and lucked out.
Winnipeg Jets
The Obvious: Niederreiter
My Sicko Pick: Dmitry Kulikov. What's with Canadian teams and not having much in the way off semi-well-known Wild alumni? Kulikov doesn't feel like a hardcore Sicko pick, but he's bounced around the league and it might be relatively easy to forget that he played in Winnipeg or Minnesota. 
Once again, if you have some good Sicko Picks, leave them in the comments. 
1

1