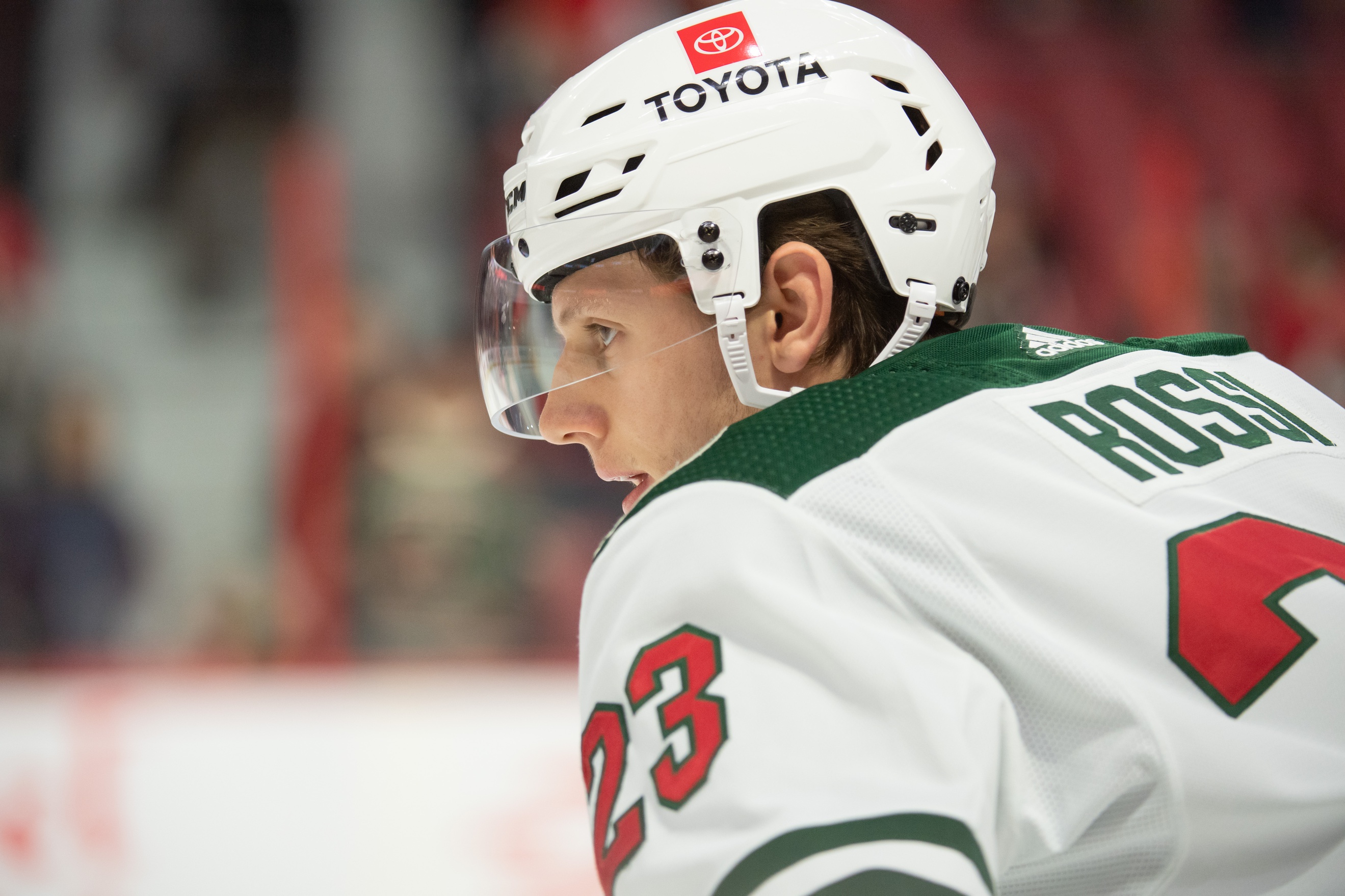 Image courtesy of © Marc DesRosiers-USA TODAY Sports
The Minnesota Wild look like they're done with their offseason additions, so it's time to consider what they could look like on the ice this season. No one knows what the lines will be besides Dean Evason. However, there is one player who could change Minnesota's lineup for the better. 
Marco Rossi can make the Wild's lineup scarier, more dynamic, and more effective. Placing Rossi in the top six or even at the top-line center spot unlocks all kinds of interesting possibilities for the Wild. 
First off, there are three certainties in this life:
Death 

Taxes 

And 36 and 97 will always be together 
No matter what they do with the players around them, the Wild will always pair Kirill Kaprizov and Mats Zuccarello together. It's just a matter of who will center them. Ryan Hartman has filled that spot recently. He's done an admirable job playing out of position, but another player may better suit that spot. 
Rossi should center Zuccy and Kaprizov. He does not need to be "the top-line center." A Matt Boldy - Joel Eriksson Ek - Marcus Johansson line can be that for this team. Eriksson Ek has developed a strong offensive game, and he can finally win some Selkes now that Boston Bruins legend Patrice Bergeron has retired. 
Boldy is more than capable of being a top-line player. He's never caved to the pressure before, so there's no reason to think he couldn't handle it now. Johansson showed great chemistry with Boldy and Eriksson Ek when they played together at the end of last season. Johansson is a veteran who's played all over the lineup in his time with a plethora of teams. He's played over 14 years with six teams. He's lined up with top guys like Alex Ovechkin, Nicklas Backstrom, and Evgeny Kuznetsov. He can handle it. 
Kaprizov does not need to be on the quote-unquote "top line." He just needs enough ice time to produce offensively. As long as Kaprizov and Zuccarello get even time with Boldy's scoring line, it does not matter. Minnesota's first and second lines are arbitrary. Kaprizov will still get powerplay time and Evason will deploy him in scoring situations. He'll be fine. He cares a whole heck of a lot more about winning hockey games than he does about what line he plays on. 
Evason moved Hartman off the top line last year. Sam Steel played 39 games between the two last year, and he's not on the team anymore. There are other options. Heck, even Freddy Gaudreau got a shot at it. The Wild would rather have these journeymen, who have already proven to not be that effective, play with Zuccarello and Kaprizov rather than the future franchise centerman. With Rossi's style of play, he's more equipped to play the kind of fast and skilled game that the dynamic duo plays. Dean was sitting on the winning lottery ticket but he was too scared to leave Boston to cash it in. 
Hartman has been a bottom-six player in the past, and he's been effective. He could be the perfect third-line center or wing with Marcus Foligno and Gaudreau. With Rossi in the top six, it gives the Wild two responsible scoring lines and two hard-nosed checking lines. A Foligno - Gaudreau - Hartman third line has just enough offensive pop to challenge and create scoring chances, too. 
This is what a lineup with Rossi in the top six would look like:
Line 1 or 2: Boldy - Eriksson Ek - Johansson 
Line 1 or 2: Zuccarello - Rossi - Kaprizov 
Line 3: Foligno - Gaudreau - Hartman 
Line 4: Duhaime - Connor Dewar - Maroon 
That lineup would be filthy. All the lines can play a role and play it well. It puts Rossi in a position to succeed. The Wild would have two scoring lines and two checking lines that can provide occasional offense. It's a dangerous lineup. 
There are no guarantees that the Wild put Rossi on the top line this year. They didn't last season. However, Rossi could make a massive impact if he capitalizes on a top-six role, so it's worth experimenting with it. Now, if he isn't fully engaged in practice and not ready to go during camp, then there is no reason to elevate him. But that's never been a problem for Rossi. He's determined to make the team and not return to Iowa. 
I assume the Wild want to develop Rossi as a center. There's been no talk about having him move to the wing. Therefore, it's fine to start Rossi on the third line. But his wingers would be a combination of Foligno, Gaudreau, and Brandon Duhaime. Maybe even newcomer Patrick Maroon. None of those guys are goal-scorers. 
Foligno proved that his 23-goal season was an outlier and not a sign of things to come. He's regressed to his mean as a scorer, netting around ten goals a year. Freddy Gaudreau has never netted 20 goals before. While he's been better with the Wild, scoring 14 and 19 in the past two seasons, he's not really an offensive threat. Both of these players are defense-first type players. They are known for being responsible on their own end, with the ability to chip in on offense occasionally. 
These are not the kind of players the Wild should have Rossi build confidence with. Rossi is a playmaker. One of his best attributes is the ability to set others up for scoring chances. Therefore, it would make sense to surround him with guys who have displayed the ability to score. Maybe Rossi can develop some chemistry and create chances for his offensively challenged wingers but don't hold your breath. Either way, it's just not the ideal spot for him. 
Rossi is not a special case, the Wild have made rookies earn it before. He had a chance last year, and he could not capitalize on it. This year, the benefits outweigh the costs of putting Rossi between Kaprizov and Zuccarello. Rossi has grinded, he has worked, he has earned it. 
Now is the time. 
All stats and data via HockeyDB and MoneyPuck.com
5

1