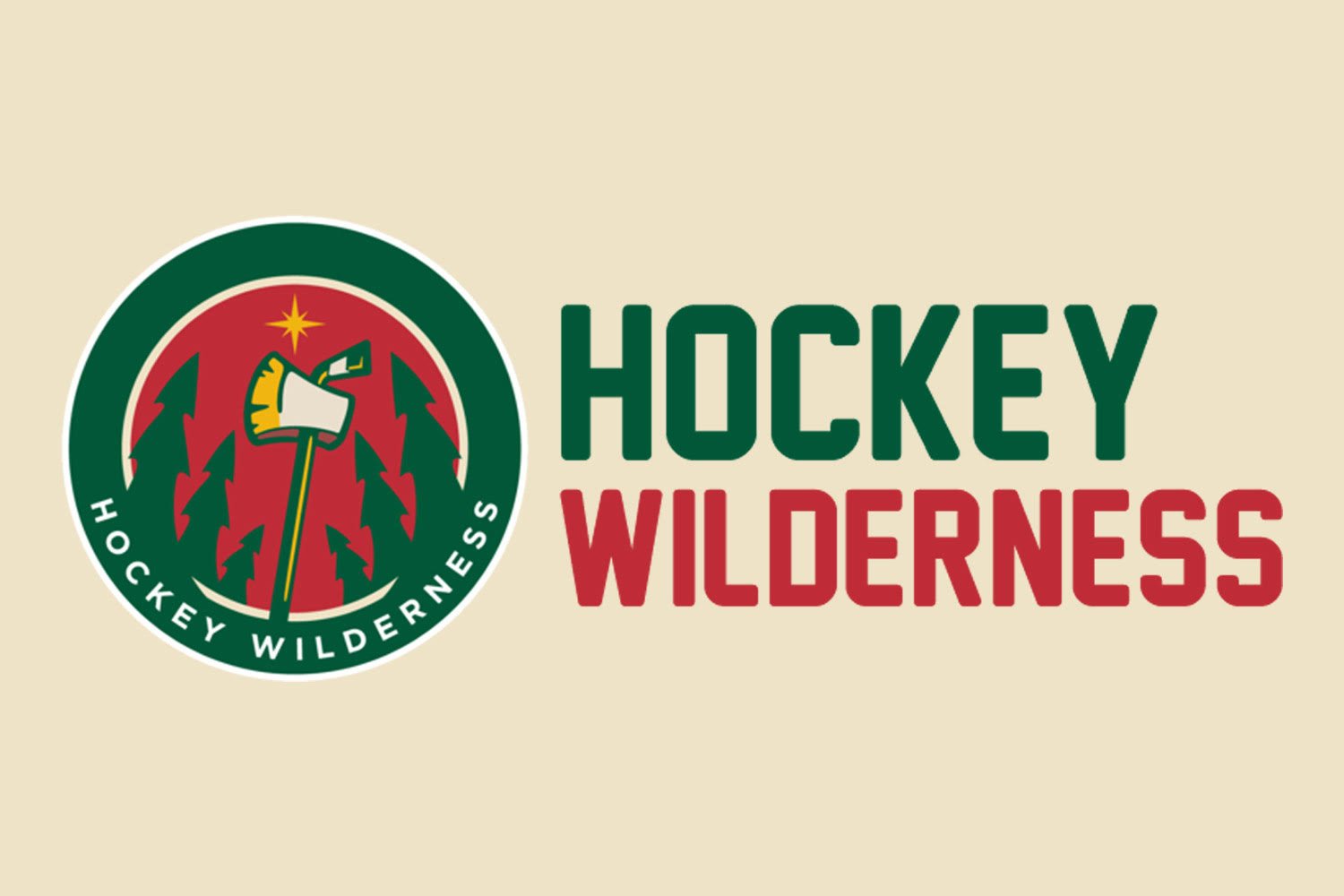 Chocolate malt-nougat. That's what it's all about. That's what the whole thing is based on. It's the signature that makes the candy bar. The creamy caramel, not too much, but the perfect amount for depth and texture to the interior. A milk chocolate case. Plain, simple, not too flashy. Enough to go around, but nothing you're going to remember if they tweaked the recipe a bit. The wrapper. This is the part you depend on to keep you safe when the elements are being tested, but is ultimately thrown away.
That's your Minnesota Wild folks. Reduced to a candy bar. Some nougat, caramel, chocolate, and a wrapper. I'm sorry if it seems a little trivial or cliche, or maybe makes you a little hungry. There's a lot of anger to go around, a lot of promises broken. If you're feeling defeated, and beat up, it's because you are. This team has done it to you.
It wasn't so long ago, the Wild were unstoppable. Yet, here we sit, on the cusp what could very well be the last game of the season. How did it all happen? Is it just as simple as running into a hot goalie? Did the team get overconfident in the winning streak? Did the dismal March and condensed schedule doom the team?
All of it is probably true to some degree. If Jake Allen is mortal, this series is singing a different song. If the Wild didn't play out of their mind through December, do the depths of March not scar as bad? This team has taken its fan base on quite the roller coaster of a season. (Would we have it any other way?)
The nougat is certainly billed to its role. The core of this team. Eric Staal has been more that what was being asked of him. Mikko Koivu as sturdy as ever in the dot, and he hasn't seemed to have lost a step with his 2-way game. Nobody works harder than Zach Parise on the ice, for 70 games a season of course. Injuries have plagued Parise each season since the lockout, and held him to just 69 games this season.
If nobody works harder than Parise, then nobody makes it look easier than Ryan Suter. If any part of the nougat is gooey, it's Suter. The guy is good. Effortlessly good. Jared Spurgeon has anchored himself in as the teams #2 defensmen. He used to be the leagues best kept little secret. Devan Dubnyk. Do you really need to say much more? Sure he sank with the rest of the team in March, but the guy was a wall for much of the season.
Forget for a moment your personal beef with any letters these guys may or may not wear on their jersey. That's unimportant, because these guys are the heart and soul of the Wild whether you like it or not. They are the guys everyone looks up to, an everyone leans on. They are also the guys ripe the the greatest criticism. They deserve nearly every bit of it too.
Then you've got that nice layer of caramel. They're the players who you really know what you're getting, it's not surprising, yet it's always a delight. Could Mikael Granlund have been a little something more than caramel? Perhaps. For my money it doesn't get much better for a guy like Granlund, except in that he, like much of the team struggled down the stretch. Nino Niederreiter was held to what? Like, twenty-something games without a goal? Jonas Brodin was so plainfully good all season. Matt Dumba grew this year and you saw that on the ice all season. Mistakes made were converted into learning opportunities, and it showed.
Jason Pominville is your classic example of an uneven layer of caramel spread across a season. Charlie Coyle had ups and downs, but the guy is a horse. 1 of just 4 Wild skaters to play in all 82 this season (Nino, Staal, Suter were the others). Jason Zucker's speed caused fits for the opposition all season as he made great strides offensively. Adding stronger defensive game to his quiver kept him high on everybody's radar. It's this layer that binds the core of the team to the outside layers.
Here's the thing. The time is now for these guys. With the exception of Pominville, it is time for them to step up, and take the reigns on this team. There can be no focus on winning a cup during anyone's "cup window", and it is time to start building around the youth. The iron is hot, the kids are ripe, it is time for them to take over as the leadership of this team.
It's not that I want to "Rip the C" from Koivu. It's a letter on a jersey and I'm not sure my level give a crap gets any lower than when that old argument starts getting thrown around. But we still have a new class of prospects itching to get their toes in the water at the NHL level. The leaders on this team should be the ones who are the direction, not the window. Speedy, creative, aggressive, responsible. This is the kind of play that drove the Wild to have a very successful season, and the front office and coaching staff would be wise to take note and start to pass the torch.
Of course, no candy bar is complete without that outer coating of sweet chocolate. It's the role player in the candy bar, holding it all together. In a way, that is exactly what your role guys on a team do. They hold it all together. Chocolate might not always be your best option, but it's serviceable in almost any situation. The kind of effort you get out of Chris Stewart. Say what you will about his knack for dropping the gloves, but the guy plays an intense brand of hockey. He hits big, he misses big.
Erik Haula felt at times much like chocolate, not very creative, and questionable effort. Tyler Graovac scored 7 goals, and I can vaguely recall maybe 2 of them? Martin Hanzal was brought in to put this team "All-In", remember? He's been alright, and maybe I don't know enough about the guy, but he seemed checked out a lot. Could just be his style though, I'm not sure I ever noticed emotion with him. Marco Scandella took a step back, or maybe he's just kind of topped out, and will bounce back to an average run next season.
We could go on for quite a while about the chocolate layer. Say what you might about their play, but when they are on, it creates better opportunities for the top line guys. Drawing penalties. A relentless forecheck creating an offensive zone draw. Or even just building momentum through sustained pressure. The chocolate sets it up, the caramel and nougat knock 'em down.
We can marginalize their play all we want, but they are important. They are also somewhere in the realm of replaceable. Whereas you could lose Scandella in an expansion draft, and you might not be able to replace him exactly, but you could still just as easily fill that void with a Michael Del Zotto type and probably not feel like you lost too much, if anything.
The pressure is off the chocolate. It's not top billing on a candy bar, and it's certainly not on a hockey team. These guys are free to play fast and loose on the ice and see what kind of adventure they can get themselves in. It might draw the attention of a few lines in a fish wrap, bloggers might lose their ever-loving shit over something they do, but next season the same guy, maybe a different name will be right back on the team doing the same thing.
The wrapper is plainly Ryan White. No offense buddy, but you're the throw-away portion of the candy bar. I'm not as low on you as some of our other esteemed staff, ("Oh, hi Tony") although you do leave me scratching my head from time to time. Alas, you are the expiring contract I do not see coming back next season, and since I don't see it happening, we'll see you for the 2017-18 in those new fancy jerseys everyone is talking about.
If you're feeling defeated even before we drop the puck on game 4, it's only natural. For 82 games you lived on this. Maybe you didn't watch every game, or read every article there ever was. Perhaps your team pride through December and collapse in March has you just as apathetic towards hockey as I am right now.
Somewhere though, creeping around in that head of ours, was the next game.
That next game is here. That next game is tonight. It could be 1 of 2 things. It could be the end. The end of old leadership, of outdated structures. It could be the end of an era.
Or, could that be only the beginning....
No Regerts!