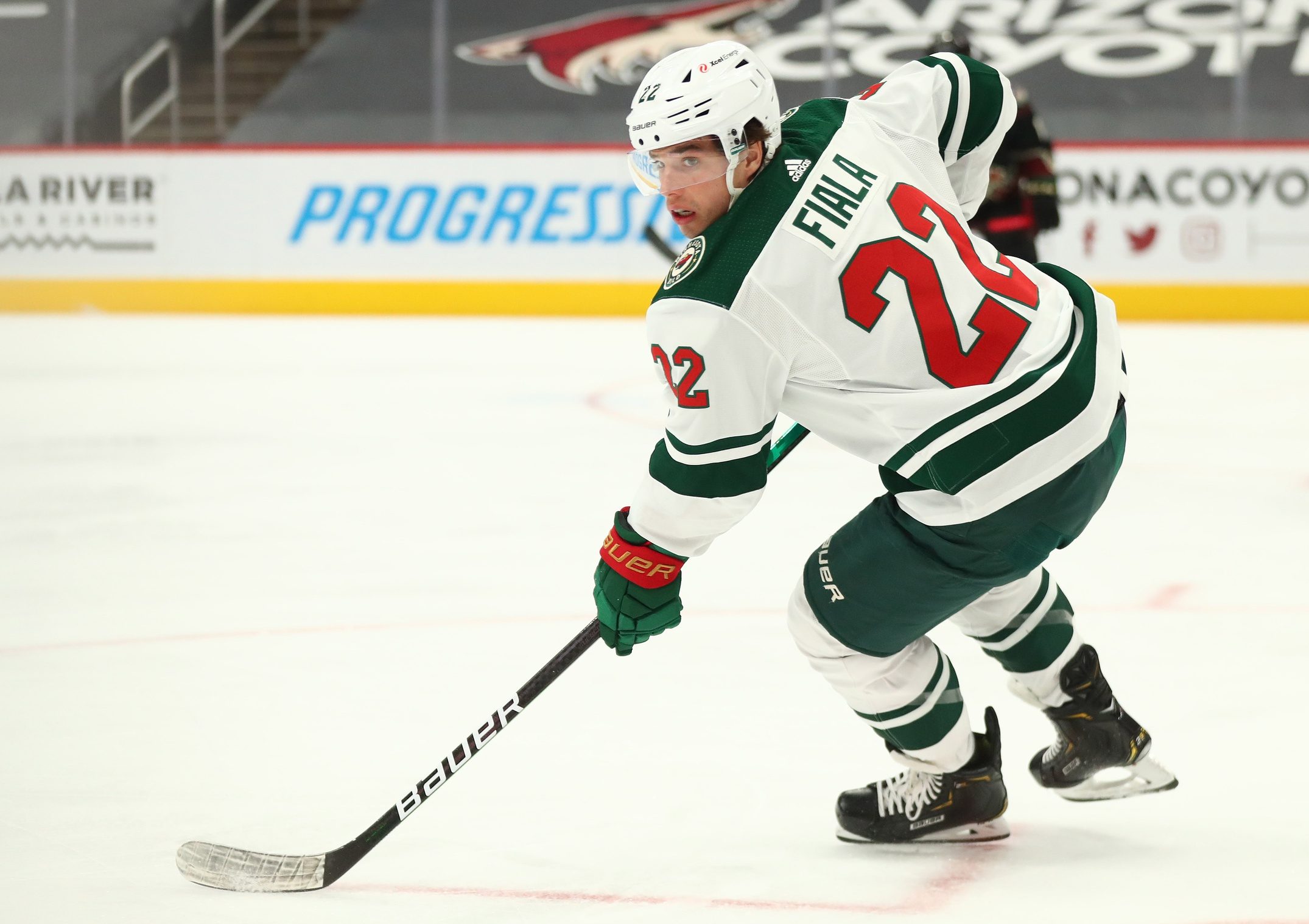 Kevin Fiala is off to a slow start. It seems the Minnesota Wild winger has a plethora of scoring chances every game, but he can never seem to get any in the net. His slump has him falling out of favor with the coaches. He got temporarily kicked off the No. 1 power play unit, and Dean Evason benched him for most of the third period of Saturday's game against the Florida Panthers. Fiala had a goal and an assist in Sunday's game against the Tampa Bay Lightning, but the writing seems to be on the wall: His time the Minnesota Wild may be drawing to a close.
When the Wild traded Mikael Granlund for Fiala, fans felt the Wild should've gotten more in return because Fiala wasn't playing up to his potential yet. They were proven wrong; Fiala blossomed in Minnesota. His jerseys were flying off the shelves at the Hockey Lodge as fans were so excited to have a star on the team finally. In the previous two seasons, Fiala has put up solid numbers, with 23 goals and 31 assists in 2019-20, and 20 goals and 20 assists last season.
The Wild thought Fiala was the star they desperately needed. However, the forward is snakebitten this season, with only three goals and nine assists in 18 games. With the amount of talent he has, Fiala's lack of production is concerning. He is constantly turning over the puck and whiffing on shots on goal. The puck is sliding off his stick in the middle of grade-A chances. It seems like he's got a scoring chance right in front of the net on every shift, and he just can't put it in.
Fiala appears frustrated, and he has voiced his displeasure with his play over the course of this season. On Saturday, Fiala was clearly upset with himself, saying, "Good play. Didn't work out. What can I do?" Perhaps he is just having a long string of bad luck, and it's gotten to his head.
The coaching staff shares that frustration. The Wild took Fiala off the first power play unit, where he has always had a spot. He's had nearly 56 minutes of power play time this season, with only three points to show for it. However, he is second on the team with 16 shots on the power play, showing he's getting the chances but not putting them away. He was also benched for the majority of the third period during the game in Sunrise, Fla.
Evason rarely calls out players publicly, but he has voiced his concern with the struggling winger. During Saturday's post-game press conference, Evason was asked why he benched Fiala. "He didn't get lost, no. No," he said. "At that point in the game, we played other people." The lack of confidence in the slumping winger was palpable.
Maybe Fiala needs a fresh start elsewhere. New management, teammates, and location. Some players need a change of scenery to jump-start their careers again. And since the Wild don't seem to envision him in their future, they may need to move on now.
Fiala is signed to a one-year deal and will become a restricted free agent at the end of the season. What kind of return could the Wild get for him? Could they possibly make Jordan Greenway and Fiala a package deal and target a center? Names like Bo Horvat and Tomas Hertl have circulated in the trade rumors. Both Horvat and Hertl have faceoff percentage wins over 50 percent, while Nico Sturm is the only center for the Wild with over 50 percent faceoff wins. Either player would provide the Wild with a solid center armed with a scoring touch.
Could Fiala be that key player on the Vancouver Canucks roster to provide consistent goal scoring? Could he play alongside Logan Couture and give the San Jose Sharks an extra scoring punch?
With several prospects playing at wing, such as Matt Boldy and Adam Beckman, there are already heirs apparent to Fiala's spot in the lineup. Boldy scored three goals and had four points for the Iowa Wild last weekend. He looks ready to step into a scoring role. The Wild have always been in the market for centers, so maybe selling wingers might get them that top-six center they've needed.
The Wild also have the choice of sticking with Fiala, even with his current struggles. It might take some smoothing over lingering tensions, but Fiala has proven in the past that he's got star talent and can score big goals. With how deep the Wild roster is, maybe the Wild just need to find Fiala the right linemates. Perhaps his two points against the Tampa Bay Lightning will prove to be precisely what he needed to provide a scoring punch again.
There is no doubt that Fiala has a latent ability that can be tapped into. His highlight-reel goal against the Arizona Coyotes was a stunner, and even Fiala himself was impressed with it. The past few seasons have shown that he can be a goal-scorer. He's a former 11th overall pick and can be a great player at times. But will that happen consistently here? It's looking less likely by the day.
The better option is going down the trade route. The Wild don't view him as part of their future, and his struggles aren't changing that. Ripping the band-aid off is the best for everyone involved, especially if he can be the key piece in a trade that gives Minnesota a legit good young center. Between his slump, being in Evason's doghouse, and prospects beating down the door for Fiala's spot, he's expendable, and a trade feels inevitable.