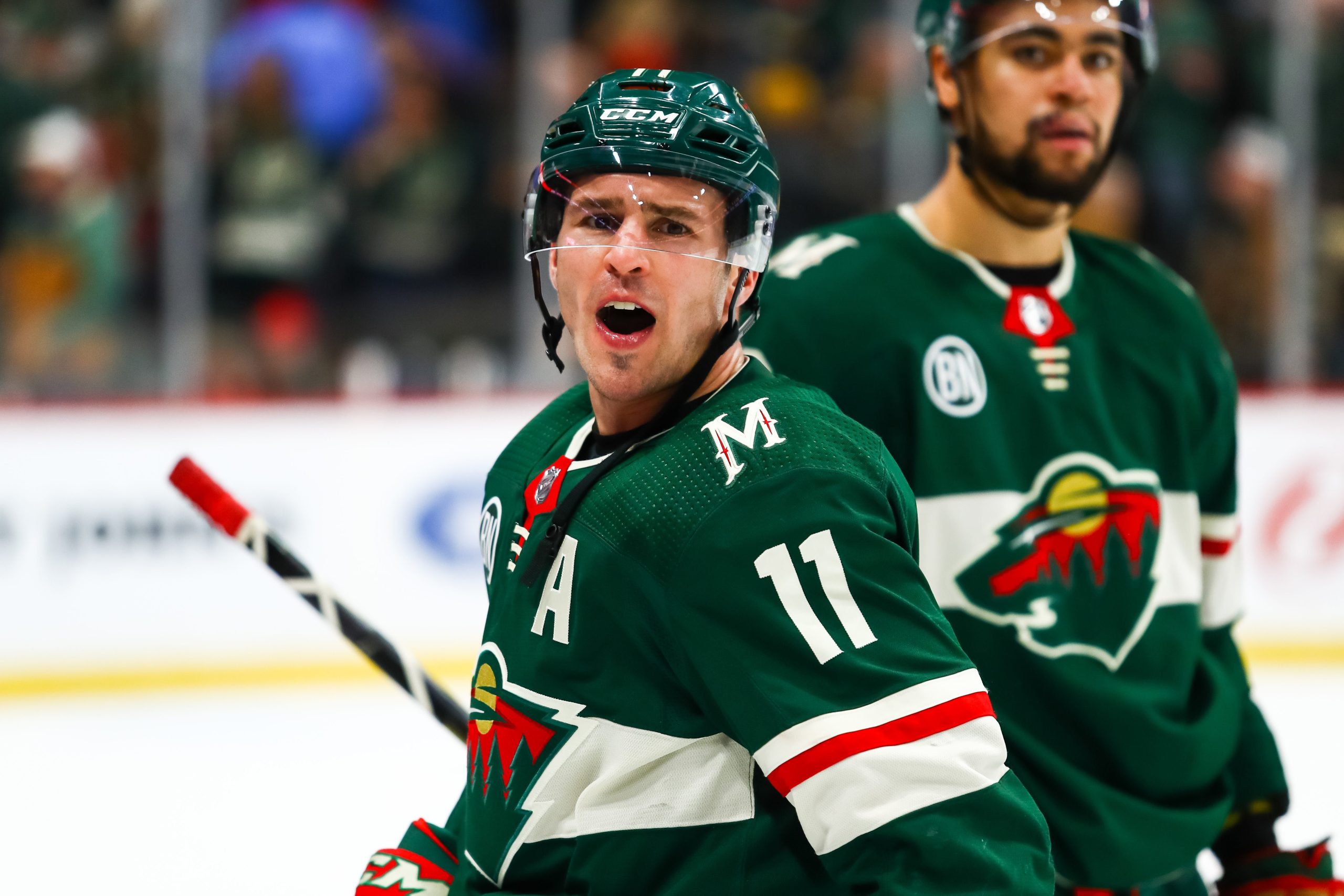 Three games this week separate the Minnesota Wild from the holiday break. The NHL's roster freeze will begin on Dec. 19 and will carry through Dec. 28. Let's take a look at the good and bad with the Wild as they near the break.
Good
Parise/Coyle/Niederreiter line
In the absence of Mikko Koivu this past week, Bruce Boudreau was forced to shuffle his deck and moved Charlie Coyle back to center in between Zach Parise and Nino Niederreiter. The trio amassed six goals and five assists between Tuesday's and Thursday's game -- in which Minnesota outscored its opponents 12-2 -- forcing Boudreau to make a difficult decision upon Koivu's return as to if he would break up the line.
"Yeah, we'll see where everything falls, but as of [Thursday] … our line has been playing really well. You know we'll see where it goes, but we were playing really well with Mikko in the middle, too. I don't have to make that decision," Parise told The Athletic following Thursday's win over Florida.
At Monday afternoon's practice, Boudreau seemingly indicated he would keep the line intact with the return of Koivu.
Kunin getting his shot
With the expected return of Koivu on Tuesday, Luke Kunin will get a big-time shot to remain on the team as he will be on a line with Koivu and Jason Zucker. Boudreau said of Minnesota's 2016 first-round pick Monday, "We're going to give him a chance. Here's a young guy who's playing with some pretty good hockey players so it's a chance for him to show what he's got."
In 21 games for Iowa this season, Kunin tallied eight goals and seven assists. A rookie getting a chance to play with some of the Wild's best players is not often seen, so Kunin will have to make the most of his chance on this line.
Dubnyk bounced back
Boudreau basically had no other solution for Devan Dubnyk's struggles last week other than to throw him out there and just let him figure it out. Whether you agree with that strategy or not, Dubnyk did have a strong week last week as he stopped 83 of 87 shots (.954 save percentage) in the three games Minnesota played.
The Wild will always go as Dubnyk goes, and if he can have weeks with save percentages closer to the .950 mark he was above last week, the Wild will be just fine. But if it resembled anything as it did in the weeks previous, the Wild will be far from fine.
Bad
Dumba injury
Defenseman Matt Dumba will be sidelined at least a week, as Boudreau told the media Monday, after suffering an upper-body injury in the first period Saturday against Calgary.
Dumba leads all NHL defensemen in goals (12) and power play goals (six) this season and has been a stalwart for the Wild this season mainly alongside Ryan Suter. Having him out for an extended period of time is a huge loss to the blue line, and to the offense in general. Dumba was seemingly hitting his stride on the back end as he was utilizing his cannon shot which has been a big boost for the Wild this season.
Spot in standings
Despite winning two out of three games this past week, the Wild find themselves on the outside looking into the playoff picture to open the week.
[caption id=attachment_45663" align="alignnone" width="774]

Courtesy of NHL.com[/caption]
As you can see above, the Pacific Division has really picked up its game in the last couple of weeks. Calgary and Anaheim have won eight of their last 10 games. San Jose is starting to turn its game around for the better. Edmonton has been rejuvenated by the arrival of Ken Hitchcock behind the bench. Vegas is starting to pick up its game from where they left off last season.
What does this mean? The Wild are going to have a dogfight to get back into the playoff picture and can ill-afford to lose games in regulation. Picking up points, and mainly wins, needs to start coming fast for the Wild as they hope to keep pace with the suddenly red-hot Pacific teams.
Eriksson Ek
As you saw in the practice lines for Monday, Joel Eriksson Ek has been pushed down to the fourth line with the return of Koivu. This is not good, as Eriksson Ek -- Minnesota's first-round pick in 2015 -- has been held scoreless in the last six games and nine of his last ten.
If Kunin is able to produce well, perhaps a brief stint in Iowa is on the horizon for Eriksson Ek just to build up some confidence? He really could benefit from some at this point.
---