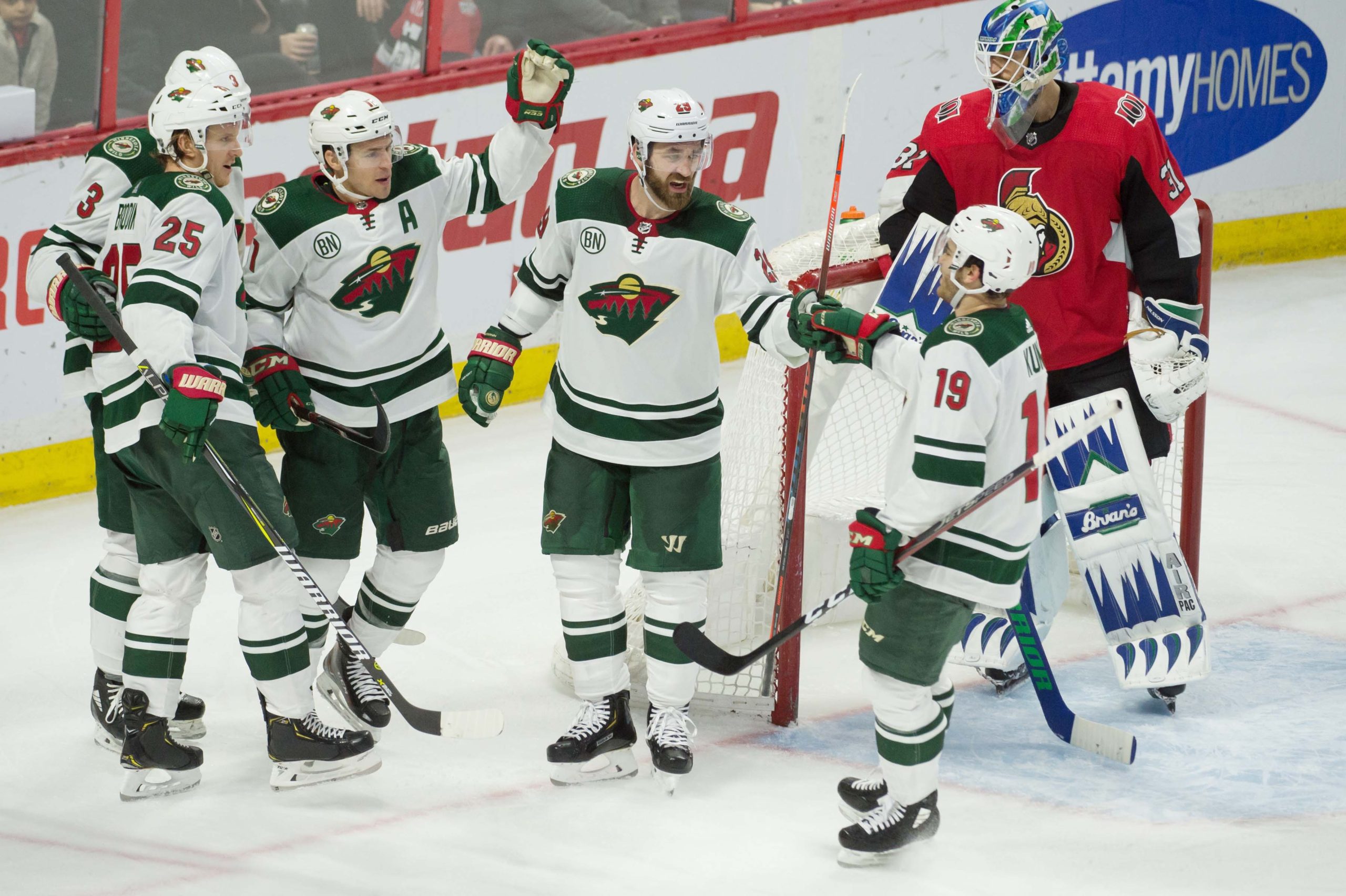 Happy Monday Wild fans! The Wild finish up a four-game road trip tonight and tomorrow between Montreal and Boston. While they do that, let's kick off the first full week of 2019 with some 3-on-3!
Good
Parise posting ridiculous numbers
It has been said many times on this site, but Zach Parise's season is off the charts ridiculous at this point. A five-point streak -- four goals and five assists -- is how Parise begins the week, adding to his season totals of 19 goals and 19 assists. Parise was a big force in Saturday's win over Ottawa where he tallied a goal and two assists to get the Wild their second consecutive win.
Parise was a noted snub for the All-Star Game later this month but is part of the last vote balloting that is currently taking place. At 34, Parise continues to defy his age and produce at nearly a point per game and was probably the most deserving Wild player to go to the mid-season event outside of Matt Dumba -- who is now injured.
If you feel so inclined to, you probably should give him a vote to try and send him to the game.
Greenway gets a much-deserved goal
Jordan Greenway scored his first goal in six games on Saturday against Ottawa, as he cleaned up a rebound to tie the game at two.
It has been hard to not like Greenway's play in recent weeks, as the Wild's second-round pick from 2015 has done well for himself in his first full season of NHL hockey. Whether it is winning puck battles, getting good shots on goal -- averaging over two shots on goal per game over the past five -- or even just flashing a little physicality, he has been doing just fine this season.
Eriksson Ek scoring in Iowa
If you are wondering how Joel Eriksson Ek has been doing in Iowa, then here is an update for you.
Since being demoted to Iowa, Eriksson Ek has played five games and has tallied at least one point in each of those games. He started with four goals in the first three games and has added a pair of assists in the following two.
Good start for Eriksson Ek in Iowa, as his confidence on offense can benefit from a trip down 35 like this. Perhaps while the Wild hold their own, they can let Eriksson Ek get an extended stay down there to really drive home his confidence boost.
Bad
Dallas Stars now five points ahead
While the Wild continue to flounder in the Western Conference playoff picture, their divisional foe Dallas -- when their CEO is not calling out his best players -- has now jumped five points ahead of Minnesota in the Central Division.
True, the Wild are just two points back of Anaheim for the final playoff spot in the West, but falling five points behind your divisional foe who is also in the Wild Card picture is never good.
Niederreiter back in a slump
If you are a fan of Nino Niederreiter, you may want to look away. The Swiss winger is in a scoring slump once again. In seven of the past nine games, Niederreiter has been held off the scoresheet with just an assist coming against Toronto and Pittsburgh respectively. His last goal came against Florida on Dec. 13 when he tallied two goals against the Panthers.
Not great news for Niederreiter, who was mired in a long slump to start the season -- 15 games before his first goal -- under new general manager Paul Fenton.
Granlund's nagging injury
Something has been bothering Mikael Granlund in recent games, as it became more visible in the game against Ottawa on Saturday.
Granlund will factor into Minnesota's lineup Monday night, but something is hampering Minnesota's leading scorer this season. Good news for Wild fans, however, is that the injury has not necessarily slowed down Granlund's production as he has tallied five points over the past six games. He leads the Wild with 38 points this season.
---