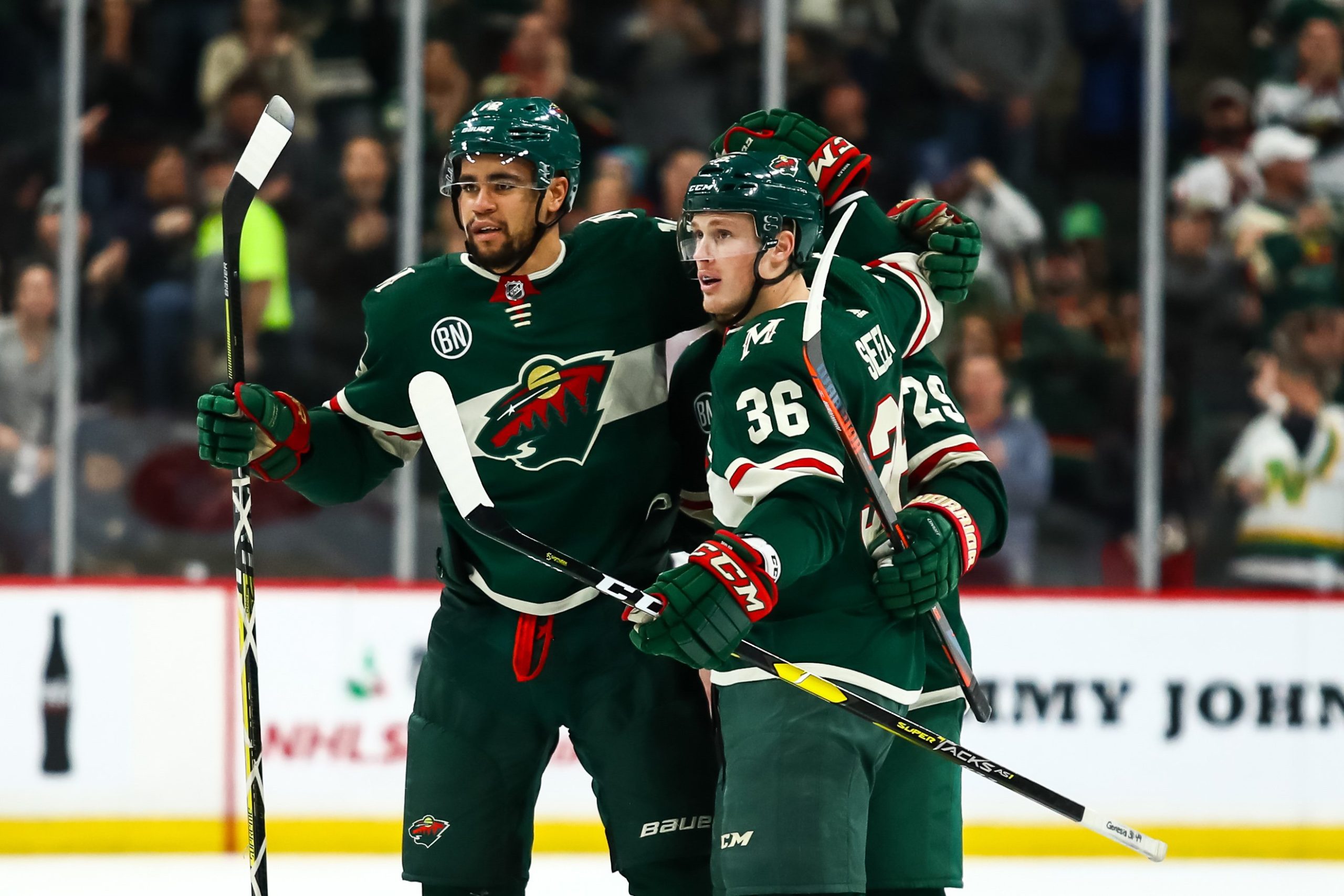 If you are headed for some family time in the next two days and could use some Minnesota Wild topics, well you are in luck. Here are some good and bad pointers for the Wild as they enjoy the holiday break.
Good
If you have noticed here in the past week and change, Greenway has really flashed his shot with a pair of goals between the Flames and Penguins games. If you haven't seen them, feast your eyes on these beauties.


If you add some increased net-front presence to this shot, and Greenway could be a real offensive force for the Wild. Or at the very least, just enjoy the fact someone on the team is trying to pick the corner with their shot instead of shooting right into the goaltender's crest.
Since being pulled against Edmonton on Dec. 7 -- allowing three goals on six shots -- Dubnyk has started all six games for the Wild and has posted a .937 save percentage in that time. Of goaltenders who have started five or more games in that time, Dubnyk's save percentage is third-best in the league.
[caption id=attachment_45820" align="alignnone" width="1832]

Courtesy of NHL.com[/caption]
Even more impressively, Dubnyk has stopped all 28 shots against him while the Wild have been on the PK.
Perfect Penalty Kill
As mentioned above, Dubnyk has stopped all 28 shots against him while the Wild have been on the penalty kill. Minnesota has killed off their past 20 power plays against over the past nine games.
Minnesota's penalty kill has been a strength all season, as they currently sit in the league at 86.7 percent -- only trailing Arizona.
Bad
Swoon Still In Effect
As mentioned on the new Giles and the Goalie podcast, the Wild are entering the holiday break on a four-game losing streak and losers of seven of 10. Minnesota has now slipped out of a playoff spot and sits two points behind Edmonton for the final wild card spot in the West.
Minnesota also trails Dallas and Vancouver in the standings for that final wild card spot as well. As Michael Russo noted on The Athletic, teams outside of the playoffs at this point of the season don't typically come back and get back in. However, the Wild do have a previous history of being one of those teams to get back in, so they have that going for them.
Powerless Power Play
As Fox Sports North noted before Saturday's game, the Wild were at a 30.4 percent conversion rate on the power play in the month of December. However, since the loss of Matt Dumba on Dec. 15 against Calgary, the Wild have gone 0-8 with the man advantage.
The struggles were best exemplified on Saturday against Dallas when the Wild had a four-minute man advantage against the Stars and needed three and a half minutes just to get their first shot on goal.
With the loss of Dumba, just two players on the Wild -- Zach Parise (six) and Eric Staal (three) -- have more than two power-play goals this season. In his absence, someone will have to step up and fill in the goal-scoring department with the man advantage. Right now, no one has.
Prior to Saturday's game, it was announced that Eriksson Ek would be the healthy scratch in favor of JT Brown against Dallas. This is the second instance where head coach Bruce Boudreau has opted to scratch Minnesota's 2015 first round pick this season. Earlier in the year, Boudreau said that Eriksson Ek needed to show more offensive ability.
Eriksson Ek never really responded to Boudreau's message offensively as he has just four points on the season. If the Wild want Eriksson Ek to find his game offensively, a stint in Iowa should be arranged for 21-year-old to help build back some confidence. Keeping him on the fourth line won't do him any favors and Eriksson Ek still has some time left before waivers are required to send him down.
---