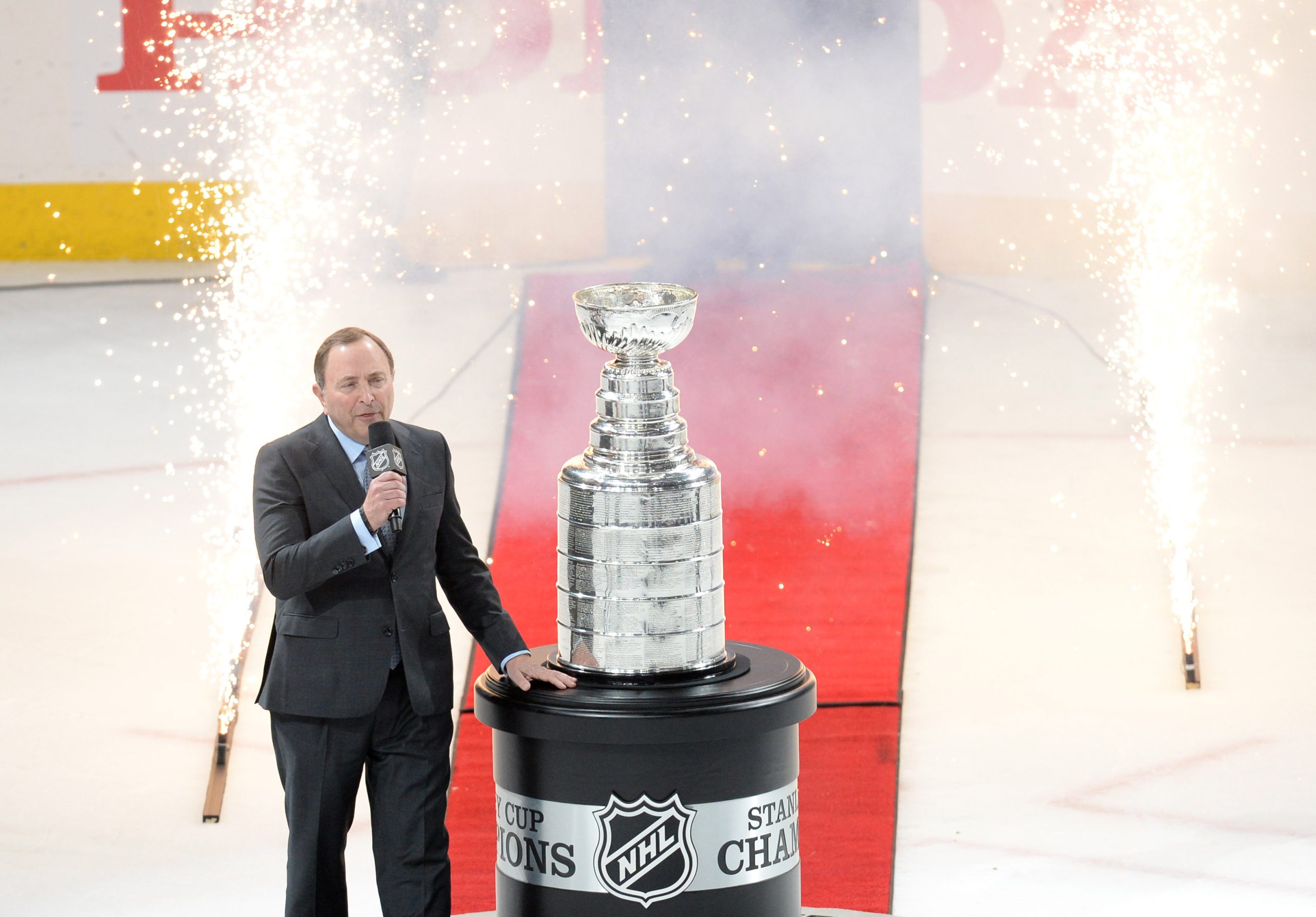 Wednesday night, the puck will drop on the NHL's two month playoff to determine the Stanley Cup Champion -- AKA the Stanley Cup Playoffs. For the first time in seven years, Minnesota hockey fans are without their favorite team in the tournament, as the Wild's season went adrift under new general manager Paul Fenton.
So while you try and contemplate whom to get behind this playoff season, we put together a handy guide for you to help if you are still on the fence about a "backup team" for the postseason.
For each team you will get a couple of reasons to get behind each squad and the players who have Minnesota connections on them. Enjoy!
Washington Capitals
Why You Should Get Behind Them: After last summer's epic Stanley Cup celebration, you want to see how Washington -- led by keg stand artist Alex Ovechkin -- can provide a sequel to that celebration. It would probably flop like most sequels do, but you really want to find out though.
Minnesota Connections: Travis Boyd, Matt Niskanen, T.J. Oshie
Carolina Hurricanes
Why You Should Get Behind Them: They are fun, although their fun post game celebrations are over with for the year, and they have Nino Niederreiter -- an old friend of Minnesota. This is the first trip to the dance for Carolina since 2009 when they went all the way to the Conference Final. The Canes have been on an epic run since they acquired Niederreiter back in January, and will no doubt give the defending champs all they can handle in round one.
Minnesota Connections: Justin Faulk
New York Islanders
Why You Should Get Behind Them: If you love scrappy teams playing in old arenas, the Islanders are right for you. They have taken a ride on the PDO train all season, and have done so without John Tavares who left them for greener pastures this past offseason. So if you are all for sticking it to the guy who left for big money in free agency, Islanders are definitely right for you. They also have Barry Trotz behind the bench, and he is a pretty likable fellow who for some reason Washington left out to dry last year.
Minnesota Connections: Nick Leddy, Anders Lee, and Brock Nelson
Pittsburgh Penguins
Why You Should Get Behind Them: If you really love Sidney Crosby and want him to further his place in hockey lore, then Pittsburgh is right for you. Phil Kessel winning the Cup again would be great, too. If you are also a fan of Matt Cullen maybe calling it a career after winning the Cup this year, then get on the Penguins train!
Minnesota Connections: Matt Cullen, Phil Kessel, and Nick Bjugstad
Tampa Bay Lightning
Why You Should Get Behind Them: They are the best regular season team in the past 25 years and deserve their rightful place in the history of this game. The road will be tough (Columbus, Boston/Toronto winner) but they are a very deep team with a great coach behind the bench. The bandwagoners will get behind the Lightning this spring, but for good reason. Charge ahead with them!
Minnesota Connections: Ryan McDonagh
Columbus Blue Jackets
Why You Should Get Behind Them: Columbus took the plunge and went all in at the trade deadline, acquiring Matt Duchene and Ryan Dzingel as rentals. As a fan, you love teams that go all in, unless your all-in move is Martin Hanzal. Columbus did not exactly get going after the deadline, but they certainly have the firepower to upset some teams this postseason. They also have just five Stanley Cup playoff wins to their name (ever) so you want to see them hopefully double their total at least.
Minnesota Connections: None
Boston Bruins
Why You Should Get Behind Them: Those long-suffering fans of the Boston/greater New England area are just deprived of a championship -- all two months -- and deserve another. Charlie Coyle would be a great story to win the Cup with his hometown team, and you also want to see Tuukka Rask get his due as one of the better goaltenders in the league for the past half decade.
Minnesota Connections: David Backes and Karson Kuhlman
Toronto Maple Leafs
Why You Should Get Behind Them: The Leafs are fast, skilled and just downright fun to watch. They have to get past their nemesis Boston in round one and then most likely Tampa in round two, so Toronto is not exactly a trendy pick right now. But if you love teams that can light the lamp at any given moment, then Toronto is right for you.
Minnesota Connections: Jake Gardiner and Justin Holl
[caption id=attachment_47726" align="alignnone" width="1655]

Apr 6, 2019; Montreal, Quebec, CAN; Toronto Maple Leafs defenseman Jake Gardiner (51) looks on during the warm-up session before a game against the Montreal Canadiens at Bell Centre. Mandatory Credit: Jean-Yves Ahern-USA TODAY Sports[/caption]
Calgary Flames
Why You Should Get Behind Them: If you really love 'The Code' and a rotating door in goal, then all aboard the Calgary train! The Flames did finish the season with the best record in the West and boast one of the better offenses in the league. If you can set aside your dislike of them from the Matt Dumba in the regular season, this could be a team that goes on a nice run this spring for you.
Minnesota Connections: None
Colorado Avalanche
Why You Should Get Behind Them: If you have finally buried the hatchet with Colorado after all these years, then good on you. Colorado is a heavy underdog in round one but they could make for an upset given their strong play in the final weeks of the regular season. They have a great top line that can put up points and they also have a great defenseman in Tyson Barrie who can breathe easy as there is no Matt Cooke in the playoffs. So if you feel like going for an upset, Colorado is your squad.
Minnesota Connections: Erik Johnson
San Jose Sharks
Why You Should Get Behind Them: After Ovechkin's cup win last year, the name that instantly shot to the top of the list of players in the league to not win a cup but needs one became Joe Thornton. San Jose was one of the best teams in the league this year that was only undermined by shaky goaltending from Martin Jones. If Jones can pull it together, the Sharks could go a long way. So if you want to roll the dice on goaltending -- which Wild fans always have -- the Sharks are good for you!
Minnesota Connections: Justin Braun
Vegas Golden Knights
Why You Should Get Behind Them: Everything they have done since coming into the league has turned to gold, and this year has been no different. They went all in by adding Mark Stone from Ottawa, and Marc-Andre Fleury's return from injury gives them that stable presence in goal for the postseason. If you have ever made the trek to Vegas in the last two years to see the Knights, good chance you are already attached to them for the postseason. If not, get behind them for some quality pre/in-game entertainment and great hockey.
Minnesota Connections: Nate Schmidt, Jimmy Schuldt and Erik Haula
Nashville Predators
Why You Should Get Behind Them: If you are a fan of country music, catfish, P.K. Subban, Mikael Granlund or Minnesota twitter icon @RandBallsStu, then the Predators are for you. Once again the Predators claimed the Central Division this year and look deep enough to go on a long postseason run. If you can get past the yellow jerseys, then you should consider the Preds just as the favorite to make it out of the Central Division side of the bracket.
Minnesota Connections: Rem Pitlick
Dallas Stars
Why You Should Get Behind Them: If your sole object as a sports fan is to go against Minnesota fans and want to see them suffer, then you definitely feel Dallas winning the Cup again is great because it puts more salt in the wound of North Stars loyalists. Ben Bishop has been stellar for the Stars in goal this year, and if he plays up to his standards, he could steal a series or two for the Stars.
Minnesota Connections: Tyler Pitlick
Winnipeg Jets
Why You Should Get Behind Them: The Jets are the closest team geographically to Minnesota and you are choosing them based on that fact alone because you can't decide on anyone else. If the Jets offense -- which was in a tailspin at the end of the year -- can get going, then you could see Winnipeg back into the conference final for the second straight year.
Minnesota Connections: Dustin Byfuglien and Blake Wheeler
St. Louis Blues
Why You Should Get Behind Them: If you have finally found closure on the 2017 playoffs, good on you. You basically found that closure after seeing Jake Allen replaced by Jordan Binnington who has since been a brick wall for the Blues. Craig Berube did YEOman's work getting the Blues out of the basement of the West into a playoff spot, and they could provide an upset or two along the way because they have been so good down the stretch.
Minnesota Connections: None
---
Never Miss an Episode of Giles & The Goalie!