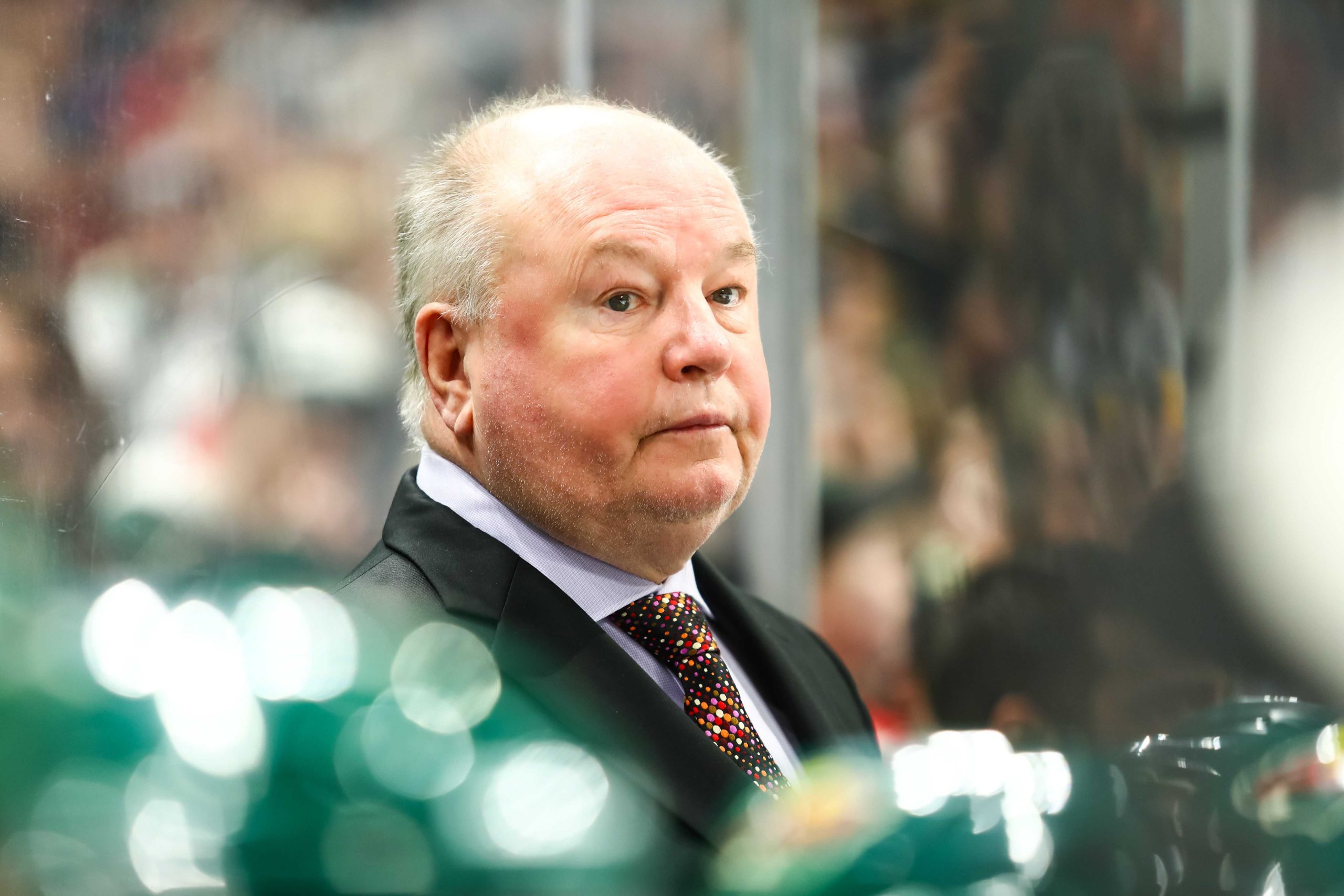 It was a season of turmoil for Bruce Boudreau. It was also a season that came with some uncertainty as he now had a new boss, general manager Paul Fenton.
However, Wild owner Craig Leipold remained in Boudreau's corner, which has allowed the coach to keep his job after the general manager change. And for a better question, why would you get rid of Boudreau, who is one of the better regular season coaches in NHL history and currently holds the Wild record for winning percentage by a head coach?
5 Coaches Table
Regular Season
Playoffs
Rk
Coach
From
To
Yrs
GP
W
L
T
OL
PTS
PTS%
▼
G
W
L
T
W-L%
1
Bruce Boudreau
2017
2020
4
246
131
87
28
290
.589
10
2
8
.200
2
John Torchetti
2016
2016
1
27
15
11
1
31
.574
6
2
4
.333
3
Mike Yeo
2012
2016
5
349
173
132
44
390
.559
28
11
17
.393
4
Jacques Lemaire
2001
2009
8
656
293
255
55
53
694
.529
29
11
18
0
.379
5
Todd Richards
2010
2011
2
164
77
71
16
170
.518
Eyes were still on the postseason for Boudreau and the Wild in 2018-19, and even through mid-December the Wild were still clinging onto a playoff spot in the Western Conference.
Between Devan Dubnyk's struggles between mid-November and January and injuries to Matt Dumba and Mikko Koivu, the Wild just seemed doomed to miss out on the playoffs this season. Then add in the in-season trades of Nino Niederreiter, Charlie Coyle and Mikael Granlund, and Boudreau's job got a whole lot more difficult. Especially considering the players traded out were moved for players -- Victor Rask, Ryan Donato and Kevin Fiala -- who were not a lock to fill the production their predecessors left behind.
Even despite the moves and injuries, the head coach was confident his team could still make the playoffs. He even made a bold prediction on local radio that the Wild were going to still find a way to get in the postseason.
Constant line juggling and heavy reliance on Dubnyk still was not enough to spark the Wild and get them back into the postseason. Minnesota lost 12 of its last 17 games and missed the playoffs for the first time in seven seasons -- a fact that did not sit well with the head coach.
"It sucks. How else can you put it? It just sucks," Boudreau said [on missing the playoffs]. "I've been wandering around the house. I haven't even turned on the NHL Network or anything. I don't want to hear anything about who's favored, who is not favored in the playoffs. I hope it sits in everybody's craw the way it's sitting in mine because then you'll be determined never to let it happen again." - quote via Michael Russo, The Athletic
For all the acquisitions Fenton made over the season, Boudreau certainly favored them when making lineup decisions. Basically, it seemed like he was trying to favor the general manager's players -- for instance, playing Anthony Bitetto over Nate Prosser -- just to say these players got time to show what they have.
However, the future of the head coach after the missed postseason was not in doubt when Fenton answered the question at the end of season media session.
Speaking of media sessions, Boudreau still showed that sharp wit of his even during the most turbulent times of the season. From late night fire alarms to his own mother, the head coach remained a journalist's delight this season.
"Are you going to win?" Theresa [boudreau] bluntly asks her son before dinner [prior to the team's game in Toronto]. "Because I'm a bit of both, nervous and excited. If you lose too much, I'm leaving. I'm not sticking around." via Michael Russo, The Athletic
Boudreau will be back next season with the Wild in what is the final year of his four-year contract that he signed prior to the 2016-17 season. His future beyond the season remains cloudly, and could ultimately depend on if the Wild can find a way into the postseason. If not, there could very well be a change behind the bench in Minnesota for 2020-21.
It is not necessarily Boudreau's fault that the roster went under so much change (seemingly for the worse) but in a results-driven industry, someone ultimately has to pay for failure. And Fenton might have to put that on Boudreau just to save his own job should it get to that point.
Never Miss an Episode of Giles & The Goalie!
http://zonecoverage.com/wp-content/uploads/2016/05/itunes.jpghttp://zonecoverage.com/wp-content/uploads/2017/05/Podcast-header-Image-City-1.jpg