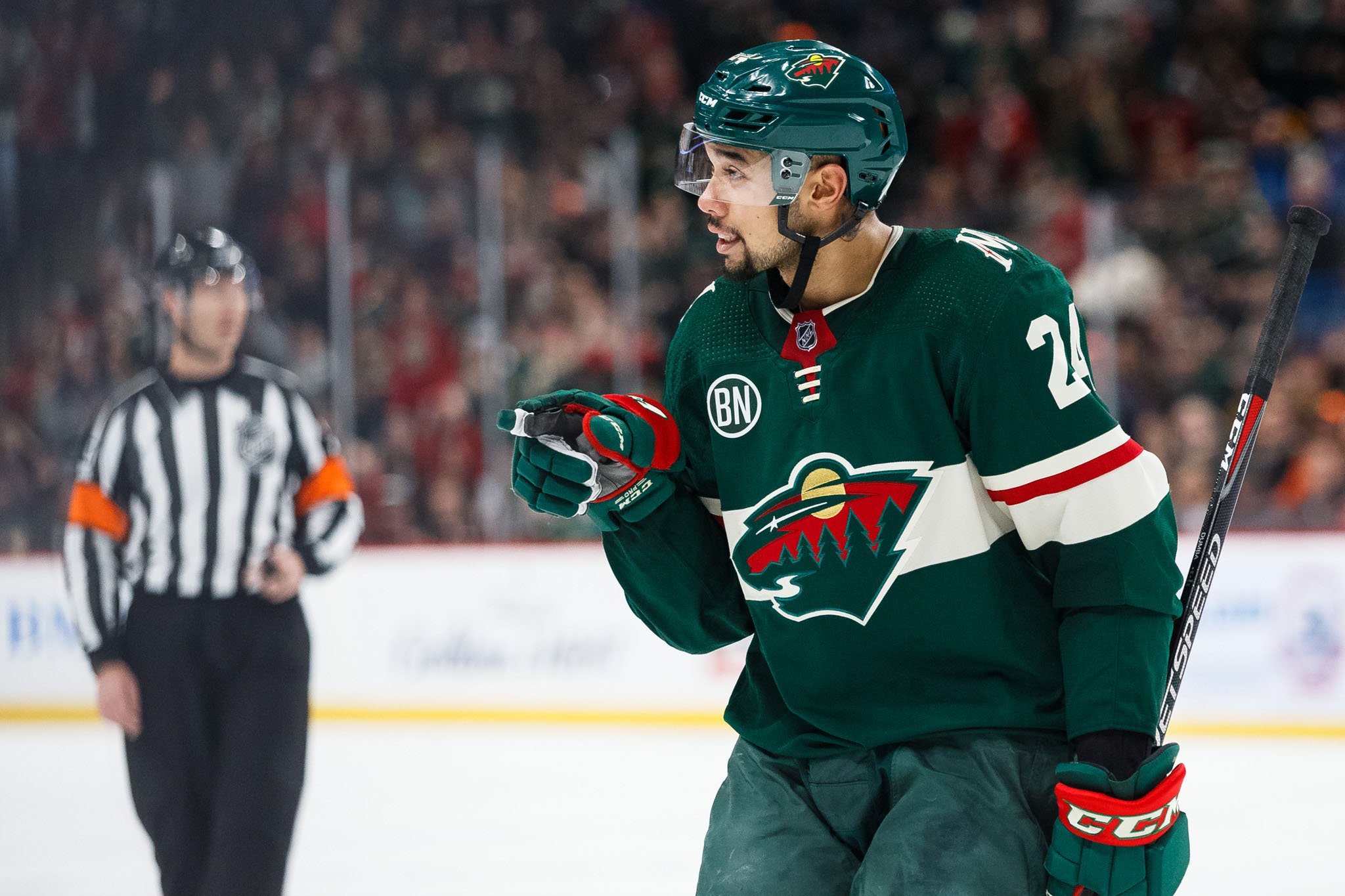 Matt Dumba
Age: 24
Position: Defenseman
2018-19 Stats: 12G-10A-22P
Contract Status: Signed for four more seasons through 2023 ($6M million AAV)




In a season of disappointments, there was perhaps no bigger disappointment on the Minnesota Wild then Matt Dumba's season-ending injury in mid-December.

We can debate the validity of how the injury occurred some other time, but there was perhaps no bigger blow to Minnesota in 2018-19 than when Dumba went out of the lineup with a torn pectoralis muscle in his right arm after a fight with Calgary's Matthew Tkachuk.



At the time of his injury, Dumba had been an offensive stalwart on Minnesota's blueline. The 24 year old was leading all NHL defenseman in goals with 12 and power play goals with six. Those six power-play goals also were tied for the team lead with forward Zach Parise, as they had helped keep Minnesota in the top third of the league in power-play percentage.





As noted at the time, Dumba's elite goals per game pace by a defenseman had him in some rarified air of the past 20 seasons.

Query Results Table
Scoring
Goals
Per Game
Point Shares
Adjusted
Rk
Player
G
Tm
Lg
Pos
Season
Age
GP
G
A
PTS
+/-
PIM
EV
PP
SH
GW
S
S%
TOI
A
PTS
S
OPS
DPS
PS
G
A
PTS
1
Mike Green
0.46
WSH
NHL
D
2008-09
23
68
31
42
73
24
68
12
18
1
4
243
12.8
1752
0.62
1.07
3.57
9.0
4.9
13.9
33
43
76
2
Sergei Gonchar
0.40
WSH
NHL
D
1998-99
24
53
21
10
31
1
57
7
13
1
3
180
11.7
1268
0.19
0.58
3.40
4.2
3.0
7.1
24
11
35
3
Mathew Dumba
0.38
MIN
NHL
D
2018-19
24
32
12
10
22
-5
21
6
6
0
1
93
12.9
748
0.31
0.69
2.91
2.4
1.7
4.1
29
24
53
4
Brent Burns
0.35
SJS
NHL
D
2016-17
31
82
29
47
76
19
40
21
8
0
6
320
9.1
2039
0.57
0.93
3.90
8.9
6.4
15.3
32
51
83

At the time of the injury, Minnesota's offense sat 15th in the league -- literally in the middle -- in goals scored with 101. After Dumba's injury -- and there were a few team-altering trades in there -- the Wild offense was dead last in the NHL with just 109 goals scored.

Dumba had settled in nicely with Ryan Suter on the team's top defensive pairing, and they were doing a fine job at driving offense for the Wild. Suter, Dumba, and Jared Spurgeon are huge point producers on the back end for Minnesota, with Dumba really taking a step forward this season with his offensive abilities. But the loss of Dumba again had a rather negative effect on the team.

[caption id=attachment_49081" align="alignnone" width="1998]

via Sean Tierney, @chartinghockey[/caption]

It's hard to see Dumba's season in any other light but disappointing, given how great he had been before his injury that derailed his season. If you want to look at it from a glass half full perspective Dumba was great by all standards and should be expected to pick up where he left off in 2019-20.

The Wild defense moving forward will be centered around Dumba, who has become a cornerstone for general manager Paul Fenton as he continues his roster shakeup this offseason. At $6 million AAV for the next four seasons, Dumba could really come as a bargain for the Wild if he can continue his torrid offensive pace from this past season.

Sure, it's not likely he will be scoring 30-plus goals in a season, but you can expect him to be one of the best in the league when it comes to offense from the blue line.


---
Never Miss an Episode of Giles & The Goalie!