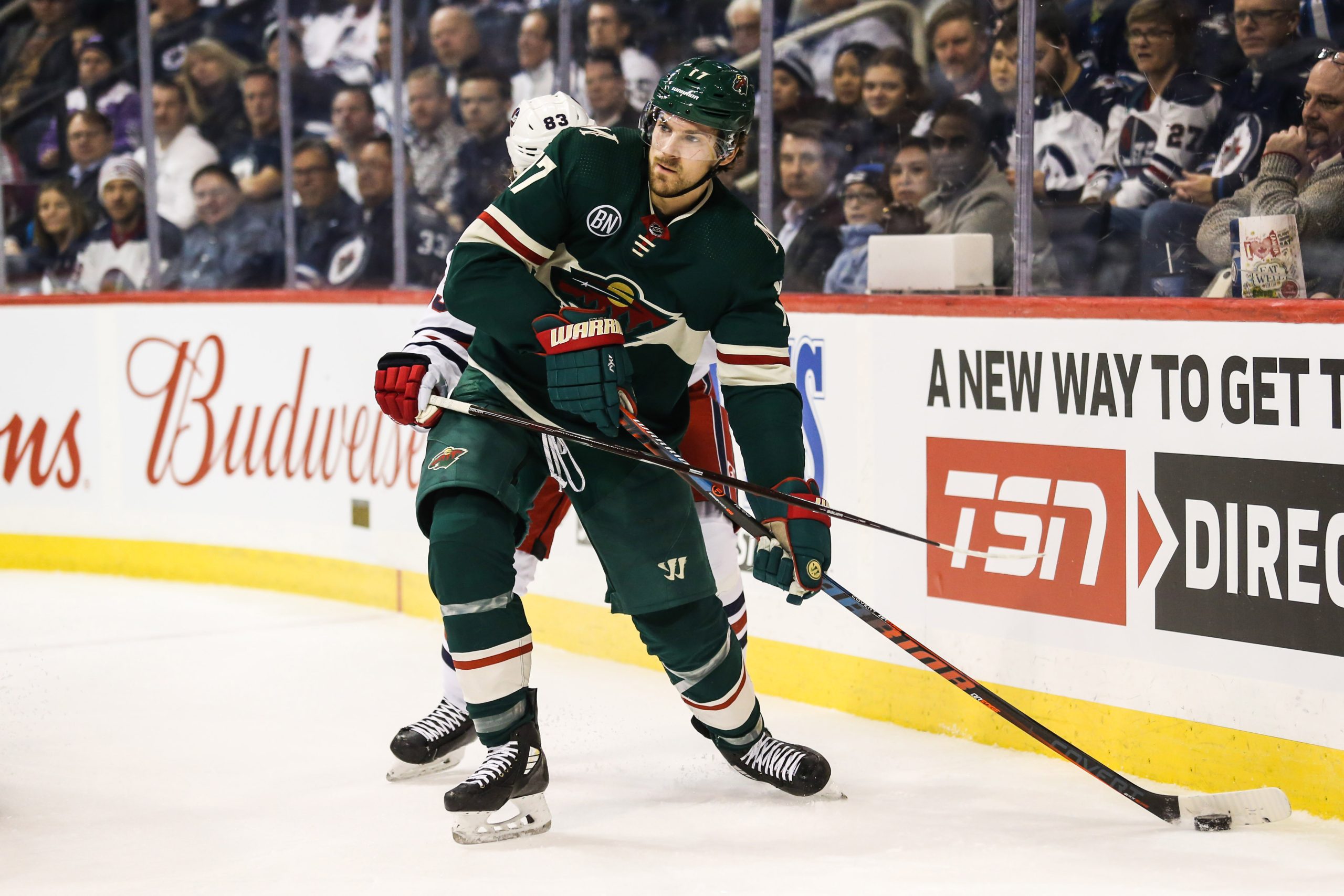 Marcus Foligno
Age: 27
Position: Left Wing
2018-19 Stats: 7G-12A-19P
Contract Status: Signed for two more seasons through 2021 ($2.875 million AAV)



You might not think it given his cap hit, but Marcus Foligno provided the Wild with some great value this past season. No, that value was not necessarily provided offensively either.

Foligno only tallied 19 points, which snapped a streak of four consecutive seasons where he scored at least 20 points. Scoring 20-plus points a season is about all you can ask from a forward who is a mainstay in your bottom six.





But it was on the defensive side of the puck where Foligno truly provided his value. Both at 5-on-5 and on the penalty kill. No Wild forward played more on the penalty kill than Foligno this season, certainly a reward for his exceptional defensive play. The Wild finished the season with the seventh-best penalty kill in the league, at 81.67 percent.

[caption id=attachment_49082" align="alignnone" width="1998]

via Sean Tierney, @ChartingHockey[/caption]

Back to the defensive play on Foligno. Mikko Koivu obviously garners a lot of attention for his defensive play -- and rightfully so -- culminating with a Selke Trophy nomination two years ago. This season, however, Koivu was not the best defensive player on the team. It was Foligno.

[caption id=attachment_51562" align="alignnone" width="1692]

via Evolving-Hockey.com[/caption]

Foligno was so good, along with the Wild defense, at suppressing shots from the high danger area. As you can see, there is a rather large crater out front of the goal where opponents were getting less than league average shots from.

[caption id=attachment_51566" align="alignnone" width="1120]

via Micah Blake McCurdy, @IneffectiveMath[/caption]

The defense was in fact so good, if you compared the stats to the three Selke Finalists, you find Foligno crushing all of them as well.

[caption id=attachment_51569" align="alignnone" width="1700]

via Evolving-Hockey.com[/caption]

[caption id=attachment_51570" align="alignnone" width="1666]

via Evolving-Hockey.com[/caption]

There are currently just two years remaining on Foligno's contract. A yearly salary of $2.875 million on the cap is a lot for a player that is cemented in the bottom six, mainly the fourth line. But if Foligno can continue to play at an elite level defensively, it makes his contract that much easier to get through, especially if the Wild continue to have issues scoring goals as they did at the end of this past season. They would need players defensively sound like Foligno to help keep the puck out of the Wild net.





In addition to his great defensive work, Foligno continued to be a physical presence for the Wild, leading the team for the second straight season with 206 hits.





Heading into 2019-20, he will no doubt be a key cog of the Wild's bottom six and penalty kill once again. Can he replicate his great defensive work or will 2018-19 prove to be a one-time thing?

Stats in this post courtesy of Natural Stat Trick, Evolving Hockey, HockeyViz, and Hockey-Reference.


---