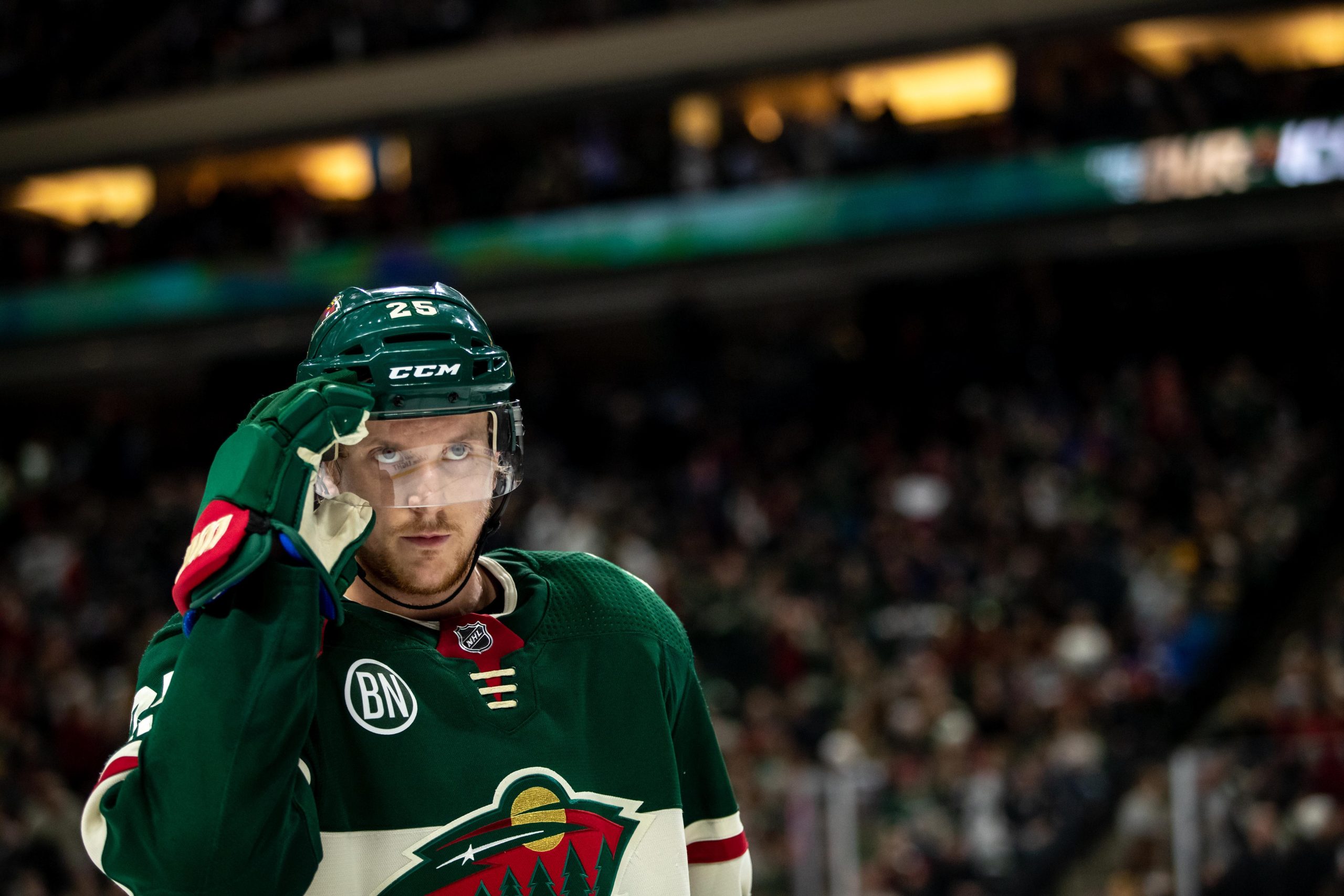 Jonas Brodin
Age: 25
Position: Defenseman
2018-19 Stats: 4G-14A-18P
Contract Status: Signed for two more seasons through 2021 ($4.166 million AAV)




It still remains hard to believe, but Jonas Brodin is just 25 years old following his seventh season with the Wild.

The 2011 first-round draft pick is coming off a season in which he continued to be a solid defenseman in his own zone, contributing to one of the top blue lines in the NHL. While his point totals were nothing to write home about, he did a great job at suppressing shots close to the Wild net throughout the season.

[caption id=attachment_50897" align="alignnone" width="1134]

via Micah Blake McCurdy, @IneffectiveMath[/caption]

Of the team's top five defensemen -- Ryan Suter, Jared Spurgeon, Greg Pateryn, Nick Seeler and Brodin -- in terms of ice time this past season, Brodin's expected goals against per hour was second-best on the team only trailing Pateryn. Meaning, they both did a great job at keeping shots out of the high danger area in front of the Wild goal.

In fact, if you look at all NHL defensemen who played at least 1,200 minutes at 5-on-5 this past season, Pateryn and Brodin were top two in the league for expected goals against per hour. To no surprise, Pateryn and Brodin thrived together defensively as Pateryn was the main partner for Brodin after Matt Dumba's season-ending injury in mid-December.

[caption id=attachment_49081" align="alignnone" width="1998]

via Sean Tierney, @chartinghockey[/caption]

As always, there was not much offensively to write home about with Brodin, as his talents lie defensively. He has more than doubled his career point total the past three seasons under head coach Bruce Boudreau, but that perhaps has more to do with Boudreau's style of play rather than Brodin maybe taking a step forward offensively.





[caption id=attachment_49082" align="alignnone" width="1998]

via Sean Tierney, @ChartingHockey[/caption]

Minnesota has Brodin locked in for two more years before he hits unrestricted free agency at the age of 27. It is possible he could be used as a trade chip this offseason, but the Wild seemingly have more pressing matters -- Spurgeon and Jason Zucker -- to tend to first before they consider moving Brodin.

A team in the market for a defensive defenseman could be inclined to take on Brodin and his $4.166 million cap hit for the remaining two seasons, but that is a higher cap hit for someone who just plays defense. So unless the Wild were willing to eat salary -- doubtful -- they might get all the much in return.

Odds favor Brodin being in the opening night lineup with the Wild in the fall but never rule out a trade. But with the Wild offense in a state of flux at the moment, is it a good idea to jettison their solid second pair blueliner?

Stats in this post courtesy of Natural Stat Trick, Evolving Hockey, HockeyViz, and Hockey-Reference.


---