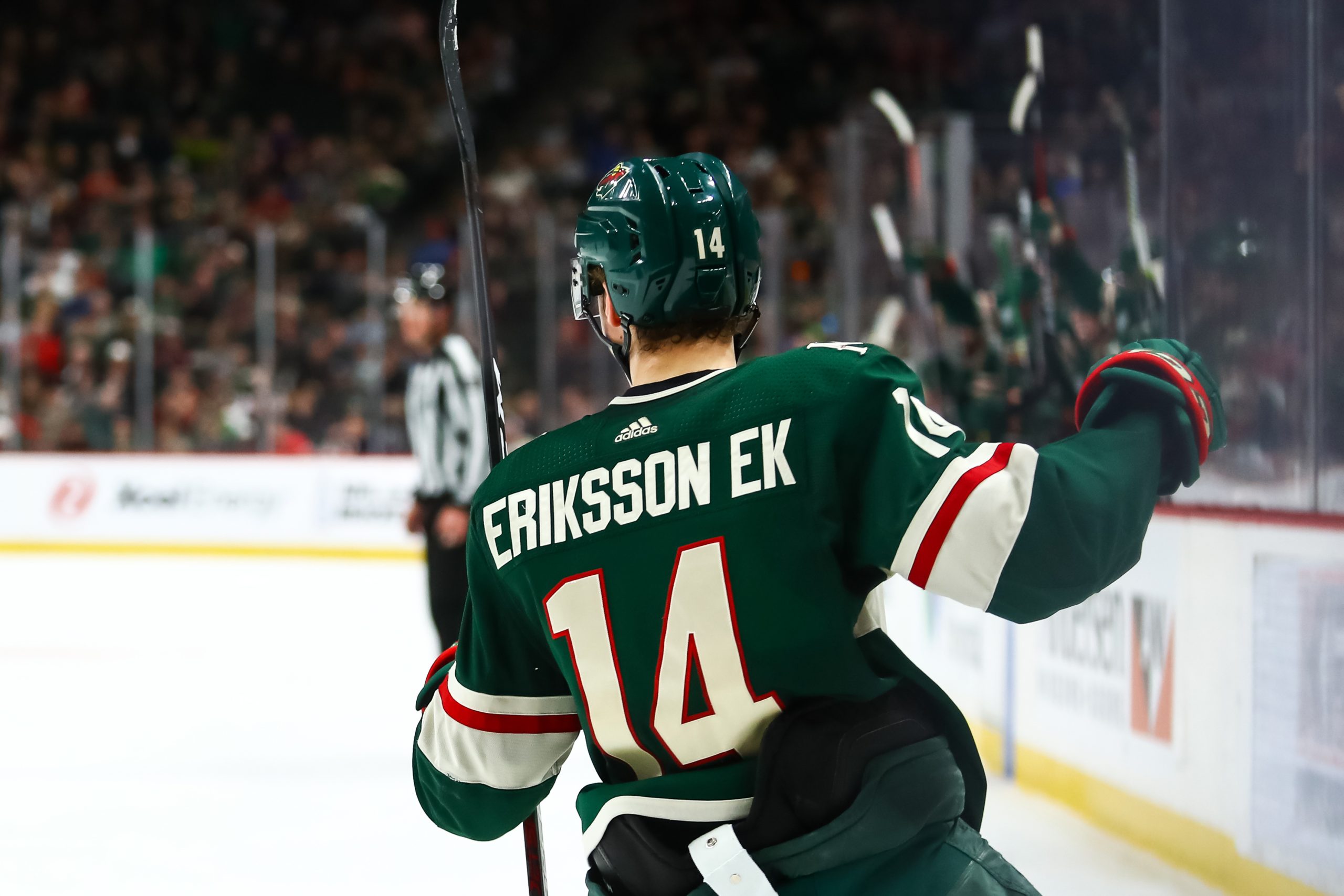 Joel Eriksson Ek
Age: 22
Position: Center
2018-19 Stats: 7G-7A-14P
Contract Status: Restricted Free Agent ($894,167 cap hit in 2018-19)




2018-19 was hopefully going to be a breakthrough season for 2015 first-round pick Joel Eriksson Ek. Instead, it was an extreme roller-coaster season that was far closer to disappointing than it was encouraging for the Wild.

There were a couple of demotions to Iowa. Both were short stays due to injuries to Eric Fehr and Mikko Koivu that forced his immediate recall, but in his brief time in Des Moines, Eriksson Ek scored nine points in nine games. When in the AHL he simply looked like he belonged with the NHL club.





However in that time with the NHL club, it was again, a roller-coaster for Eriksson Ek. He tallied just 14 points over the regular season -- 58 games -- and also had problems getting above the third line for a portion of the season due to veterans above him and inconsistent play.

[caption id=attachment_51793" align="alignnone" width="1700]

via Evolving-Hockey.com[/caption]

But once Mikko Koivu went down with an injury in early February, Eriksson Ek saw elevated ice time. His time at 5-on-5 went up from a 10:49 average before Koivu's injury to 12:59 after the injury. Overall his ice time went from a 12:21 average to 15:22.

In the first month following Koivu's injury, Eriksson Ek was putting up some impressive numbers offensively. Between Feb. 5 and March 5, Eriksson Ek led the Wild in points per hour (2.16), goals per hour (1.44), and shots per hour (11.52). It truly looked like we were seeing the full potential of Eriksson Ek in that time.





From March 6 through the end of the season, Eriksson Ek, like the Wild, suffered through an extreme power outage. The center scored just one point -- a goal on April 2 -- to finish his season. After a promising month of February, the finish to his end of the season was anything but good.

There are good defensive qualities to his game, but with Paul Fenton making the Wild more reliant on their younger players, Eriksson Ek figures to be a key component in that future. But if the center can not start putting up points closer to what we saw from him in February, then the Wild may be forced at looking elsewhere for a center and move on from the Swede.

[caption id=attachment_51794" align="alignnone" width="1136]

via Micah Blake McCurdy, @IneffectiveMath[/caption]

It has already been reported that Eriksson Ek's name is out there in trade talks, but it would take the right move for Fenton and staff to consider moving on from him. At the age 22, there still is room to grow and he is by no means finished building his game.

A criticism for the Wild is that they have not exactly given Eriksson Ek his fair shake at center. Being trapped behind Eric Staal and Koivu has not been ideal for the 22-year-old and when Eriksson Ek was given a larger role he responded in that first month. It's now giving him that opportunity for a full season and not just because someone on the roster gets hurt.





As a restricted free agent this summer, Eriksson Ek will most likely be given a bridge deal in the $1.25-$1.5 million range (Evolving Wild has his contract projected at two years and $1.335 million AAV) where it will be time for him to put up numbers if he wants to cash in big time on his next contract.

It will also be on the Wild to give him that opportunity to put up the numbers and cash in. If not, then it will likely be the last contract Eriksson Ek signs with Minnesota.

Stats in this post courtesy of Natural Stat Trick, Evolving Hockey, HockeyViz, and Hockey-Reference.