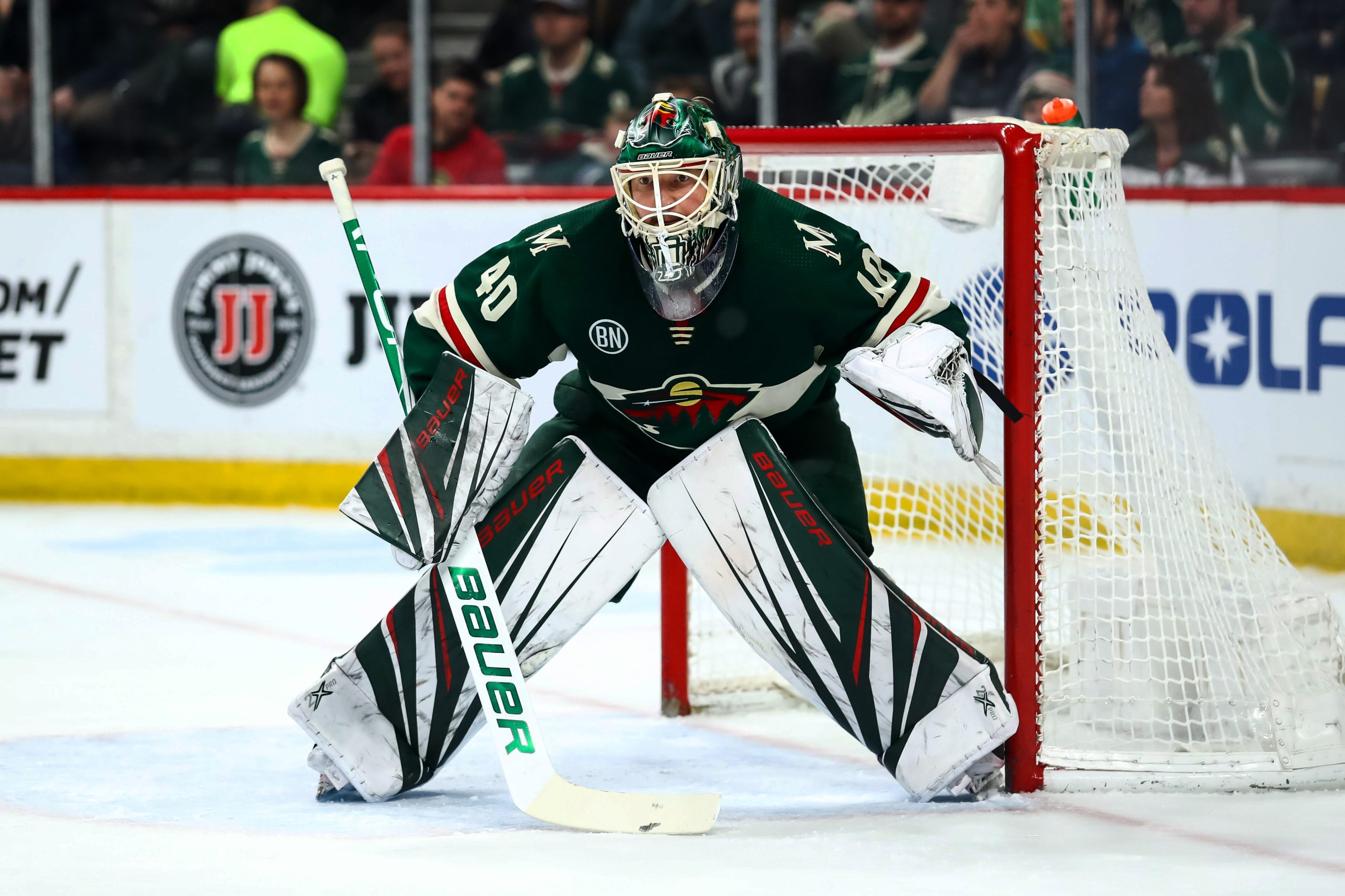 Devan Dubnyk
Age: 32
Position: Goaltender
2018-19 Stats: 31-28-6, 2.54 GAA, .913 SV%, 2 SO
Contract Status: Signed for two more seasons at $4.333M AAV (UFA in 2021)


There's not much more you can say about Devan Dubnyk's season other than that it was disappointing.

But if you wish to add to it, you can say that if you had to pinpoint one player who perhaps most attributed to the team's woes this year and caused some core altering trades, it was also the Wild's No. 1 goaltender.



Starting the season, Dubnyk appeared to be in top form as he was performing with some of the best goaltenders in hockey. Dubnyk's .943 save percentage at 5-on-5 between the opening of the season through Nov. 12 ranked sixth in the NHL among goaltenders who had played a minimum of 300 minutes.





The Wild themselves enjoyed good success in that same time, going 11-4-2 with Dubnyk in goal for eight of those 11 wins.

But from the next game -- Nov. 13 vs. Washington -- through the trade deadline, it was a horror show for Dubnyk and the Wild.

Dubnyk's save percentage in November torpedoed, and he finished the month with a .882 mark in all situations. It never really recovered through the Feb. 25 trade deadline, as goal after goal was allowed by Minnesota's netminder despite his relatively easy workload -- which he received all season from the defense in front of him.

[caption id=attachment_48357" align="alignnone" width="1598]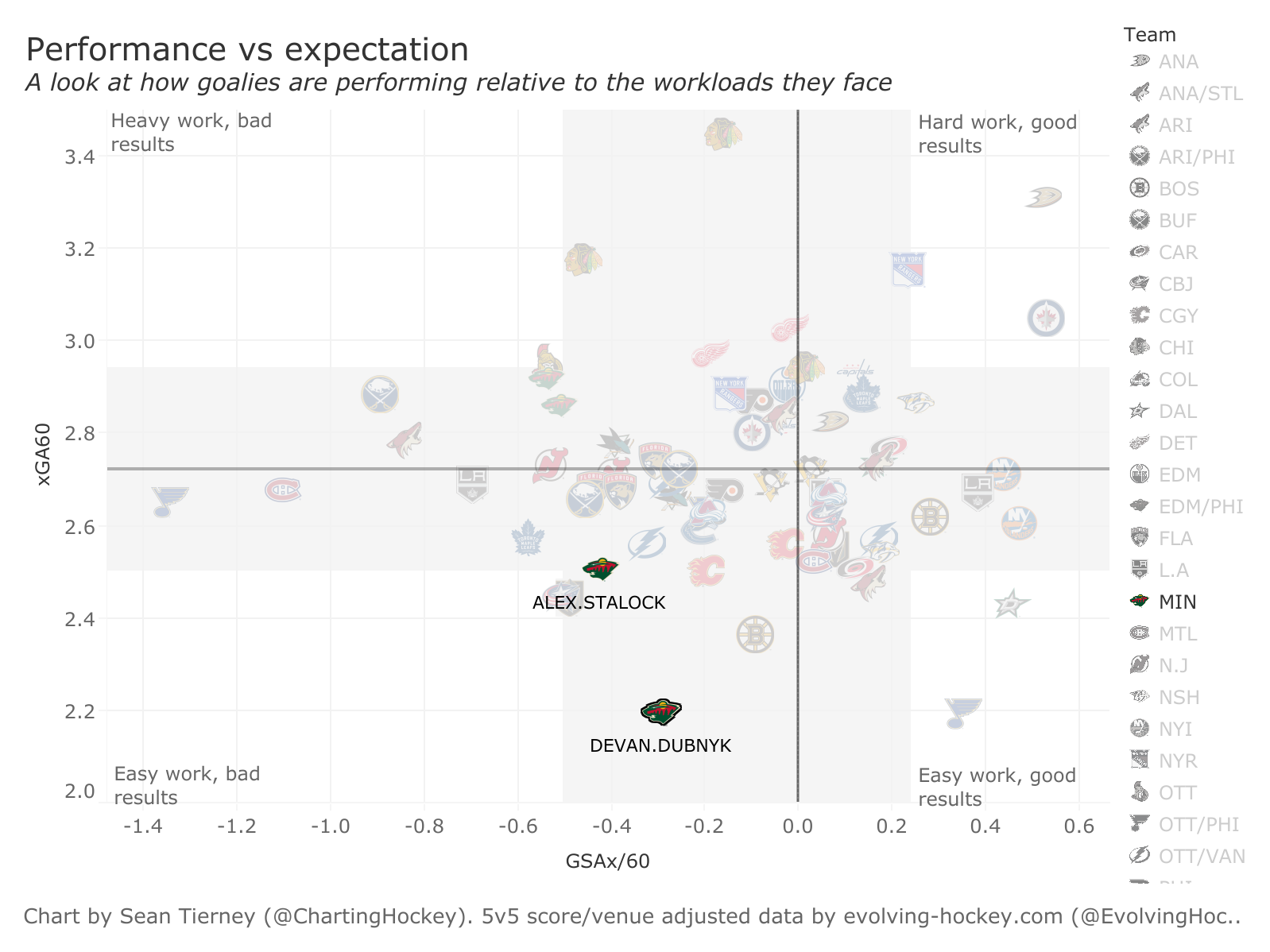 via Sean Tierney, @chartinghockey[/caption]

All in all, Dubnyk in that stretch posted a .906 save percentage at five on five which was tied for fourth worst in the NHL of goalies with a minimum of 1,000 minutes played. Only Roberto Luongo (.891), Keith Kincaid (.895) and Martin Jones (.898) were worse in that time while it was Craig Anderson who was tied with Dubnyk and the .906 save percentage.













After the trade deadline -- which in the weeks leading up to it saw the Wild make a series of core altering trades which may or may not have been a result of his play -- Dubnyk did regain decent form. His save percentage at five on five worked its way back up to .924 from the trade deadline through the end of the season, but the damage had been done. The Wild roster became punchless and goals became a rarity so Dubnyk's efforts were wasted.

To finish the season, Dubnyk finished with a .913 save percentage in all situations and .918 save percentage at five on five. His .918 5-on-5 mark was 22nd in the league out of 34 goaltenders who had played a minimum of 1800 minutes.

If you are wondering why five on five save percentage is being cited so much, it is because that is where Dubnyk really struggled this season. If you look at Dubnyk's penalty kill numbers this season, his .901 save percentage while the Wild were shorthanded was second in the NHL. Only Vezina Trophy candidate Andrei Vasilevskiy (.911) was better on the penalty kill.

Again, the year simply came back down to Dubnyk's play at 5-on-5 and how he fared much worse given the quality of shots he faced.

[caption id=attachment_48353" align="alignnone" width="1598]

via Sean Tierney, @chartinghockey[/caption]

Looking at Evolving Wild's model, Dubnyk's goals saved above expected -- which measures goals allowed against the expected goals against -- was -18.79 which was fourth worst in the league as you can see in the chart above.

To summarize what that means in layman's terms, Dubnyk was giving up a lot of bad goals as the Wild defense was doing a good job of keeping shots outside of the high danger area.

Next season Dubnyk will be entering his age-33 season with Minnesota. He has two years remaining on the six-year contract that he signed in 2015 which leaves him as an unrestricted free agent in 2021. With Alex Stalock signing a three-year extension this past season, Dubnyk and Stalock appear to be the projected tandem for the Wild heading into next season.

That's not great, if you are a fan -- like Bruce Boudreau is -- of decreasing Dubnyk's workload next year. Dubnyk played in a league-high 67 games this season and started 66 of those. Sprinkling in more nights off during the season needs to be a priority for the Wild next season if they want to find Dubnyk's best once again.





However, Stalock himself never inspired great confidence in his scattered starts this season, which brings the extension well into question.

With more roster turnover expected this summer, the Wild will no doubt need Dubnyk to regain form next season if they want to get into playoff contention once again. If he does not regain form, then another basement finish in the Central Division could very well be in store for Minnesota next season.

Stats in this post courtesy of Hockey Reference, Natural Stat Trick, and Evolving Hockey.


---
Never Miss an Episode of Giles & The Goalie!