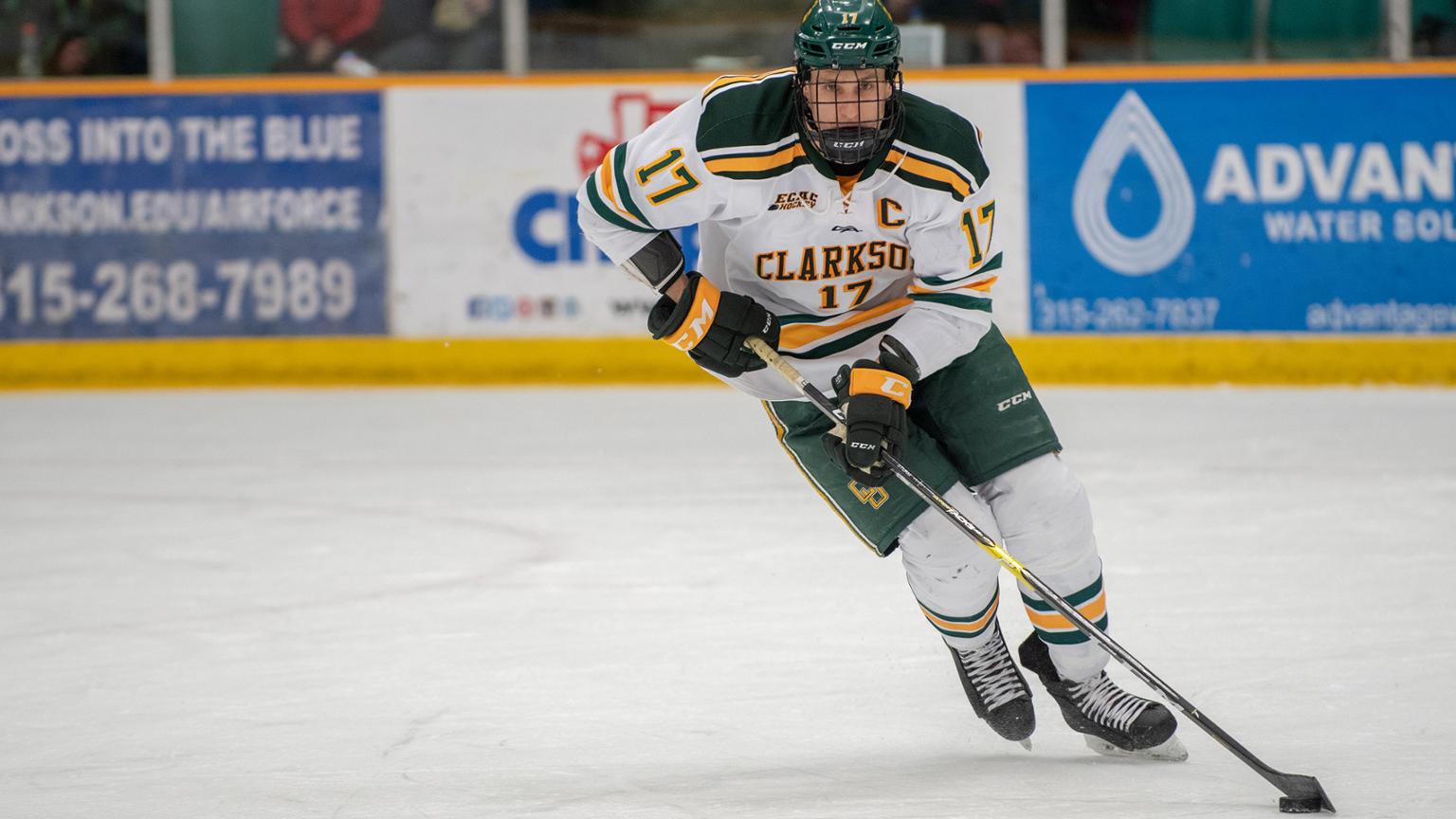 Coming in at No. 9 in our under 25 series is Nico Sturm, whom the Wild signed as an undrafted free agent out of Clarkson University this past March.
In his final season at Clarkson, Sturm, 24, lead the team with 45 points (14 goals-31 assists) and won nearly 58 percent of his faceoff attempts. Over his three seasons with the Golden Knights, Sturm tallied 103 points (36 goals-67 assists) in 118 games. He also served as the team co-captain in his final year of 2018-19.
The Wild were able to sign Sturm as an undrafted free agent as they were willing to burn the year of his entry-level contract in 2018-19, thus, making him a restricted free agent this past summer. He re-signed with the Wild on July 16 to a one-year, two-way contract that would carry an $874,125 cap hit in the NHL.
Sturm is an intriguing player for Minnesota heading into 2019-20. He will figure to be in the mix for a roster spot in the bottom six out of training camp but is likely to spend some time in Iowa this season getting some top minutes to further develop his game. At 6-foot-3, Sturm has a big frame for the NHL and has some good offensive prowess, as he flashed at Clarkson. It could translate into some useful production for the Wild in the bottom six, but in addition to the offense, he can also kill penalties and is solid on faceoffs.
[caption id=attachment_54883" align="alignnone" width="1546]

via EliteProspects.com[/caption]
With the logjam the Wild have at forward heading into training camp -- 14 forwards vying for the 12 spots -- it is entirely likely that Sturm could start the season in Iowa as mentioned before. He did feature in two games for Minnesota at the end of last season and drew some praise from head coach Bruce Boudreau for his energy, but there will have to be more than just energy if Sturm wants to make the Minnesota roster directly out of training camp.
Sturm presently is behind the likes of Eric Staal, Mikko Koivu (who still has to be cleared to play by doctors following his injury), Luke Kunin and Victor Rask on the depth chart heading into camp. It will make his task of getting on the NHL roster out of preseason daunting, and some top minutes in Iowa might be in his best interests anyway.
Should Sturm start the season in Iowa, look for him to be one of the first call-ups should there be an injury to someone upfront.
Never Miss an Episode of Giles & The Goalie!
http://zonecoverage.com/wp-content/uploads/2016/05/itunes.jpghttp://zonecoverage.com/wp-content/uploads/2017/05/Podcast-header-Image-City-1.jpg