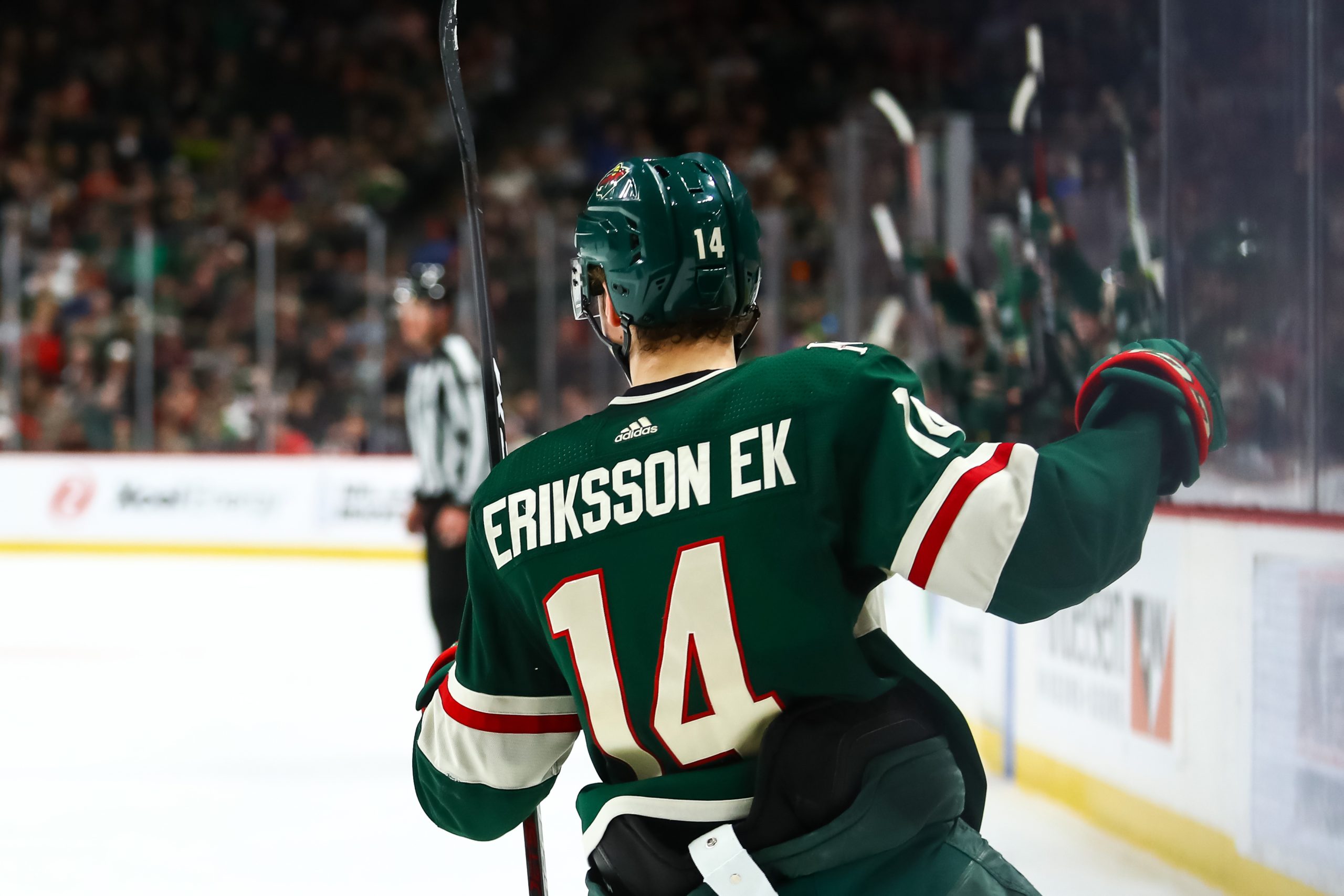 After a roller coaster 2018-19 season for Joel Eriksson Ek, the time has come for the 2015 first-round pick to prove his worth on the Minnesota Wild roster.
Last season saw a couple of demotions to Iowa. Both were short stays due to injuries to Eric Fehr and Mikko Koivu that forced his immediate recall, but in his brief time in Des Moines, Eriksson Ek scored nine points in nine games. When in the AHL he simply looked like he belonged with the NHL club.
However in that time with the NHL club, it was again, a roller coaster for Eriksson Ek. He tallied just 14 points over the regular season -- 58 games -- and also had problems getting above the third line for a portion of the season due to veterans above him and inconsistent play.
[caption id=attachment_51793" align="alignnone" width="1700]

via Evolving-Hockey.com[/caption]
But once Mikko Koivu went down with an injury in early February, Eriksson Ek saw elevated ice time. His time at 5-on-5 went up from a 10:49 average before Koivu's injury to 12:59 after the injury. Overall his ice time went from a 12:21 average to 15:22.
In the first month following Koivu's injury, Eriksson Ek was putting up some impressive numbers offensively. Between Feb. 5 and March 5, Eriksson Ek led the Wild in points per hour (2.16), goals per hour (1.44), and shots per hour (11.52). It truly looked like we were seeing the full potential of Eriksson Ek in that time.
From March 6 through the end of the season, Eriksson Ek, like the Wild, suffered through an extreme power outage. The center scored just one point -- a goal on April 2 -- to finish his season. After a promising month of February, the finish to his end of the season was anything but good.
The offense is something that will have to improve greatly for Eriksson Ek headed into 2019-20.
There are good defensive qualities to his game. In fact, he is one of the better defensive forwards on the Wild roster. But if the center can not start putting up points closer to what we saw from him in February, then any hope of him getting up into the top nine permanently will never happen.
[caption id=attachment_51794" align="alignnone" width="1136]

via Micah Blake McCurdy, @IneffectiveMath[/caption]
Eriksson Ek signed a two-year contract last month worth $1.487 AAV in each season against the Wild cap. It gives new Minnesota general manager Bill Guerin a chance to evaluate the 22-year-old with his own eyes and see if there is a future for him on the roster at the center position.
Heading into training camp -- starting Friday -- Bruce Boudreau has said he wants to give the young players every chance available to them. With a guy like Eriksson Ek who has shown up in great shape, he figures to get plenty of chances. But at the start of camp, it appears that the Swede will be buried on the fourth line with the return of Mikko Koivu.
Solid play at both ends of the ice, however, will get Eriksson Ek up the depth chart real quick. He will need that solid play this season if he wants to remain in Minnesota long term.
Never Miss an Episode of Giles & The Goalie!
http://zonecoverage.com/wp-content/uploads/2016/05/itunes.jpghttp://zonecoverage.com/wp-content/uploads/2017/05/Podcast-header-Image-City-1.jpg