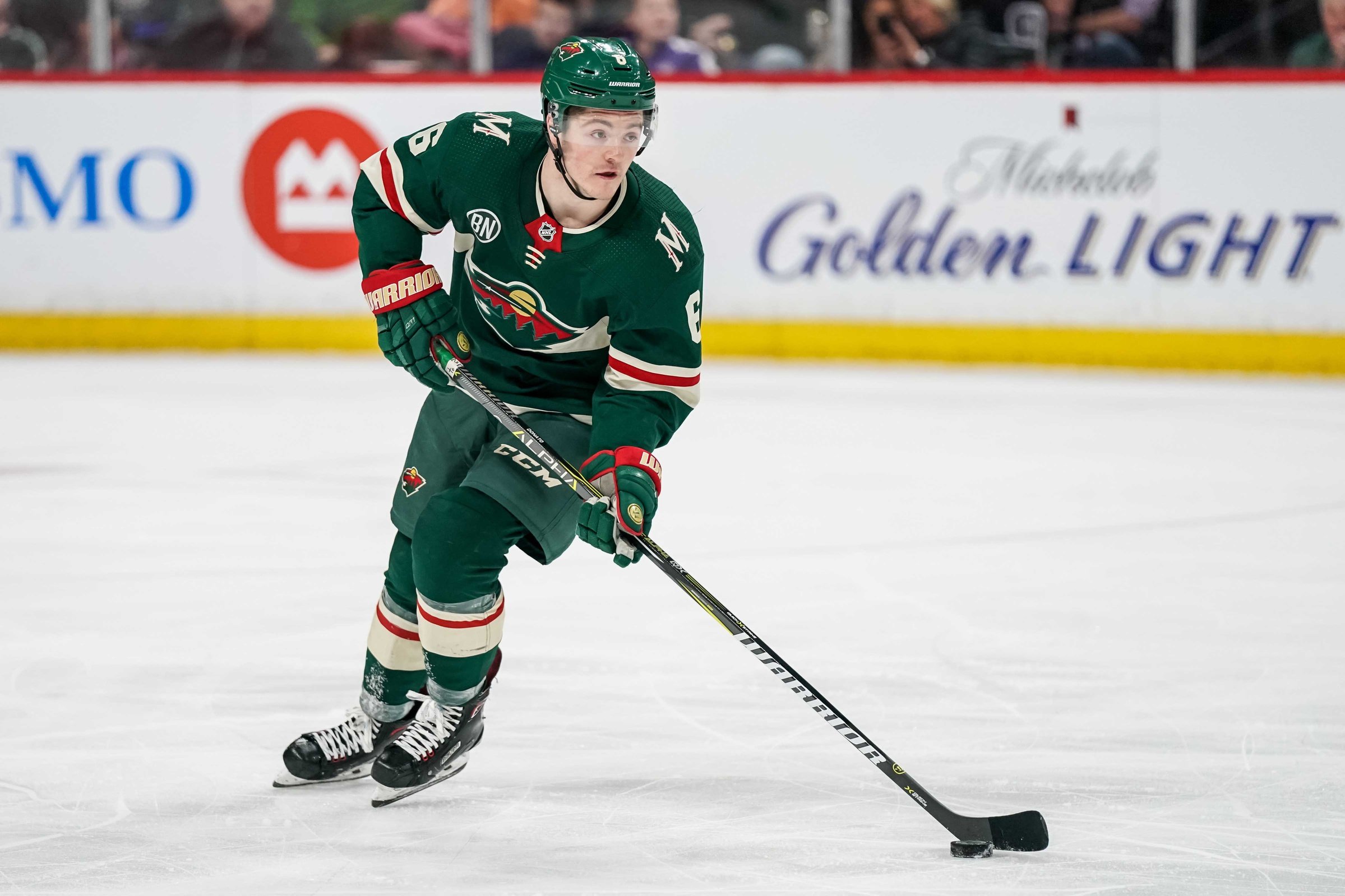 Acquired on Feb. 20 from Boston in the trade for Charlie Coyle, Ryan Donato was immediately thrust into the Minnesota Wild lineup. After spending parts of the season up and down between Boston and its AHL affiliate in Providence, there was no AHL assignment during the remainder of the NHL season for Donato, as he averaged 15:33 of ice time over 22 games with Minnesota.
[caption id=attachment_55449" align="alignnone" width="1578]

via EliteProspects.com[/caption]
In those 22 games, Donato endeared himself to Minnesota fans for his frequent-shooting style, averaging nearly three shots per game from the wing. Donato only scored four goals in those 22 games, but it certainly wasn't for a lack of trying on his part.
[caption id=attachment_52297" align="alignnone" width="1124]

Donato was good at driving shots from the left wing upon his arrival, via hockeyviz.com[/caption]
In addition to those four goals, Donato tallied 12 assists. The 16 points he scored following the trade were the most on the team through the end of the season. Equally, his 1.88 points per hour were best on Minnesota after the trade as well.
The trade by Boston -- giving up on such a young promising player so soon -- remains a mystery but could play into the hands of the Wild perfectly. Donato's speed and shoot-first mentality is something the Wild are lacking at the NHL level, and he was given premium ice time to show what he can do following the trade last season.
Throughout his time with the USHL, NCAA or Olympic team, Donato has always had that goal scorer's mentality. He wants to shoot -- not pass -- in premium scoring situations. It's been repeated time and time again, but the Wild are badly needing someone like Donato who wants to shoot the puck.
Heading into the 2019-20 season, Donato will be a fixture in the Wild's top nine, but thanks to Bruce Boudreau's infamous line juggles, where Donato plays specifically remains to be seen. He could get a look at right-wing next to Mikko Koivu on the third line or he could get slotted in at second-line center between Zach Parise and Mats Zuccarello. He could even get a look next to Jason Zucker and Eric Staal on the top line at right-wing as well.
His specific spot is all up in the air, but he definitely has a place on the Wild roster and will be a permanent fixture in the forward lines moving forward this season.
Back in July, before the firing of Paul Fenton, Donato signed a two-year $3.8 million deal ($1.9 million AAV) to ensure he had a contract with the Wild well in advance of training camp. If he continues to play and progress as he did in the brief glimpse Minnesota saw in 2018-19, Donato could be in for a significant raise given his expected offensive production that will come with his play.
But that means Donato has to produce over a full season. He has yet to play a full season in the NHL, so there is a chance for some growing pains from the young forward as well.
Nonetheless, it should be an intriguing season for Donato in Minnesota.
Never Miss an Episode of Giles & The Goalie!
http://zonecoverage.com/wp-content/uploads/2016/05/itunes.jpghttp://zonecoverage.com/wp-content/uploads/2017/05/Podcast-header-Image-City-1.jpg