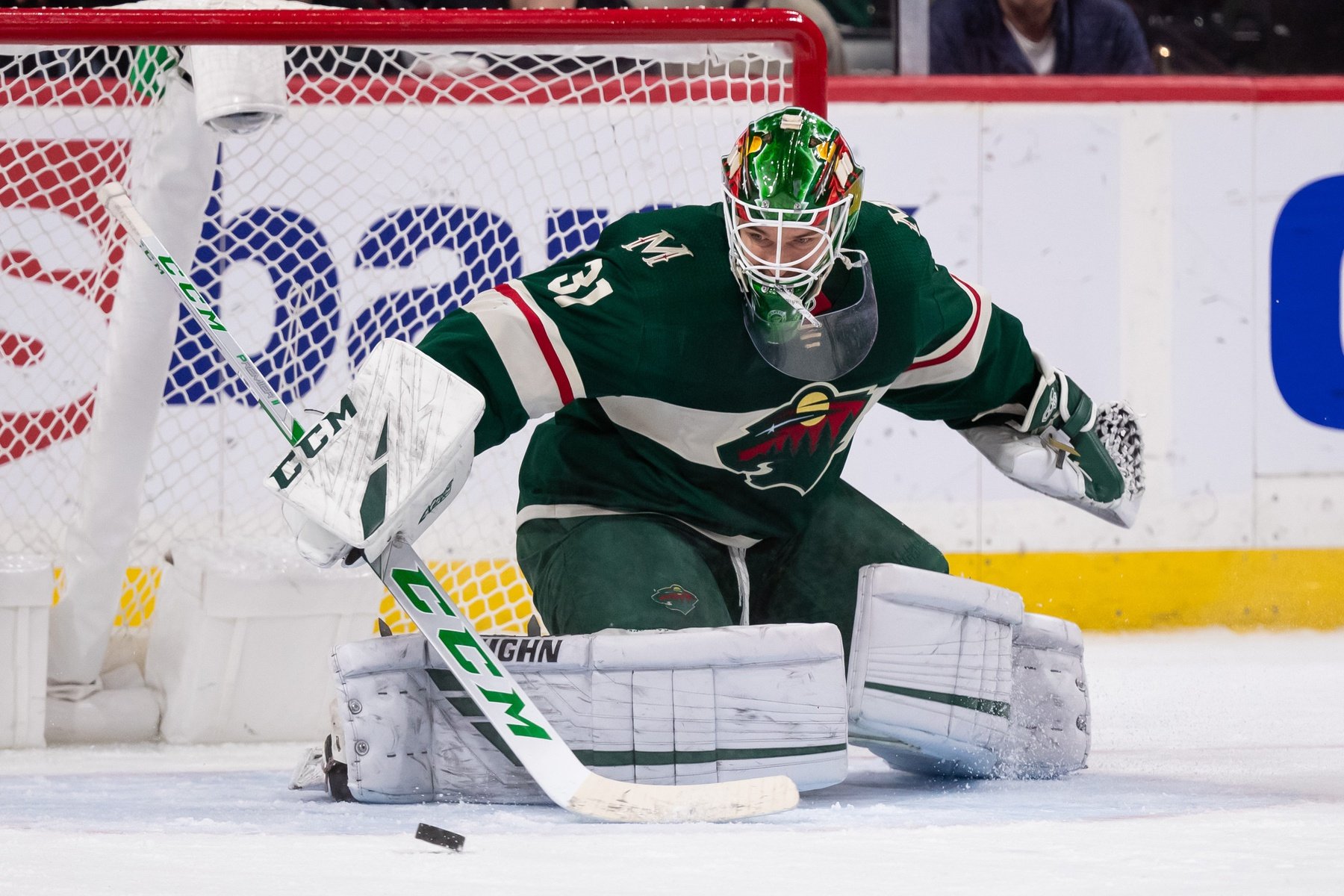 It did not take long during Friday's Iowa Wild conference call to realize that the four players selected to the AHL All-Star team last Wednesday knew how special their season was.
With just 13 games remaining in their season, it paused and was eventually canceled due to the COVID-19 pandemic, and the team was on its way to the best in their history in Des Moines. 37 wins, 82 points, and the fourth-best record in the entire league.
"Cal O'Reilly said teams like this don't come around often," Gerry Mayhew said. "We were lucky enough to have 2-3 years of it. It's just a bummer we had 13 games left."
Mayhew, as mentioned, was one of four Iowa players named to the AHL all-star teams last Wednesday. His league-leading 39 goals got him named to the second all-star team.
Forward Sam Anas, defenseman Brennan Menell, and goaltender Kaapo Kahkonen were the three players named to the AHL first all-star team. Anas was the AHL's leading scorer, Menell was the top assist scorer by a defenseman, and Kahkonen was the league's winningest goaltender.
Despite the individual accomplishments from the four players, they were all again left wondering what could have been from the team's aspect. "We worked so hard before camp, at camp, and even during the season," Mayhew said. "It is what is. It's a bummer."
"This will be one of those what could have been, could we have made a deep run, what could have happened? It is disappointing," said Menell.

After just sneaking into the playoffs last year – with 37 total wins on the season, a total that was matched already in 2020 – the expectations for the team's core was now higher.
"This year, we really wanted to win the division and just go from there into playoffs and make a deep run," said Anas. "It's just a new standard for the Iowa Wild and its fun to be a part of that."
To the players, what made this team special was both their chemistry on and off the ice. The core of this team – centered around the aforementioned players – had been around, for now, two seasons if not more, and their bond was strong which helped translate their on-ice play into wins.
"We have been together for a while and we are very comfortable around each other," Mayhew said. "So it wasn't anything new to us. That had a big part in why we did so well."
"It's awesome to see how chemistry off the ice translates to success on the ice," Anas added. "When you have such a close-knit group [like we did], we really did come together on the ice."
With their great chemistry on-ice, the team really was one of the most complete in the league. "We just had one of the most well-rounded teams," Menell proclaimed. "We were physical, we could skate fast, we could score, we were a special team and that doesn't always happen."
The team had six players score 30 or more points, five players with 20 or more assists, six players score 10 or more goals, and 15 players have a game-winning goal next to their name. Add that to having the best goaltender in the league, and you can see easily why the Wild racked up win after win this season.
Kahkonen reflected on how much the team won and said there was more reflection on the losses rather than all the wins.
"What sticks out is the games we lost," Kahkonen reflected. "We didn't lose too many games. When you win that many games, you remember the games you lost. I probably never played a season with a team that won that many games in the regular season even though it ended before it should have."
Iowa put everything together in mid-December. Following a December 10 loss to Tuscon to push their season-worst losing streak to four, the Wild never lost more than two consecutive games until March right before the season ended. They also had four separate winning streaks of three or more games after that date, including a season-high eight-game winning streak from January 24 to February 14.
All in all following that December 10 loss, Iowa went 25-8-4 before the season came to a sudden halt on March 13. On just how good this team was, Menell said, "You talk to some of the guys who are at the tail end of their careers and they say they look back at some of the teams that they had and the seasons and I think this will be a team at the end of our careers we look back and say wow this was one of the best teams I ever played on."
While the AHL season has officially canceled the season, the four players are still keeping in shape in the event the NHL comes calling when their season resumes. The possibility of expanding the roster would put all four in play to be called up, as three out of the four – with the exception of Anas – had made their NHL debuts this season.
One of the best moments the team had off the ice this season came when Mayhew was called up right away in October and scored his first career NHL goal in his first NHL game on the 15th against Toronto.
"We were all at the rink that night and watched the game in our lounge in the locker room," Kahkonen recalled, adding that the team was at a fan event at Wells Fargo Arena that night. "Gerry scores the goal and then everyone goes nuts and starts cheering. I will always remember that moment."
"Safe to say we cheered harder for that goal than Gerry did," Anas chuckingly added.
As for Anas, who has been in Iowa for four seasons and still is looking for that first call-up to the NHL, would relish the opportunity to be part of the team should the rosters expand. "I've been playing my whole life to play in the NHL and its great to see guys making debuts that I've been around," he said. "I think it's why we are working so hard right now and why we take care of our bodies to accomplish our lifelong goal of playing in the NHL. Just do whatever you can. It keeps me going every day."
While the NHL still tries to figure out how they will resume their season, the players reflect on what could have been in their postseason run in Iowa.
"It was a dog fight for first place," Mayhew added. "It would have been pretty fun I think playoff. GR [Grand Rapids] was right there. Milwaukee, us. It just sucks that we can't continue on."
Anas, always positive, put a good spin on it by saying, "We were looking forward to a deep playoff run. Just a fun group to be around. It didn't matter who you were with. Just a great group of guys. Always a good time."
That is a perfect way to remember the 2019-20 Iowa Wild: A great group of guys wondering what could have been if they had a chance to compete in the playoffs.
http://zonecoverage.com/wp-content/uploads/2016/05/itunes.jpghttp://zonecoverage.com/wp-content/uploads/2017/05/Podcast-header-Image-City-1.jpg