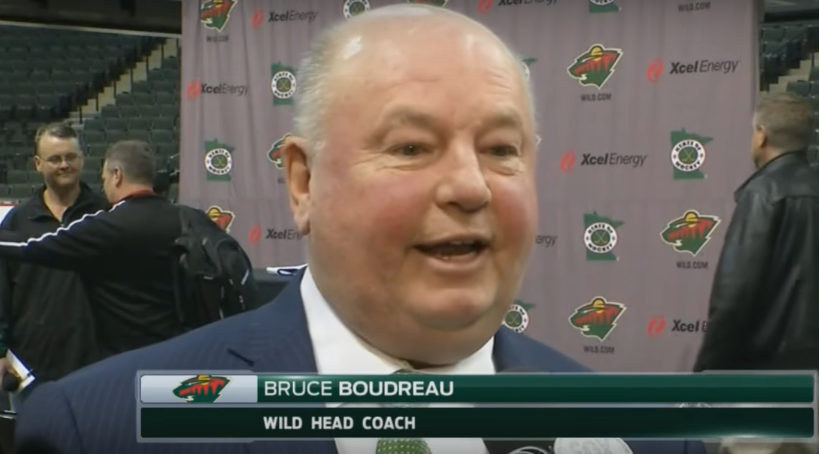 If you missed Part 1, CLICK HERE.
Keith Carney +/- Award
Award History: For a large portion of the team's history, Keith Carney has owned the Wild's single season plus/minus record. His +22 in the 2006-07 season was a seemingly great feat, considering the team was never a top team in the league at any point. So, because the stat is irrelevant, and his Wild tenure was pretty much irrelevant, here is an award named in his honor.
2016-17 Recipient(s) - Jason Zucker & Ryan Suter (+34): What do these two players and Keith Carney have in common? They all have owned the team's plus/minus record, and during those plus/minus record setting years, they each lost in the postseason in five games.
Too soon?
Marian Gaborik's Groin Memorial Award (Most Games Lost Due To Injury)
Award History: Marian Gaborik might have been the best goal scorer in team history, but Wild fans will forever remember him and his paper mache groin. That groin kept Gaborik out of the Wild lineup often, including the trade deadline of 2009, which the Wild needed him healthy so they could have traded him before he left via free agency. But, it didn't work out favorably for the Wild, so the injury award was named for Gaborik, instead of the goal scoring award.
2016-17 Recipient - Victor Bartley (72): If you know who Victor Bartley is, good on you. But for those (most) who don't, here is the lowdown. Bartley was a pickup last summer as he was going to provide depth for the Iowa Wild on their blueline. However, he injured his triceps during the preseason, still on the NHL roster, and had to be placed on the NHL team's injured list. Bartley had to be placed on long-term IR so the Wild could have cap relief from his contract, but he was still counting against the 'man games lost' category. His 72 was far and away more than other player on the team, so he takes the award easily in this one.
Wes Walz Goal Of The Year Trophy
Award History: During his time in Minnesota, Wes Walz earned the affection of fans for his great play as a shutdown defensive center. However, he did provide a highlight reel goal that will stand the test of time in team history, with this overtime winner against the then Ken Hitchcock-led Columbus Blue Jackets.
Yep, there will certainly never be one like that again in team history, and that's why the goal of the year award is named after Walz.
2016-17 Recipient – Mikael Granlund OT goal vs Kings: To open an overtime session against the Los Angeles Kings, Granlund was able to cut through all four Kings defenders and...well...just watch the video.
https://www.youtube.com/watch?v=oct4QjqlwRw
It's no Walz "puck up the breezers while falling in the goal during overtime" goal, but its certainly good enough to take home top honors of the 2016-17 season.
Mark Parrish Buyout Award
Award History: Two years after giving him a five-year contract, then Wild GM Doug Risebrough decided he needed to buyout the remaining years of Mark Parrish's contract. For six more seasons, Parrish remained on the Wild's payroll, earning just a shade under $1 million to simply not play with the team. Ever since then, the Wild have had a buyout on their books each year, so it was time to immortalize that fact with its own individual award.
2016-17 Recipient – Thomas Vanek: After two uneven years, the Wild had to move on from Vanek and buyout the remaining year of his contract. The move freed up a bit of cap space for the Wild to sign Eric Staal, who turned out alright this year. Vanek will cost the Wild $2.5 million next season, before coming off the books for 2018-19 (so pencil in Jason Pominville for the award that year). The Wild decided to have the awards ceremony this year at a bar and grill with a banquet hall called 'The Defensive Zone,' so naturally, Thomas was nowhere to be found to accept his award.
Ilya Bryzgalov Fewest Saves In A Win Award
Award History: A fact lost in the dramatic Game 7 win against Colorado in the 2014 playoffs was the fact Ilya Bryzgalov made one save and picked up the win as he came in relief of the injured Darcy Kuemper. The save was a crucial one as Bryz stopped Paul Stastny from the faceoff circle in overtime. Shortly thereafter,

. But he only got there because Bryz came in, and made one save.

 

2016-17 Recipient – Devan Dubnyk (7, February 28 vs. Winnipeg): In a game in which the Wild led 5-2, this ended up requiring a relief effort from Devan Dubnyk. The Jets scored three unanswered goals to tie the game as Darcy Kuemper was rattled once again (drink). As the tying goal was scored with 8:43 remaining in the third, Bruce Boudreau pulled the trigger and made his first goaltending switch of the season. Dubnyk came in, stopped all seven shots, and Jason Zucker scored the winning goal with 2:10 to play. Nine minutes of work and you get the win. Not a bad gig for Dubnyk.
Bruce Boudreau Moment of the Year
Award History: Because Bruce Boudreau is so lovable (Anaheim fans might disagree here) and gives great quotes every night, we will honor his finest moment of the season with our last award. It's new this year, so let's see what we can come up with!
2016-17 Recipient – Postgame meltdown on March 19: With all apologies to Dan Myers, this was the Bruce sound byte of the year. After a 5-4 loss in Winnipeg, in which the Wild fell behind 4-0 before rallying back to tie the game and then eventually lose it, Boudreau hit the meltdown button in his postgame presser. Here was his response to the second question of the presser, which was about his team's resiliency (via Pioneer Press): "Hey, listen. We stunk in the first; we'd better come back in the second. Holy crap. It's not resiliency. You're making it sound like we're good. That's (it), I'm done."
Never Miss an Episode of Giles & The Goalie!