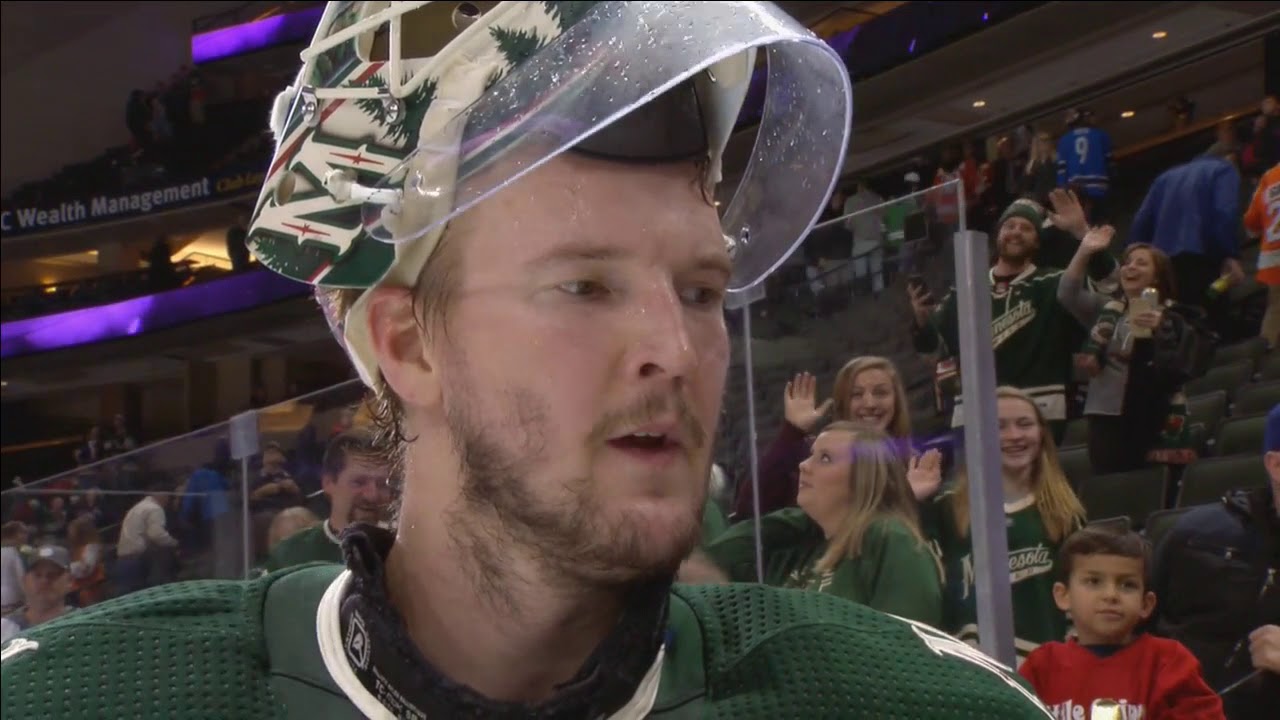 Maybe it doesn't matter that the Minnesota Wild's scoring has gone cold. As long as Devan Dubnyk keeps turning in efforts like the last three games, only one goal will do.

 

The Wild (8-7-2) extended their winning streak to three games -- a season-high -- with a 3-0 home victory over the Philadelphia Flyers (8-8-2) on Tuesday. But really, it was another 1-0 contest until a couple of late empty-netters. And really, the story was all Dubnyk, again.

 

Dubnyk made 30 saves for his third shutout in a row and third against the Flyers in his career. He hasn't allowed a goal in 195:05 of game time, making 106 consecutive saves. That time mark is a new career high for Dubnyk, and it breaks the franchise record for the longest shutout streak by an individual Wild goalie.

 

With save counts of 41, 32 and 30 in the past three games, Dubnyk is earning these shutouts. He appears to be seeing the puck better, has robbed opponents of easy tallies and is greatly improved when it comes to grabbing rebounds.

 

"It's been good," Dubnyk said. "I feel confident. The biggest key for me is just finding the puck and having my feet set."

 

Dubnyk made some tough saves throughout the game, stopping many point-blank and second-chance shots. He denied Sean Couturier with a rebound, kick-save in the second period. He stopped Dale Weise on a breakaway in the third period. He grabbed a bouncing puck shot from the point like it was nothing; he just snagged it with his glove.

 

At the other end, Flyers netminder Brian Elliott had to be frustrated. He's taken a pair of losses when giving up just two goals, and his team couldn't find a way to score.

 

The Jason Zucker drama ended faster than some Wild fans probably made it to their seats at the Xcel Energy Center. Nino Niederreiter, playing in game No. 400, scored on an Eric Staal feed from the corner just 12 seconds into the game for a 1-0 Wild lead that held up as the game-winner.

 

Bruce Boudreau said he's glad somebody else scored. They're not a one-man team, he said.

 

"We don't have Wayne Gretzky out there, so we have to do everything by committee," Boudreau said. "We need contributions from everybody to succeed."

 

Zucker failed to tie the NHL record by becoming the third player to score seven consecutive team goals. After the game, Zucker expressed his happiness at Niederreiter's goal to start the game, even though it ended his run at NHL history.

 

"It was great to see Nino put that in," Zucker said. "It was a good start for us."

 

However, Zucker added the second empty-net goal to give him seven goals in his last four games. He leads the team with 15 points and 10 goals. To make Dubnyk's night even better, he earned the primary assist on the Zucker goal for his first point of the season.

 

Staal scored the other empty-net goal with 1:09 left in the third, his sixth of the season.

 

It wasn't the prettiest game for the Wild either, a typical first game back after a road trip, according to Boudreau.

 

"Tells you how good the goalie was," Boudreau said. "He did the same thing last year. He's seeing the puck right now. His reflexes are on fire. We'll take it as long as he can give it."

 

In goal:

Dubnyk (7-6-1) with 30 saves. Elliott (6-5-1) with 17 saves.

Tidbits:

Niederreiter has six points in eight games since his return from injury. He's tallied six points in his last eight games against the Flyers.

The Wild also beat the Flyers 1-0 Saturday night. They're 4-4-2 against the Flyers at home.

The Wild's power play continues to struggle. They went 0-for-1 but are just 3-for-26 at home. Their penalty kill was a perfect 2-for-2, though Boudreau said after the game that penalty kills are easier to manage when there are only two or three opportunities a game, rather than five or six.

Up next:

 

The Wild host the Nashville Predators on Thursday night.