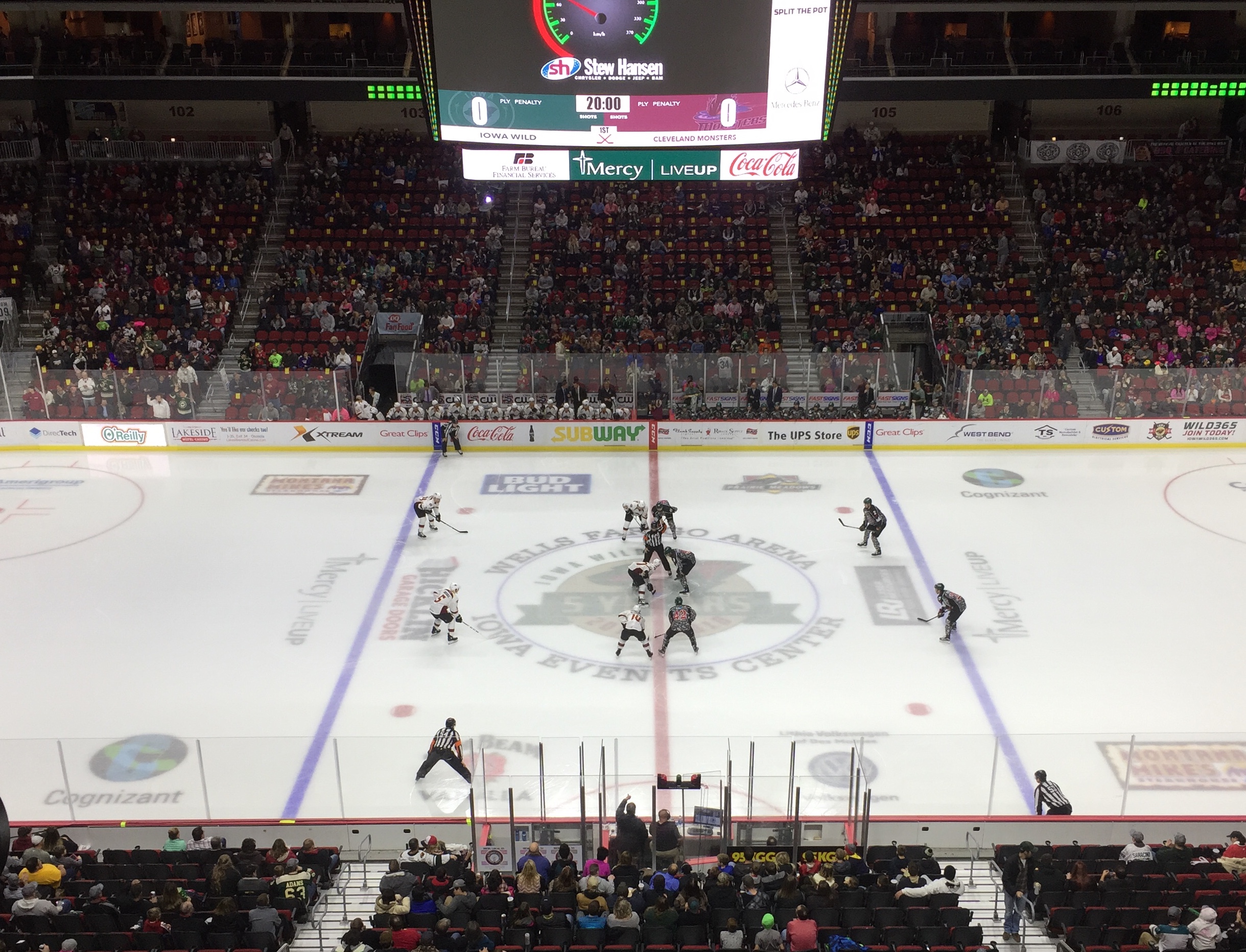 The season is still young, but the Iowa Wild had yet to win two games in a row this year. Entering Saturday, they were coming off a 5-3 win on Thursday in front of an Iowa record crowd of 13,422, looking to do just that -- win a second consecutive game.

 

They did so very convincingly.

 

Iowa (5-6-2) demolished the Cleveland Monsters (5-4-2) 6-1 at Wells Fargo Arena Saturday night thanks to four players having multi-point games and a 30-save performance from Steve Michalek. "It was good to get over the hump of winning back to back head games," said Wild head coach Derek Lalonde.

 

Sam Anas, Christoph Bertschy, Pat Cannone, Justin Kloos, Zach Mitchell and Kyle Rau all had multi-point games to account for the Wild's scoring. "I like our balance. We're finally getting some continuity from our lines," Lalonde said. The Wild have combined for 11 goals over the past two games.

 

The Wild were able to score 4:09 into the first period as Mitchell tallied his second goal of the season on the power play. Six minutes later, Anas made a nice play around the defenseman in the offensive zone and fed Kloos wide open on the back door to give the Wild a two-goal cushion.

 

"I was just flying up the side and Sam [Anas] said he didn't see me until he heard me yelling for him and he was just able to feed me the pass," said Kloos.

 

 

Rau added to the lead in the second as he scored on a penalty shot, and Mitchell -- who finished the game with three points -- potted another power-play goal later in the frame to truly break the game open. Cannone and Bertschy added goals in the third, while the Monsters were able to slip one past Michalek to end his shutout bid.

 

Michalek did not start strong in this game, but recovered in the last two periods which gave him his second win in as many games on the season. Michalek made his first start of the season on Thursday in place of Niklas Svedberg, who was called up to Minnesota this past week. "Stevie's game is much more comfortable," Lalonde said. "He battled the puck early but early on in the second he started eating everything up."

 

Now with two wins in a row and three of the past four, Iowa will return to action late Sunday afternoon at Wells Fargo Center seeking to add to its hot play.

 

"What's exciting this was the vision we had with our team," Lalonde said. "We're starting to figure some things out and be much improved."

 

Tidbits:

Former Wild (Minnesota and Iowa) forward Jordan Schroeder played in his 300th career AHL game for Cleveland on Saturday night. He finished the game minus-1 with no shots on goal.

Justin Kloos is on a five-game point streak. He has two goals and four assists during that stretch.

Zach Mitchell has tallied nine points (3 goals-6 assists) in the past four games.

 
---
Never Miss an Episode of Giles & The Goalie!